Report: Preventing Gun Violence With a Public Health Approach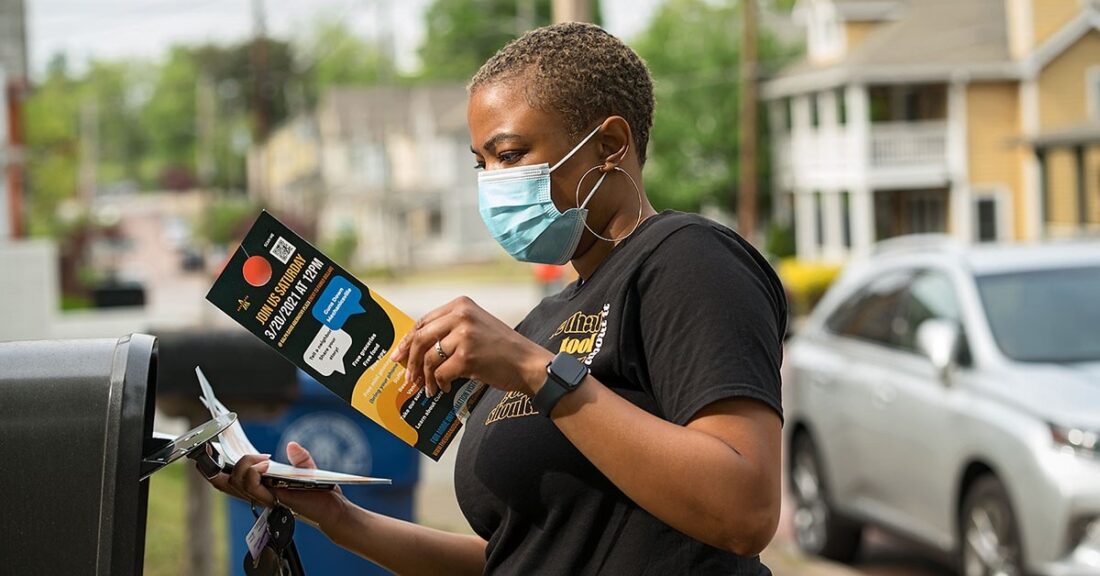 Public health strategies in Atlanta and Milwaukee have prevented gun homicides over the past several years, according to a new report by the Annie E. Casey Foundation. Often referred to as community-based violence interventions, the safety approaches implemented in the two cities involve examining the root causes of conflicts, interrupting situations likely to result in shootings and promoting community-wide healing.
The report, Improving Community Safety Through Public Health Strategies: Lessons From Atlanta and Milwaukee, profiles work happening in the two cities that can help public and private entities — including government, service providers, funders, businesses and law enforcement agencies — in other communities throughout the nation reimagine their approaches to safety with methods that are rooted in public health and racial justice.
The work happening in Milwaukee and Atlanta's Neighborhood Planning Unit V (NPU-V) — which includes the neighborhoods Adair Park, Capitol Gateway, Mechanicsville, Peoplestown, Pittsburgh and Summerhill — is part of a national movement. Various local public and private entities, including the Casey Foundation, have supported the new approaches to safety in the two cities.
The Biden administration has identified community violence interventions like these as crucial to its gun violence mitigation efforts nationwide, encouraging local governments to use federal funding from the American Rescue Plan to implement such programs. Studies show that these approaches have reduced shootings by more than 60% in cities where they have been implemented.
"The need for this work is urgent," says Tomi Hiers, vice president of the Casey Foundation's Center for Civic Sites and Community Change. "As communities continue to grapple with the effects of the COVID-19 pandemic — including spikes in homicides and other violent crime — as well as racial injustices and the resulting unrest, we must recognize the role that public and private entities play in empowering residents to lead community-safety efforts that center restorative approaches."
Improving Safety and Reducing Homicides in Atlanta and Milwaukee
For the past several years, the Casey Foundation has partnered with residents, nonprofits, hospital staff, local leaders and others in several communities in Atlanta and Milwaukee to:
support violence interventions, including Cure Violence programs that rely on citizens with life experience and strong community ties, known as "credible messengers," who can intervene when violence or retaliation is likely to occur;
implement prevention strategies at hospitals, through trained staff and community partners who counsel patients with injuries from violence and aim to steer them away from retaliation;
create opportunities for community members to address trauma and atone for wrongdoing through "healing circles," in which peers provide emotional support during facilitated meetings;
advocate for public support of violence interventions and redirection of funds from criminalization and detention to prevention; and
research community violence to develop evidence of what works in promoting safety.
Though gun violence has increased in these two cities over the past two years — as it has across the nation — local partners credit Cure Violence for slowing what would otherwise be a larger spike in deaths.
In Atlanta's NPU-V, for example, gun homicides have remained relatively flat during the first half of 2021 compared to previous years, despite a 58% increase in homicides across the city through early June.
In response to the progress in NPU-V, the Atlanta City Council in June approved Mayor Keisha Lance Bottoms' proposal to use $5 million in federal funds from the American Rescue Plan to expand community-based violence interventions in the city.
Building Connections and Gaining Support
As the report details, local leaders and funders in both cities facilitated robust processes for resident input before launching programs, which was vital to building trust in communities.
For instance, the community process to develop Milwaukee's Blueprint for Peace — its plan to implement community-based violence interventions and other programs — helped the city build a movement and raised the profile of violence as a public health issue across the city, says Reggie Moore, who served as director of the city's Office of Violence Prevention from 2016 to April 2021.
"Instead of people seeing violence as an unsolvable issue we could do nothing about, it became understood that it is a systemic, learned behavior, for which new approaches can have an impact," Moore says. "It has inspired hope."
In Atlanta, NPU-V leaders and nonprofits appreciated how funders facilitated a community-led process to launch violence interventions, says Alfred Garner, who leads safety efforts that serve NPU-V for CHRIS 180, a local nonprofit.
"The Casey Foundation didn't come in with a plan and say, 'This is what we're going to do in your community,'" Garner says. "Instead, they asked, 'What do you want to see happen in terms of safety in this community? How can we address gun violence? How can we help address trauma?' All these questions and answers came out of a group of elders, community leaders and other stakeholders."
Lessons on Violence Reduction for the Field
The report's lessons for funders and local officials who are interested in implementing and supporting community-based violence interventions include:
Engage local community leaders and residents early and often to ensure local buy-in and community ownership of chosen solutions.
Build trust and relationships. Patience with the process and building relationships helps ensure solutions have strong roots that will grow. Providing for adaptability and evaluation of what does and does not work can build more effective and more sustainable strategies.
Ensure that partners are willing to dedicate significant time and resources to shift to community-driven, prevention-focused approaches from more traditional law enforcement and punitive measures that are deeply ingrained and heavily resourced.
Provide residents with opportunities to learn from peers in other locations who have successfully implemented prevention solutions.
Addressing Violence to Spur Community Change and Promote Equity
Safety is vital to building healthy, thriving communities in Atlanta, Milwaukee and communities across the nation. When people feel safe, they are more likely to trust public systems and access needed services, engage and advocate on behalf of their neighborhoods and pursue life and career goals.
Addressing violence is also key to building racial equity. Gun violence does not affect everyone equally, including in Atlanta and Milwaukee. Mirroring national trends, more than 80% of homicide victims in both cities in 2020 were Black males, many of them youth and young adults.
"It's impossible for communities of color to thrive when they are not safe," Hiers says. "Community-based violence interventions offer a proven path that does not focus on punitive measures or create interactions with the criminal-justice system. We hope that funders and public systems begin to acknowledge these programs' effectiveness and join us in supporting them."
This post is related to: