The JAG Advantage Brings Trauma-Informed Care to Youth Employment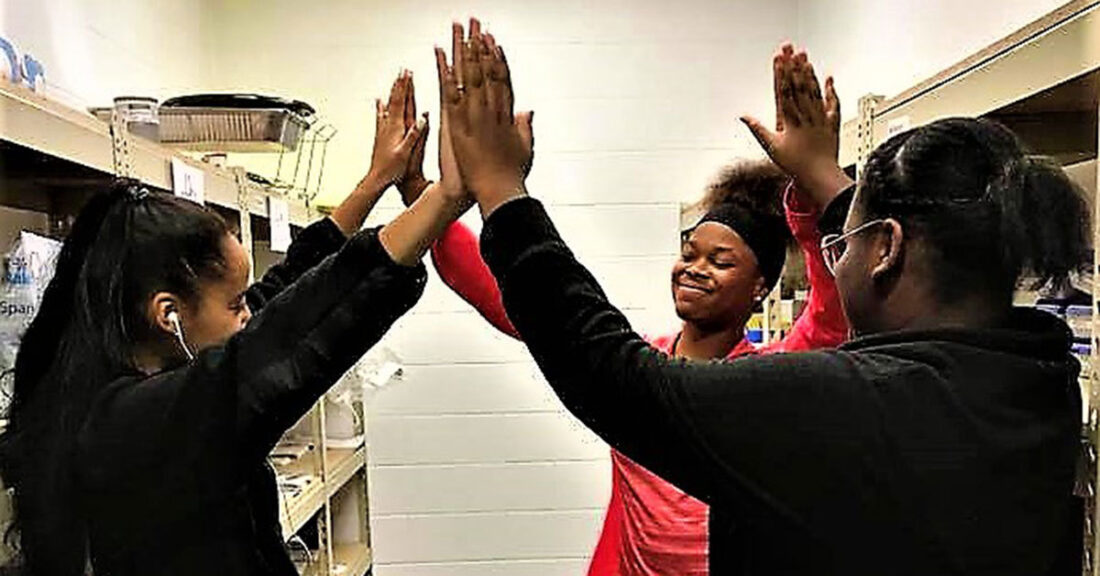 For 40 years, Jobs for America's Grad­u­ates (JAG) has worked across the nation to help young peo­ple build pro­fes­sion­al skills, earn cre­den­tials, gain employ­ment and enter post­sec­ondary edu­ca­tion. Through class­room learn­ing, coach­ing, lead­er­ship devel­op­ment, job-place­ment and oth­er ser­vices, youth and young adult stu­dents are set on path­ways to aca­d­e­m­ic and eco­nom­ic success.
What Is the

JAG

Advantage?
The JAG Advan­tage is an approach cre­at­ed by the orga­ni­za­tion to pro­vide stu­dent-cen­tered ser­vices that help young peo­ple achieve their fullest poten­tial, gain­ing an advan­tage in today's emerg­ing work­force. The frame­work con­sists of three components:
project-based learn­ing, in which stu­dents build com­mu­ni­ca­tion, col­lab­o­ra­tion and crit­i­cal-think­ing skills through long-term projects that often include local employers;
trau­ma-informed care, which empha­sizes prac­tices that help

JAG

instruc­tors address stu­dents' stress and trau­ma and remove bar­ri­ers they face; and
employ­er engage­ment, in which employ­ers pro­vide stu­dents with oppor­tu­ni­ties to learn and grow by pro­vid­ing them with real-life lean­ing expe­ri­ences and oppor­tu­ni­ties to explore career opportunities.
Start­ed in 2018, JAG plans to ful­ly incor­po­rate the new approach into its ser­vice deliv­ery by July 2020 — after it has trained all its 1,400 spe­cial­ists who work with youth and young adults.
Address­ing trau­ma to improve work­force training
A major rea­son JAG under­took efforts to improve its pro­grams was a grow­ing recog­ni­tion of how trau­ma affects how young peo­ple learn, engage in the pro­gram and suc­ceed in the workforce.
To cre­ate its new approach, the orga­ni­za­tion drew on its decades of expe­ri­ence work­ing with young peo­ple and lessons from its par­tic­i­pa­tion in the Casey Foundation's Learn and Earn to Achieve Poten­tial (LEAP)™ ini­tia­tive, which works with those nav­i­gat­ing some of life's most chal­leng­ing cir­cum­stances, includ­ing home­less­ness or involve­ment in the child wel­fare or jus­tice systems.
"We encour­aged our LEAP part­ners to adopt or deep­en their trau­ma-informed prac­tices for oppor­tu­ni­ty youth," says Patrice Cromwell, Casey's direc­tor of youth eco­nom­ic oppor­tu­ni­ty. ​"We're pleased to see that JAG is ask­ing all its affil­i­ates nation­wide — not just its LEAP sites — to use these prac­tices going forward."
One such part­ner is Jobs for Arizona's Grad­u­ates, which has deep­ened its focus on trau­ma-informed care in recent years as part of its LEAP work. For instance, if a stu­dent is often absent from school, an edu­ca­tion spe­cial­ist will talk to the young per­son to learn more about his or her sit­u­a­tion. Some­times, spe­cial­ists find that stu­dents are fac­ing cir­cum­stances that inter­fere with their school­ing that need to be addressed — such as tak­ing on jobs to sup­port their fam­i­lies or car­ing for a sick loved one.
"Trau­ma-informed prin­ci­ples help to equip our coor­di­na­tors to advo­cate for our stu­dents," says Dian­na Har­ri­er, direc­tor of oper­a­tions with Jobs for Arizona's Grad­u­ates. ​"We try to help under­stand what's behind young people's behav­ior before tak­ing action, espe­cial­ly dis­ci­pli­nary solutions."
Engag­ing with employers
The orga­ni­za­tion also attempts to com­mu­ni­cate effec­tive­ly with its employ­er part­ners about the needs of its stu­dents. For instance, it has sug­gest­ed that local employ­ers with long hir­ing process­es speed them up, as many young peo­ple can't wait weeks or months with­out income and will like­ly take oth­er oppor­tu­ni­ties that come up faster.
The future of

JAG
JAG also plans to dou­ble the num­ber of stu­dents it serves to 150,000 in 2,500 com­mu­ni­ties over the next four years, great­ly increas­ing the num­ber of young peo­ple who will ben­e­fit from the new approach.
"The JAG Advan­tage has offered a frame­work to bet­ter engage employ­ers, stu­dents and our staff," Har­ri­er says. ​"We think it's a ter­rif­ic approach that high­lights the best of what we have to offer — and oth­er local and nation­al work­force orga­ni­za­tions should take notice."
This post is related to: