Twelve Named to Casey's Juvenile Justice Youth Advisory Council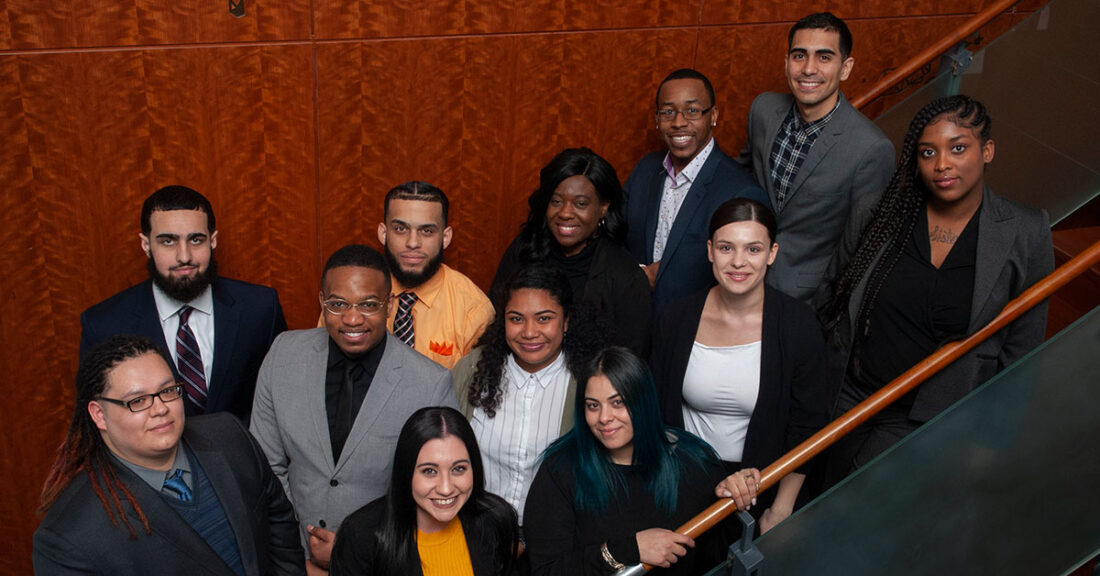 The Annie E. Casey Foun­da­tion has select­ed 12 young peo­ple from across the coun­try as mem­bers of its 2019–21 Juve­nile Jus­tice Youth Advi­so­ry Council.
Since launch­ing in 2015, the coun­cil and its mem­bers have con­tributed to some of the tough­est dis­cus­sions in the juve­nile jus­tice field. Par­tic­i­pants lever­age their own expe­ri­ences — such as involve­ment in pro­ba­tion, deten­tion, res­i­den­tial place­ment, incar­cer­a­tion or after­care — to devel­op rec­om­men­da­tions that strength­en the Casey Foundation's work.
"The part­ner­ship between the Foun­da­tion and the coun­cil is most suc­cess­ful when we cre­ate an authen­tic space for young peo­ple to bring their whole selves into the expe­ri­ence, mak­ing their devel­op­ment as much a pri­or­i­ty as our inter­est in enhanc­ing our work," says Zainab Farhat, a pro­gram asso­ciate with Casey's Juve­nile Jus­tice Strat­e­gy Group. ​"The 2019–21 cohort is ener­getic and ambi­tious and will col­lec­tive­ly take Casey's nation­al reform work to new levels."
As emerg­ing lead­ers in jus­tice reform, the coun­cil mem­bers will receive guid­ance and pro­fes­sion­al devel­op­ment to sup­port their career goals. They will also speak at forums, serve on state advi­so­ry groups and join advo­ca­cy cam­paigns — all while com­plet­ing a group project of their choos­ing that advances the youth jus­tice field.
"The coun­cil has helped me grow per­son­al­ly and pro­fes­sion­al­ly," says Dan Ayotte, a sec­ond-term coun­cil mem­ber. ​"Being part of the coun­cil has con­nect­ed me with peo­ple that have a lot of expe­ri­ence with areas I am high­ly pas­sion­ate about, such as start­ing my own youth orga­ni­za­tion and moti­va­tion­al speak­ing group."
The new mem­bers — all between the ages of 19 and 25 — are inter­est­ed in a range of reform areas, including:
increas­ing the use of diversion;
build­ing resources with­in com­mu­ni­ties to offer more young peo­ple pos­i­tive role mod­els and oppor­tu­ni­ties; and
pros­e­cut­ing few­er young peo­ple as adults.
Ayotte is one of three mem­bers serv­ing a sec­ond term, which helps brings con­ti­nu­ity to the coun­cil. In addi­tion — and in a nov­el effort to broad­en the group's reach — two mem­bers are also rep­re­sent­ing the local youth coun­cils in their home jurisdictions.
The mem­bers of the 2019–21 Youth Advi­so­ry Coun­cil are:
Dan Ayotte
Boston, Massachusetts
Alyssa Beck
Jack­sonville, Florida
Arjun Bin­ning
Philadel­phia, Pennsylvania
Ine­sha Briggs
Uti­ca, New York
Jaclyn Cirin­na
Salem, Massachusetts
Jar­rell Daniels
New York, New York
Amiyah Davis (rep­re­sent­ing Youth Action Michigan)
Ypsi­lan­ti, Michigan
Der­rell Frazier
Bal­ti­more, Maryland
Miguel Gar­cia
Fres­no, California
Iliana Pujols
Bridge­port, Connecticut
Tris­tan Slough
Nashville, Tennessee
Mir­a­cle Teo (rep­re­sent­ing the San­ta Clara Coun­ty Youth Advi­so­ry Council)
Mor­gan Hill, California
Relat­ed Resources
This post is related to: