Youth Justice Community Collaborative Launches in Albuquerque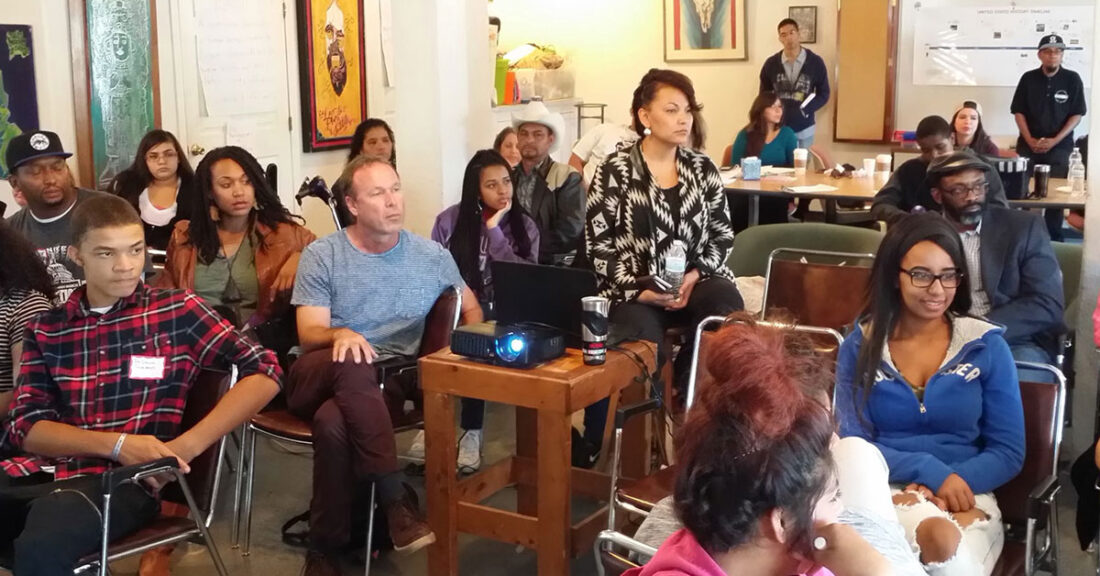 More than 20 community-based organizations in Albuquerque are joining forces in a multi-year effort to support healthy and thriving futures for all young people, especially those in trouble with the law. The Albuquerque Justice for Youth Community Collaborative, supported by the Annie E. Casey Foundation, will engage local youth-serving organizations and families who have been affected by the juvenile justice system in efforts to shape promising futures for young people — even after they've made mistakes.
Grounded in Community Leadership
"Progress toward social justice, racial healing and equity requires a radical change, grounded in community leadership and respect for the perspectives of young people and families who have been directly — and often negatively — affected by the juvenile justice system," says Albino Garcia, the executive director of La Plazita Institute in Albuquerque and founder of the Collaborative.
The Collaborative launched on Jan. 20, 2021 with the intention to:
honor and strengthen community self-determination;
reduce and eventually eliminate dependence on the juvenile justice system; and
keep youth safely at home and supported by their own communities.
The Collaborative's first public announcement elaborated on these goals: "[Our] work is both healing and creative — holding public systems accountable for harm they inflict on communities, holding each other accountable for our complicity in that harm, and continuing to develop culturally-grounded and community-based supports and opportunities, especially for young people of color. We come together to build a collective partnership and work toward a new, community-defined vision of youth justice for generations to come."
After the first Collaborative meeting, Cathryn L. McGill, the founder and CEO of the New Mexico Black Leadership Council, reflected: "There is a way to do this, and we will find it together." She spoke of the opportunity "to build and strengthen community from the inside out to determine how best to support our youth with assets-based strategies that will obviate the need for incarceration."
The Foundation's Commitment to Its New Mexico Partners
The Annie E. Casey Foundation is funding the Collaborative, including its coordination by La Plazita Institute, stipends to participating young people and families (along with childcare and technology support) and subgrants to member organizations. Jaelyn DeMaría, an assistant professor at the University of New Mexico, is leading a team that will use community-based participatory research and solution-based journalism to document and tell the story of the project. Capturing the story of the Collaborative's first years will inform efforts by other communities to replicate a community-driven approach to youth well-being.
"Our support for the Albuquerque Community Collaborative is an investment in the wisdom, power and creativity of young people, families and communities to lead the way," says Sandra Gasca-Gonzalez, vice president of the Foundation's Center for System Innovation. "We look forward to learning from and with all of our New Mexico partners as they work to build bright and healthy futures for all young people."
The Casey Foundation's investment in juvenile justice reform in New Mexico dates back to the 1990s. Bernalillo County — home to Albuquerque — was one of the first JDAI® sites and has served as a learning lab for other jurisdictions seeking to build better and more equitable youth justice systems. Since 2013, Bernalillo County has been a demonstration site with the Foundation's JDAI deep-end work, which emphasizes that young people are more likely to lead healthy and productive lives when they are supported in their communities, rather than detained or incarcerated. The New Mexico Children, Youth and Families Department is pursuing the expansion of JDAI to counties across the state.
Members of the Albuquerque Justice for Youth Community Collaborative
ABQ Center for Hope & Recovery
Ancestral Lands Conservation Corps, a program of Conservation Legacy/Ancestral Lands
Southwest Conservation Corps
Bold Futures New Mexico
Centro Sávila
Keshet's New Mexico Arts & Justice Network
La Plazita Institute
NACA Inspired Schools Network/My Brother's Keeper
New Day Youth & Family Services
New Mexico Asian Family Center
New Mexico Black Leadership Council
New Mexico Dream Team
NMCAN
Pegasus Legal Services for Children
Recycled Man, LLC
Serenity Mesa
SouthWest Organizing Project
Together for Brothers
Transgender Resource Center of New Mexico
United South Broadway Corporation
VIZIONZ-SANKOFA
Youth Development, Inc.
This post is related to: