Advocating for Racial Equity in Youth Justice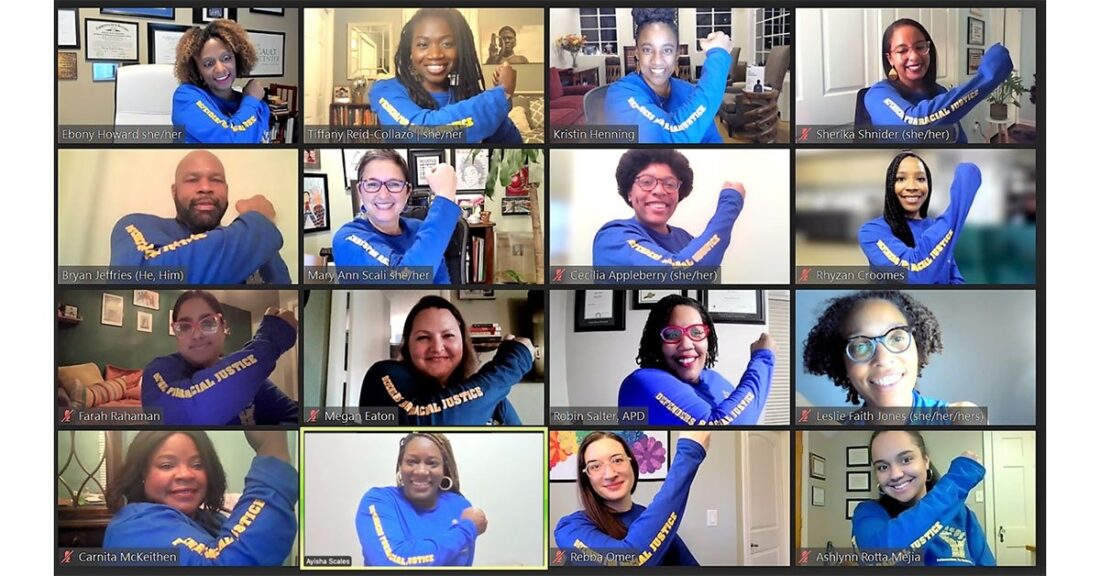 A pro­gram sup­port­ed by the Annie E. Casey Foun­da­tion is prepar­ing attor­neys to advo­cate for youth of all races in the juve­nile legal sys­tem and sup­port equi­table oppor­tu­ni­ties and out­comes for everyone.
The pro­gram, Ambas­sadors for Racial Jus­tice, pairs defense attor­neys part­ner with local orga­ni­za­tions, gov­ern­ment agen­cies and schools to host racial equi­ty train­ings and spear­head pol­i­cy reform and pub­lic advo­ca­cy with­in their com­mu­ni­ties. With Foun­da­tion sup­port, the pro­gram is train­ing a new group of ambas­sadors — 10 attor­neys in youth defense and relat­ed fields.
Extreme Dis­par­i­ties Per­sist in Youth Justice
Stark racial and eth­nic dis­par­i­ties in youth jus­tice have per­sist­ed despite more than 30 years of reform efforts to close these very gaps. In 2019, the lat­est year for which fed­er­al data are avail­able, Black and Native Amer­i­can youth were far more like­ly to be con­fined in court-ordered out-of-home place­ments than oth­er youth. Black youth were also more like­ly to end up in custody—over 16 times more like­ly than their Asian and Pacif­ic Islander peers; four times more like­ly than their white peers; and three times more like­ly than their His­pan­ic peers.
Ambas­sador Farah Rahaman, a youth defend­er with the New Jer­sey Office of the Pub­lic Defend­er in Union Coun­ty, under­stands this divide all too well. ​"I want to shine a light on the bifur­cat­ed youth legal sys­tem in my coun­ty," says Rahaman, speak­ing about the expe­ri­ences of her clients of col­or com­pared to those of their white peers. ​"I want to ensure that my clients are afford­ed the same oppor­tu­ni­ties and chances to make mis­takes that their white coun­ter­parts are given."
Ambas­sadors Mak­ing a Dif­fer­ence in Their Communities
As part of the pro­gram, ambas­sadors design and lead major projects, which rep­re­sent a range of inter­ests. For instance:
Kel­ly Jones advo­cat­ed for end­ing pros­e­cu­tors' dis­cre­tion to direct­ly file minor charges against young peo­ple in adult court.
Kris­ten Rome facil­i­tat­ed extern­ships to help more Black attor­neys gain expe­ri­ence in youth defense work.
Ana Tent pro­mot­ed leg­isla­tive efforts to divert youth who had expe­ri­enced men­tal ill­ness or trau­ma into ther­a­peu­tic ser­vices with­out court intervention.
Ange­les Zaragoza cre­at­ed an aca­d­e­m­ic and men­tor­ing expe­ri­ence that enabled youth cur­rent­ly or for­mer­ly in cus­tody to earn trans­fer­able col­lege cred­its, expand their life skills, con­nect with cred­i­ble mes­sen­gers and par­tic­i­pate in cul­tur­al events.
Anoth­er exam­ple: Ambas­sador Bryan Jef­fries is work­ing to revamp the manda­to­ry legal train­ing mod­ule for cor­rec­tion­al offi­cers in the juve­nile jus­tice sys­tem. His updat­ed mod­ule will offer lessons on youth civ­il rights, due process, the trau­mat­ic effects of racial dis­crim­i­na­tion and the his­tor­i­cal­ly dis­parate effects of the juve­nile legal sys­tem on youth of color.
The Advo­cates Behind the Ambas­sadors Program
Two groups — the George­town Law Juve­nile Jus­tice Ini­tia­tive and the Gault Cen­ter — are spon­sor­ing the Ambassador's pro­gram. Key to its suc­cess are Pro­fes­sor Kristin Hen­ning, direc­tor of George­town Law Juve­nile Jus­tice Clin­ic and Ini­tia­tive, and Ebony Howard, deputy direc­tor of the Gault Cen­ter. Both lead­ers expect the pro­gram to forge a group of well-trained, diverse defend­ers who:
rep­re­sent the voic­es of all youth;
chal­lenge norms, poli­cies and prac­tices that harm youth of col­or; and
sys­tem­i­cal­ly reform the juve­nile legal system.
"Ebony Howard, Pro­fes­sor Hen­ning and their col­leagues at the Gault Cen­ter and Georgetown's Juve­nile Jus­tice Clin­ic and Ini­tia­tive rec­og­nize that defend­ers' dai­ly prox­im­i­ty to young peo­ple and courts posi­tions them to design and exe­cute bold strate­gies that insti­tu­tion­al­ize racial equi­ty," says Danielle Lipow, a senior asso­ciate with the Annie E. Casey Foundation's Juve­nile Jus­tice Strat­e­gy Group. ​"The Ambas­sadors pro­gram pro­vides defend­ers through­out the coun­try with the tools they need to ful­fill that vision."
More Equi­ty and Inclu­sion Resources for Juve­nile Justice
Safe­ly and sig­nif­i­cant­ly reduc­ing rates of youth confinement
Race Equi­ty and Inclu­sion Action Guide