Casey Foundation Announces Tenth Class of Children and Family Fellows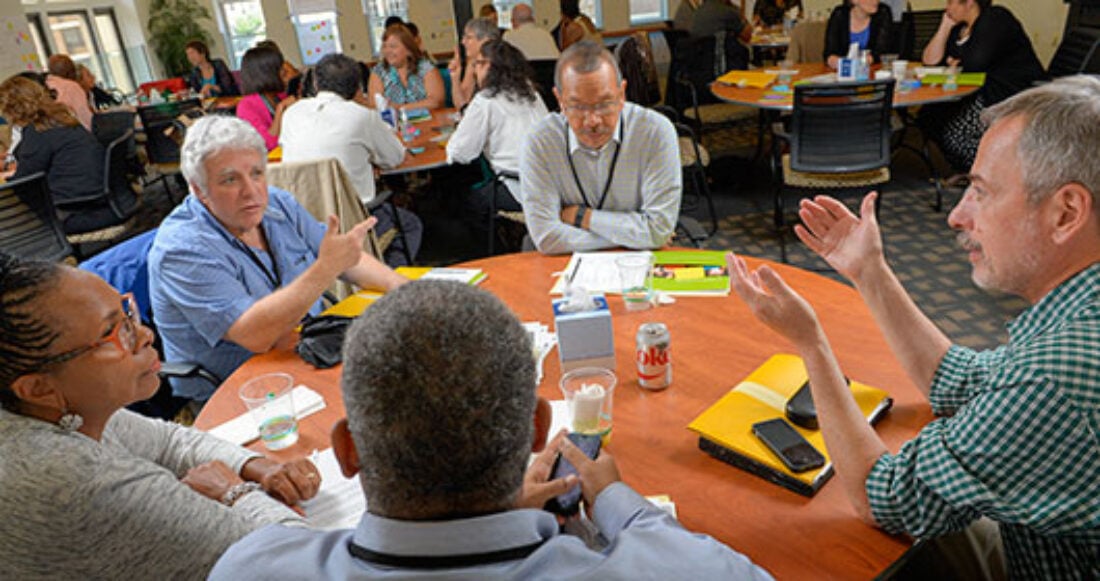 The Annie E. Casey Foundation has selected 16 leaders from 13 states for the tenth class of its Children and Family Fellowship. These men and women — accomplished leaders from the public, nonprofit and academic sectors — will use the 16-month Fellowship to work within their agencies, organizations and communities toward specific, measurable improvements for children and families.
Now in its third decade, the Fellowship is an intensive executive leadership program designed to give more child and family-serving professionals the confidence and competence to lead major system reforms and community change initiatives that get results. The eight women and eight men chosen for the 2016-2017 class work in disciplines from juvenile justice to education to child welfare, housing and health.
"This new class of Casey Fellows is poised to have a profound influence on how children and families fare in this country," said Casey Foundation President and CEO Patrick McCarthy. "The Fellowship gives them the tools to achieve large-scale results and a powerful network to expand their reach."
"The Children and Family Fellowship equips outstanding leaders to reach even higher and accomplish even more for the children and families they serve," said Lisa Hamilton, vice president for external affairs at the Foundation, who oversees the Fellowship as part of a portfolio of results-based leadership development initiatives.
More than 100 leaders have participated in the Casey Fellowship since the Foundation began the program in 1993. Fellows stay connected through the Casey Fellows Alumni Network, which is designed to support relationships among the Fellows and to contribute significantly to sustained movements to improve outcomes for children, families and communities. Alumni include Soraya M. Coley, president of Cal Poly Pomona; Daniel Cardinali, recently named president and CEO of the national philanthropic organization Independent Sector; Anne Williams-Isom, chief executive officer of the Harlem Children's Zone; Doug Ammar, executive director of the Georgia Justice Project; and Hyeok Kim, Seattle deputy mayor.
The first executive seminar for the new class of Fellows begins April 5 at the Casey Foundation headquarters in Baltimore, Maryland.
The tenth class of Fellows includes:
Bobby Cagle
Director
Georgia Division of Family and Children Services
Atlanta, Georgia
Raquel Donoso
Director
Mission Promise Neighborhood Mission Economic Development Agency
San Francisco, California
Felipe Franco
Deputy Commissioner
NYC Administration for Children's Services
New York, New York
Dreama Gentry
Executive Director
Partners for Education at Berea College
Berea, Kentucky
Deepmalya Ghosh
Associate Executive Director
The Child Center of New York
Jamaica, New York
Ritika Kurup
Montgomery County/Dayton Campaign for Grade-Level Reading
CSAP Lead/Assistant Director
ReadySetSoar
Dayton, Ohio
Susan Lampley
Senior Program Officer
Melville Charitable Trust
New Haven, Connecticut
Ira Lustbader
Litigation Director
Children's Rights
New York, New York
Kristen McDonald
Vice President, Program & Policy
The Skillman Foundation
Detroit, Michigan
Mark Payne
Executive Director
CeaseFire Illinois
Chicago, Illinois
Frank Prado
Director of Operations
Statewide Guardian ad Litem Program
Tallahassee, Florida
Matthew Randazzo
Chief Executive Officer
National Math and Science Initiative
Dallas, Texas
Esther Shin
Executive Vice President
Urban Strategies, Inc.
St. Louis, Missouri
Stacy Spann
Executive Director
Housing Opportunities Commission of Montgomery County (HOC)
Kensington, Maryland
Kristie Stutler
Administrative Coordinator
Kentucky Department of Juvenile Justice
Frankfort, Kentucky
Josephine Wong
Deputy Director
King County Department of Community and Human Services
Seattle, Washington
This post is related to: