Young Adult Turnout Nearly Doubled in the 2018 Midterm Elections. Can It Be Maintained in 2022?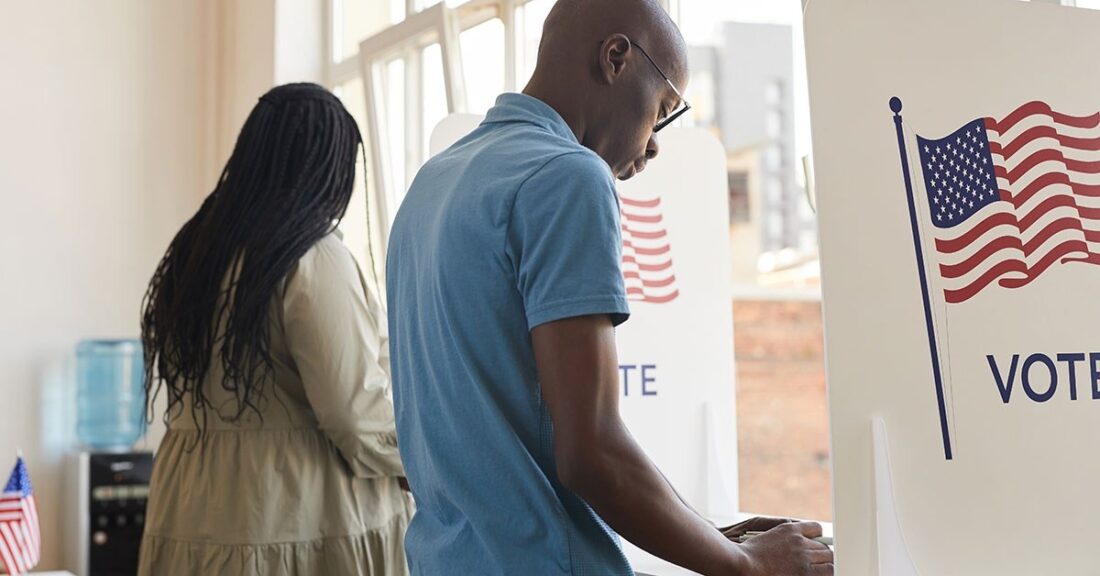 As the 2022 midterm elec­tions approach­es this fall, much pub­lic dis­cus­sion is focused on expect­ed vot­er turnout, par­tic­u­lar­ly for young adults who demon­strat­ed impres­sive vot­ing efforts in the last midterm elec­tions. Accord­ing to the Cen­sus Bureau's Cur­rent Pop­u­la­tion Sur­vey, the share of U.S. young adults ages 18 to 24 who vot­ed in the last midterm elec­tions near­ly dou­bled, from 17% in 2014 to 32% in 2018. While the 2018 midterm was wide­ly rec­og­nized for its high turnout among all vot­ing age groups, young adults are cred­it­ed for their extra­or­di­nary civic engage­ment that year. Activists, advo­cates and lead­ers focused on youth engage­ment are work­ing hard to main­tain that momen­tum in 2022.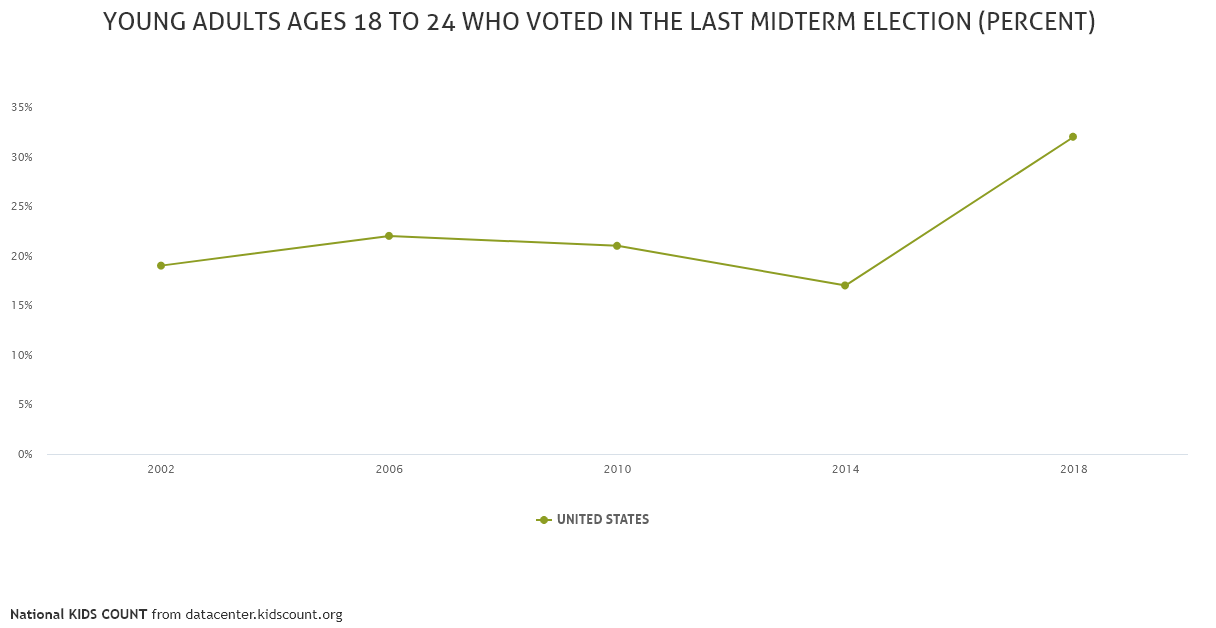 In a sim­i­lar­ly impres­sive effort in the last pres­i­den­tial elec­tions, just over half (51%) of young adults ages 18 to 24 vot­ed in 2020, up from 43% in 2016 and well above 36% in 2000 (the ear­li­est year avail­able in the KIDS COUNT® Data Cen­ter). It is crit­i­cal to main­tain these gains in active young vot­ers, as they are impor­tant civic par­tic­i­pants, and empow­er­ing them to vote ben­e­fits their lives and our democracy.
State Dif­fer­ences in Young Adult Vot­er Turnout
Over the last two decades, most states with avail­able data saw increas­es in young adult vot­er turnout in both the midterm (2002–2018) and pres­i­den­tial (2000–2020) elec­tions. How­ev­er, the share of young peo­ple vot­ing var­ied wide­ly from state to state and from elec­tion to elec­tion with­in each state.
Among states with avail­able data in 2020, esti­mates of young adults who vot­ed in the pres­i­den­tial elec­tions ranged from near­ly one-third in Okla­homa (31%) and Arkansas (32%) to more than two-thirds in Min­neso­ta (69%), Mary­land (71%) and New Jer­sey (75%). State-lev­el turnout in pri­or pres­i­den­tial elec­tions was marked­ly low­er, with 2016 fig­ures span­ning 22% to 61%, for example.
In the 2018 midterm, just over 1 in 5 young adults vot­ed in Ida­ho (21%) and Ohio (22%), com­pared to near­ly half in Wis­con­sin (48%). In the pre­vi­ous 2014 midterm, youth civic engage­ment was much low­er, with turnout rang­ing from 9% to 31% among states with data.
Why Does Vot­ing and Civic Engage­ment Mat­ter for Young Adults?
When young peo­ple play an active role in elec­tions or oth­er pol­i­cy change efforts, they devel­op skills and knowl­edge, and they become empow­ered to help shape their futures, strength­en their com­mu­ni­ties and con­tribute to democ­ra­cy. In elec­tions, they vote for poli­cies that they believe will help them and their fam­i­lies suc­ceed, whether it is relat­ed to edu­ca­tion, health, men­tal health, safe­ty, finan­cial sta­bil­i­ty or oth­er issues. Civic engage­ment cre­ates valu­able lead­er­ship skills, which can help youth and young adults thrive through­out their lives.
Learn More on Youth and Young Adult Civic Engage­ment
&

Oth­er Issues

These data on vot­ing trends are con­tin­u­al­ly updat­ed in the KIDS COUNT Data Cen­ter, along with 60-plus oth­er indi­ca­tors about youth and young adults, includ­ing teen par­tic­i­pa­tion in com­mu­ni­ty ser­vice or vol­un­teer work. This dataset is part of the Annie E. Casey Foundation's Thrive by 25 focus, which works to ensure that all young peo­ple have what they need to real­ize their full potential.

Explore more of our blog posts and pub­li­ca­tions relat­ed this topic:

In addi­tion, the Cen­ter for Infor­ma­tion and Research on Civic Learn­ing & Engage­ment at Tufts Uni­ver­si­ty, a non­par­ti­san research orga­ni­za­tion focused on youth civic engage­ment, is a use­ful resource on this topic.
Stay Con­nect­ed
Sign up for our newslet­ters to get the lat­est data, reports and oth­er resources.