Social Issues That Matter to Generation Z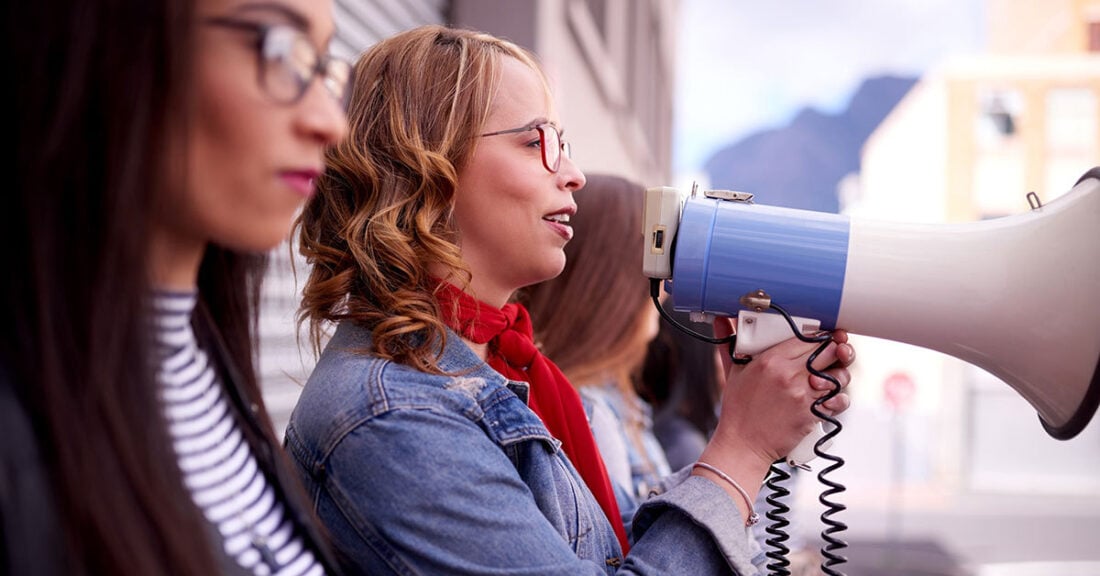 With technology at their fingertips — and a regular tool in their growing hands — Gen Zers have been able to connect to faraway cultures, issues and news earlier and more often than any generation before them. As a result, Generation Z members tend to be more open-minded, liberal-leaning and actively engaged in advocating for the fair and equal treatment of others.
Seven Top Social Issues for Gen Z
Seven issues have commanded the attention of Generation Z so far. These are: 1) health care; 2) mental health; 3) higher education; 4) economic security; 5) civic engagement; 6) race equity; and 7) the environment.
1. Health Care
Health care is a core issue for Generation Z. The oldest members of this group are aging out of their parents' health insurance plans and investing in their own health insurance for the first time. Many can only afford coverage through the Affordable Cares Act and Medicaid expansion.
When it comes to health care, youth today care about convenience, efficiency and transparency. Thanks to technology, they are growing up within a medical system offering unprecedented options for connecting with physicians, health coaches, therapists and self-monitoring solutions aimed at supporting their well-being.
At the same time, Gen Zers are less likely to have primary care providers relative to older Americans. They prefer telemedicine to traditional in-person visits and, due to their desire for convenience, are more willing to share personal information via virtual appointments, according to the company Fierce Healthcare, which reports on health care news.
2. Mental Health
Mental health is an important issue for Gen Zers. This age group is the least likely generation to report fair or excellent mental health, according to a study from the American Psychological Association. Also significant: 35% of Gen Zers surveyed reported that their mental health has worsened during the pandemic, per the research firm Zebra IQ.
While technology is an essential socialization tool for young people, it can also augment feelings of loneliness and stress. Tragic world news is now delivered faster than ever — and difficult to avoid — via an assortment of apps and outlets.
Fortunately, today's young adults are seeking treatment for their anxiety and depression through counseling and therapy. In the United States, 37% of Gen Zers — a higher share than in any preceding generation — have reported receiving help from a psychologist or other mental health expert.
3. Higher Education
Higher Education is one of the top issues Generation Z cares about. When compared to older peer groups, members of Generation Z are the least likely to drop out of high school and the most likely to go to college, according to the Pew Research Center.
As learners, Gen Zers are interested in acquiring career skills. They are creative, hands-on and tech-savvy students who prefer immersive, active educational experiences versus passively sitting and listening to professors lecture for hours.
The pandemic forced many students to embrace remote learning. It also knocked a significant share of lower-income students off their academic path. For instance: In October 2020, more than 40% of households reported that a prospective student was cancelling plans to attend community college, according to data from the U.S. Census Bureau. And, among current college students, 41% credited the pandemic with derailing their plans to graduate on time.
4. Economic Security
Economic security matters to Gen Z. They want to have stable, well-paying jobs and to avoid crippling debt. The high costs of a college degree and the long-term financial toll associated with taking out educational loans are of particular concern. From 2008 to 2014, tuition and fees at both 4-year and 2-year institutions across the United States rose 28%, according to Young Invincibles, a nonprofit dedicated to expanding opportunity for young adults ages 18 to 34.
Not surprisingly, these students select their college majors accordingly. In a survey of 2017 graduates — the first class of Gen Z college graduates — 88% said that job availability informed their choice of major, according to the World Economic Forum.
When it comes to earning money, Gen Zers are interested in forging their own path. They have an entrepreneurial mindset and are open to challenging the traditional rat race. An overwhelming majority of these youth — 75% — also believe that college isn't the only path to a good education and 50% have an alternate source of income of some kind.
In 2020, Gen Zers — the rookies of today's workforce — saw their nascent financial foundations begin to crack. Roughly a third said COVID-19 had an extreme or very negative impact on their financial security. More than 2 million moved back in with their parents or guardians in 2020, and over 40% of Gen Zers cited the global health crisis as their reason for falling behind on credit cards, rent or other payments, according to the Center for Generational Kinetics' State of Gen Z report.
One silver lining to the turbulent year: It inspired young people to be more prudent with their finances. In fact, over half of Gen Zers — 54% — have reported saving more money since the pandemic began, according to the State of Gen Z report.
5. Civic Engagement
Members of Generation Z are passionate about advocating for social change.
About 70% of Gen Zers believe that the government should be more active in addressing problems, reports the Pew Research Center. Accordingly, an estimated 52 to 55% of eligible young voters cast their ballot in the 2020 presidential election — a participation rate that helped to shape the final results.
Gen Zers are also comfortable driving change. Using platforms like Snapchat, Instagram, Twitter and TikTok, these youth have helped move activism into the digital age. And, along the way, they've offered the world a master class in harnessing the power of social media to spotlight a specific cause or an issue that they want to see change.
Some examples to date: Members of Generation Z organized marches nationwide after a gunman killed 17 people at Marjory Stoneman Douglas High School in Parkland, Florida. Swedish teen and environmental activist Greta Thunberg leveraged social media to captivate the world and challenge leaders to take action against climate change. And 23-year-old Malala Yousafzai, who blogged about her right to education, kicked off a feminist movement in the Middle East en route to winning a Nobel Peace Prize.
In America, most young people — 62% — think their voices are more powerful online than offline, according to the youth market research firm YPulse, and nearly all members of Gen Z — 97% — report using at least one major social media platform.
6. Racial Equity
Racial equity is a key social issue for Generation Z.
Thus far, Gen Zers are the most racially and ethnically diverse generation, according to the Pew Research Center, with nearly half of the group's members representing communities of color. Fittingly, this group values inclusion and its members are more likely than their older counterparts to have favorable views of interracial marriage as well as racial and ethnic diversity.
Today's young people are also acutely aware of the nation's steep racial divides.
One poll — conducted by the social networking app Yubo and involving nearly 39,000 Gen Zers based in the United States — found that 88% of respondents believe Black Americans are treated differently than others. In addition, nearly 90% of respondents said they supported Black Lives Matter, an organization fighting against both systemic racism and police brutality involving Black Americans.
7. Environment
The threat of climate change is another catastrophe impacting the lives of Gen Z, reports National Geographic.
Pre-pandemic, Amnesty International asked 10,000 18- to 25-year-olds in 22 countries to identify the world's most pressing issues. Global warming garnered the top vote among 41% of respondents and the most votes overall. In America alone, an overwhelming majority — 87% — of Gen Zers report being worried for the environment and the planet, according to a study by the communications firm Porter Novelli/Cone.
Not surprisingly, 93% of Gen Zers surveyed say that brands have an obligation to take a stand on environmental issues, as reported by the student-only shopping app UNiDAYS.
Beyond expecting companies to fall in line, young people are also committed to leading by example, suggests a consumer spending survey by First Insight, Inc. The predictive analytics platform found that 73% of responding Gen Zers were ok paying more for sustainable products — no other generation group reported such a high willingness to do so. In addition, 62% of responding Gen Zers said that they preferred buying from sustainable brands — on par with millennials and 23 percentage points higher than baby boomers.
Learn More About Generation Z
Understanding Generation Z is critical for shaping the future of the nation in a positive way. Explore additional Annie E. Casey Foundation resources to learn more about America's younger generations, including Generation Z and Generation Alpha:
This post is related to: