Eleventh Class of Children and Family Fellows Announced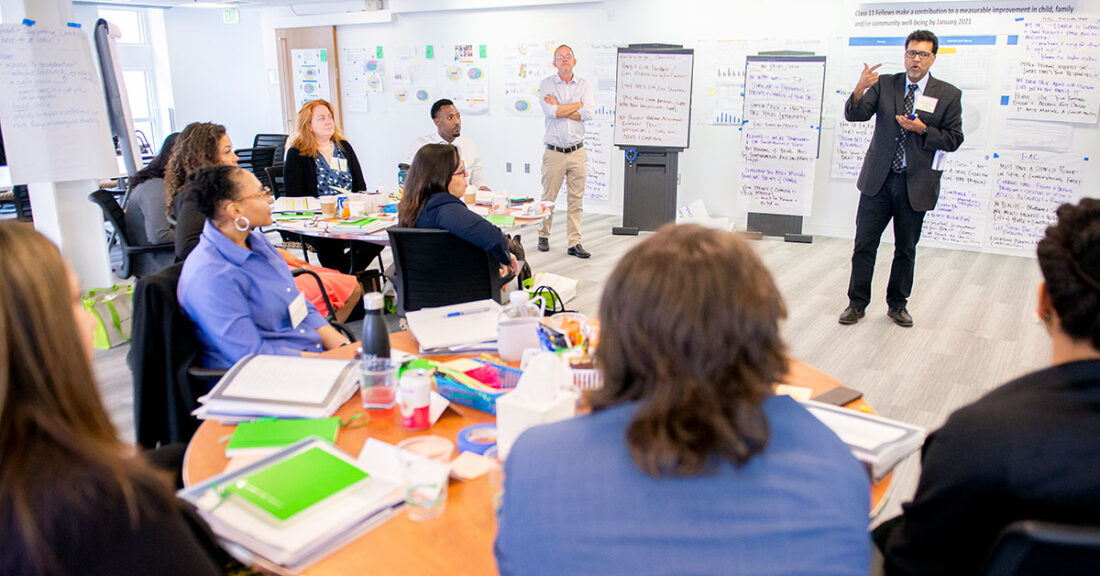 The Annie E. Casey Foundation has selected 15 leaders for the eleventh class of its Children and Family Fellowship. These women and men — accomplished leaders from the public, nonprofit and for-profit sectors — will use the 21-month Fellowship to work within their agencies, organizations and communities toward specific, measurable improvements for large numbers of young people and families. The new Fellows are based in nine states.
Now in its third decade, the Fellowship is an intensive executive leadership program designed to give more child- and family-serving professionals the confidence and competence to lead major system reforms and community change initiatives. The 11 women and four men chosen for the 2019–2021 class work in disciplines from economic development to education to child welfare, advocacy and homelessness.
For the first time, in addition to specific individual objectives, this group of Fellows will contribute to a shared result. That common end is that all youth ages 14–24 have the necessary connections to school, work and family to achieve equitable outcomes of success.
"The members of our newest class are high-energy leaders who dream big and continually strive to remove obstacles for kids and families," says Lisa Hamilton, president and CEO of the Casey Foundation. "They are passionate about making a positive difference and eager to apply the Fellowship's tools and resources to achieve even greater results."
"Through the outstanding leaders who are part of the Children and Family Fellowship, the Foundation is able to build a culture of data and results in the social sector," says Leslie Boissiere, vice president for external affairs at the Foundation, who oversees the Fellowship as part of a portfolio of results-based leadership development initiatives. "Moreover, identifying disparities in outcomes and developing targeted strategies equips these leaders to achieve equity for communities of color."
Since the Foundation began the program in 1993, 125 leaders have participated in the Children and Family Fellowship. Fellows stay connected through the Casey Fellows Alumni Network, which is designed to support relationships among the Fellows and to contribute significantly to sustained movements to improve outcomes for children, families and communities.
Alumni include Bobby Cagle, director at the Los Angeles County Department of Children and Family Services; Esther Shin, president of Urban Strategies, Inc.; Soraya M. Coley, president of Cal Poly Pomona; Daniel Cardinali, president and CEO of the national philanthropic organization Independent Sector; Anne Williams-Isom, chief executive officer of the Harlem Children's Zone; Fred Blackwell, CEO of the San Francisco Foundation; and Doug Ammar, executive director of the Georgia Justice Project.
The first executive seminar for the new class of Fellows begins in April at the Casey Foundation headquarters in Baltimore, Maryland.
The eleventh class of Fellows includes:
Grace Bonilla
Administrator
City of New York Human Services Administration
New York, New York
Charles Bradley
Division Director
Mecklenburg County Department of Social Services
Charlotte, North Carolina
Regina Cannon
SPARC Director, Chief Equity and Impact Officer
Center for Social Innovation
Needham, Massachusetts
Ed Center
Senior Program Officer, Education
Tipping Point Community
San Francisco, California
Kristen Harper
Director for Policy Development
Child Trends
Bethesda, Maryland
Karla Pleitéz Howell
Director of Educational Equity
Advancement Project California
Los Angeles, California
Mario Johnson
Bureau Director, Youth Transition Support Services
Mississippi Department of Child Protection Services
Jackson, Mississippi
Sarah Jonas
Executive Director, Office of Community Schools
New York City Department of Education
New York, New York
Kristine Snyder
LEAP Director
Project for Pride in Living
Minneapolis, Minnesota
Muneer Karcher-Ramos
Director, City of Saint Paul Office of Financial Empowerment (effective March 4)
Saint Paul, Minnesota
Alison Kear
Chief Executive Officer
Covenant House Alaska
Anchorage, Alaska
Erika Van Buren
Vice President for Evaluation and Learning
First Place for Youth
Oakland, California
Bharti Wahi
Executive Director
Children's Defense Fund–Minnesota
Saint Paul, Minnesota
Alicia Guevara Warren
KIDS COUNT Project Director
Michigan League for Public Policy
Lansing, Michigan
Iris Zuniga
Executive Vice President
Youth Policy Institute
Los Angeles, California
This post is related to: