Eleventh Class of Children and Family Fellows Announced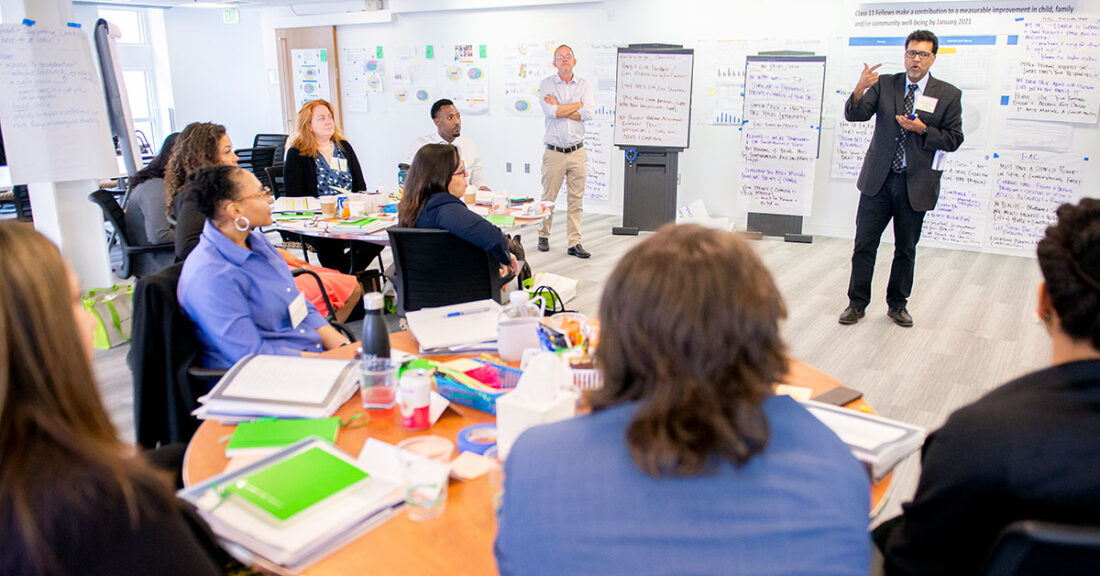 The Annie E. Casey Foun­da­tion has select­ed 15 lead­ers for the eleventh class of its Chil­dren and Fam­i­ly Fel­low­ship. These women and men — accom­plished lead­ers from the pub­lic, non­prof­it and for-prof­it sec­tors — will use the 21-month Fel­low­ship to work with­in their agen­cies, orga­ni­za­tions and com­mu­ni­ties toward spe­cif­ic, mea­sur­able improve­ments for large num­bers of young peo­ple and fam­i­lies. The new Fel­lows are based in nine states.
Now in its third decade, the Fel­low­ship is an inten­sive exec­u­tive lead­er­ship pro­gram designed to give more child- and fam­i­ly-serv­ing pro­fes­sion­als the con­fi­dence and com­pe­tence to lead major sys­tem reforms and com­mu­ni­ty change ini­tia­tives. The 11 women and four men cho­sen for the 2019–2021 class work in dis­ci­plines from eco­nom­ic devel­op­ment to edu­ca­tion to child wel­fare, advo­ca­cy and homelessness.
For the first time, in addi­tion to spe­cif­ic indi­vid­ual objec­tives, this group of Fel­lows will con­tribute to a shared result. That com­mon end is that all youth ages 14–24 have the nec­es­sary con­nec­tions to school, work and fam­i­ly to achieve equi­table out­comes of success.
"The mem­bers of our newest class are high-ener­gy lead­ers who dream big and con­tin­u­al­ly strive to remove obsta­cles for kids and fam­i­lies," says Lisa Hamil­ton, pres­i­dent and CEO of the Casey Foun­da­tion. ​"They are pas­sion­ate about mak­ing a pos­i­tive dif­fer­ence and eager to apply the Fellowship's tools and resources to achieve even greater results."
"Through the out­stand­ing lead­ers who are part of the Chil­dren and Fam­i­ly Fel­low­ship, the Foun­da­tion is able to build a cul­ture of data and results in the social sec­tor," says Leslie Boissiere, vice pres­i­dent for exter­nal affairs at the Foun­da­tion, who over­sees the Fel­low­ship as part of a port­fo­lio of results-based lead­er­ship devel­op­ment ini­tia­tives. ​"More­over, iden­ti­fy­ing dis­par­i­ties in out­comes and devel­op­ing tar­get­ed strate­gies equips these lead­ers to achieve equi­ty for com­mu­ni­ties of color."
Since the Foun­da­tion began the pro­gram in 1993, 125 lead­ers have par­tic­i­pat­ed in the Chil­dren and Fam­i­ly Fel­low­ship. Fel­lows stay con­nect­ed through the Casey Fel­lows Alum­ni Net­work, which is designed to sup­port rela­tion­ships among the Fel­lows and to con­tribute sig­nif­i­cant­ly to sus­tained move­ments to improve out­comes for chil­dren, fam­i­lies and communities.
Alum­ni include Bob­by Cagle, direc­tor at the Los Ange­les Coun­ty Depart­ment of Chil­dren and Fam­i­ly Ser­vices; Esther Shin, pres­i­dent of Urban Strate­gies, Inc.; Soraya M. Coley, pres­i­dent of Cal Poly Pomona; Daniel Car­di­nali, pres­i­dent and CEO of the nation­al phil­an­thropic orga­ni­za­tion Inde­pen­dent Sec­tor; Anne Williams-Isom, chief exec­u­tive offi­cer of the Harlem Children's Zone; Fred Black­well, CEO of the San Fran­cis­co Foun­da­tion; and Doug Ammar, exec­u­tive direc­tor of the Geor­gia Jus­tice Project.
The first exec­u­tive sem­i­nar for the new class of Fel­lows begins in April at the Casey Foun­da­tion head­quar­ters in Bal­ti­more, Maryland.
The eleventh class of Fel­lows includes:
Grace Bonil­la
Administrator
City of New York Human Ser­vices Administration
New York, New York
Charles Bradley
Divi­sion Director
Meck­len­burg Coun­ty Depart­ment of Social Services
Char­lotte, North Carolina
Regi­na Cannon
SPARC Direc­tor, Chief Equi­ty and Impact Officer
Cen­ter for Social Innovation
Need­ham, Massachusetts
Ed Cen­ter
Senior Pro­gram Offi­cer, Education
Tip­ping Point Community
San Fran­cis­co, California
Kris­ten Harper
Direc­tor for Pol­i­cy Development
Child Trends
Bethes­da, Maryland
Kar­la Pleitéz Howell
Direc­tor of Edu­ca­tion­al Equity
Advance­ment Project California
Los Ange­les, California
Mario John­son
Bureau Direc­tor, Youth Tran­si­tion Sup­port Services
Mis­sis­sip­pi Depart­ment of Child Pro­tec­tion Services
Jack­son, Mississippi
Sarah Jonas
Exec­u­tive Direc­tor, Office of Com­mu­ni­ty Schools
New York City Depart­ment of Education
New York, New York
Kris­tine Snyder
LEAP Director
Project for Pride in Living
Min­neapo­lis, Minnesota
Muneer Karcher-Ramos
Direc­tor, City of Saint Paul Office of Finan­cial Empow­er­ment (effec­tive March 4)
Saint Paul, Minnesota
Ali­son Kear
Chief Exec­u­tive Officer
Covenant House Alaska
Anchor­age, Alaska
Eri­ka Van Buren
Vice Pres­i­dent for Eval­u­a­tion and Learning
First Place for Youth
Oak­land, California
Bhar­ti Wahi
Exec­u­tive Director
Children's Defense Fund–Minnesota
Saint Paul, Minnesota
Ali­cia Gue­vara Warren
KIDS COUNT Project Director
Michi­gan League for Pub­lic Policy
Lans­ing, Michigan
Iris Zuni­ga
Exec­u­tive Vice President
Youth Pol­i­cy Institute
Los Ange­les, California
This post is related to: