Reflecting on 25 Years of the KIDS COUNT Data Book: Rethinking Public Services (1993)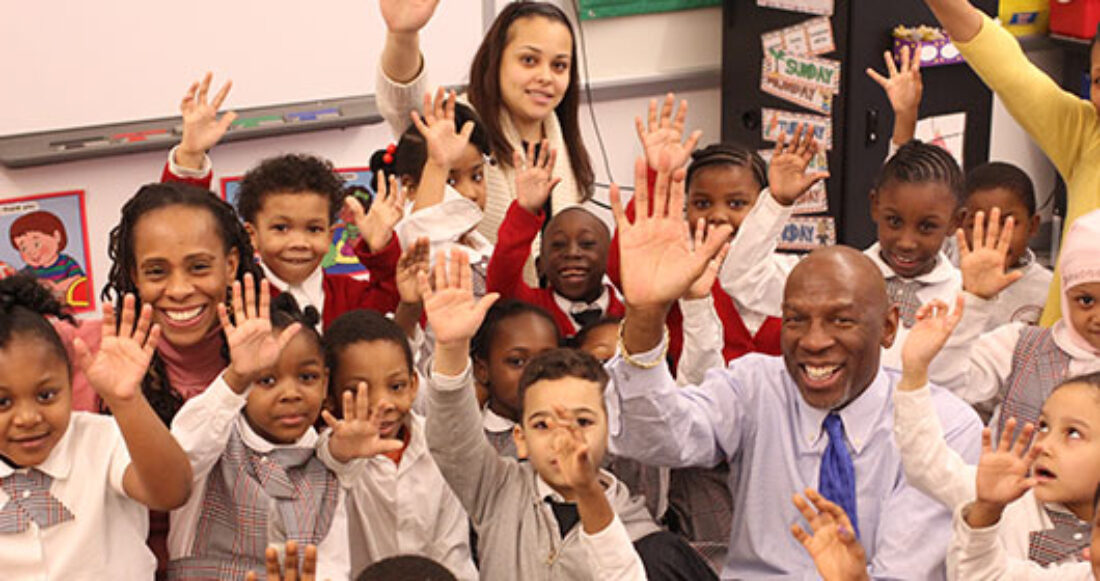 Harlem resident James Washington says he was "getting ready to make the wrong moves"—selling drugs at age 16 to help support his family—when his life took an unexpected turn. A neighbor who worked at the Rheedlen Centers for Children and Families handed his sister a slip of paper with a phone number for her brother. That call led to a job delivering packages and cleaning the Rheedlen offices after school, "but it turned into so much more," says Washington.
The job helped Washington assist his single mother in paying the bills, while Rheedlen also offered him mentoring, homework help, field trips to cultural events and support to finish high school and go to college. Geoffrey Canada, then Rheedlen's president, once held up a board meeting to convince Washington to change his mind when he heard the young man was thinking of postponing college.
Washington, now 32, has a master's degree in human services and is director of elementary and middle school programs run by the Harlem Children's Zone at PS 149. "I believe God brought me here so he could work on me but also so that I could do the same for others," he says. "There is no better reward than knowing you helped another person."
The Rheedlen Centers, which began as a truancy prevention program, helped launch the Beacon Schools in New York City, one of the first "one-stop shopping" models to provide comprehensive social and community services based in and around schools. Under Canada's leadership and with public and private sector partners, the program evolved into the Harlem Children's Zone, a sweeping set of initiatives serving a 97-block swath of Central Harlem with intensive support from birth through college graduation. The Zone serves more than 24,000 children and adults.
This is the kind of approach envisioned in the 1993 KIDS COUNT Data Book essay, "Rethinking Public Efforts on Behalf of America's Most Disadvantaged Kids and Families." The essay argues that most of the nation's investments in child welfare, health and juvenile justice have been "expensive reactions to problems that are already fully developed and severe." It calls for policy and funding reforms to promote prevention and collaboration in addressing social problems and serving families.
The Casey Foundation was an early supporter of the Beacon Schools and various public human services reform efforts that sought to embody this approach.
"My relationship with the Casey Foundation goes back to the evolution of the youth development field, when people like Richard Murphy, Michelle Cahill and Karen Pittman were writing about the assets young people need to succeed," says Canada. "The comprehensive approach Casey talked about is now part of the lexicon of folks who work in our movement, and so is the recognition that this work requires a major long-term investment."
"It's hard for me to think about a world without these concepts," notes Anne Williams-Isom, the new chief executive officer of the Harlem Children's Zone since Canada retired July 1, 2014. Before serving as chief operating officer there for five years, she was a deputy commissioner in the New York City Administration for Children's Services. She was also a Fellow in Casey's Children and Family Fellowship program, an experience that encouraged her to probe how well traditional programs were working and whether children were better off.
Head Start has always included elements of blending early education and other social services, but in more recent years the federal government has enacted broader initiatives spanning education, housing, health and human services. One is the Promise Neighborhoods, which provides grants to entities in 20 states and the District of Columbia to improve educational and developmental outcomes for children in distressed communities through "cradle-to-career solutions" including educational programs and family and community support.
Another effort, called Promise Zones, helps local leaders navigate programs to revitalize neighborhoods, attract investment, improve affordable housing and educational opportunities and curb crime. "The Zones are specifically engineered to accelerate the ability of strong local stakeholders to access federal funds in a multi-disciplinary way," notes Valerie Piper, deputy assistant secretary for economic development at the U.S. Department of Housing and Urban Development.
In January 2014, President Obama called to mind the legacy of the Harlem Children's Zone in announcing the first five Promise Zones, a mix of urban, rural and tribal communities. "For the last 17 years, the Harlem Children's Zone … has proven we can make a difference," Obama said. "If you can demonstrate the ability and the will to launch an all-encompassing, all-hands-on-deck approach to reducing poverty and expanding opportunity, we'll help you get the resources to do it. We'll take resources from some of the programs that we're already doing and concentrate them. We'll make sure that our agencies are working together more effectively. We'll put in talent to help you plan. But we're also going to hold you accountable and measure your progress," he told the Promise Zone designees.
Other federal initiatives, such as Performance Partnership Pilots, give states and localities more flexibility to use funds across federal programs for vulnerable youth if they commit to improving educational, employment and other outcomes.
A key advancement is that "we know now that changes in the way we deliver services are not enough to change lives," notes Lisbeth B. Schorr, a senior fellow at the Center for the Study of Social Policy and author of Within Our Reach: Breaking the Cycle of Disadvantage and Common Purpose: Strengthening Families and Neighborhoods to Rebuild America, two pivotal books in the 1980s and 1990s that analyzed effective strategies to combat social problems. "We see that the way families live, including economic development and employment opportunities in communities, deeply affect what happens to kids."
Today, she notes, the most promising efforts help recipients of services become participants in improving their own lives and work to improve prospects for children and parents simultaneously. This is a hallmark of Casey's "two-generation" strategy in initiatives from early childhood to family-centered community change.
The Northside Achievement Zone (the NAZ) in North Minneapolis, a Promise Neighborhoods grantee, works to end poverty through education by creating a pipeline of support from early childhood to college. Children and their parents receive intensive support to overcome obstacles related to academic achievement as well as housing, career pathways, health and other issues.
Like other Promise Neighborhoods, the NAZ gets expert help from the Center for the Study of Social Policy, PolicyLink and the Harlem Children's Zone. "We burn up their phone lines," notes Sondra Samuels, the president and chief executive officer of the NAZ. In a community where young people of color often fall prey to violence, "the work is real," says Samuels, who is raising three daughters here. "I would be dispirited if not for the work this community is doing in terms of collective impact. Bad things might still be happening, but we are putting things in place inter-generationally so it doesn't keep happening."
This post is related to: