Talking Family-Centered Practice With United Way's Henrietta Muñoz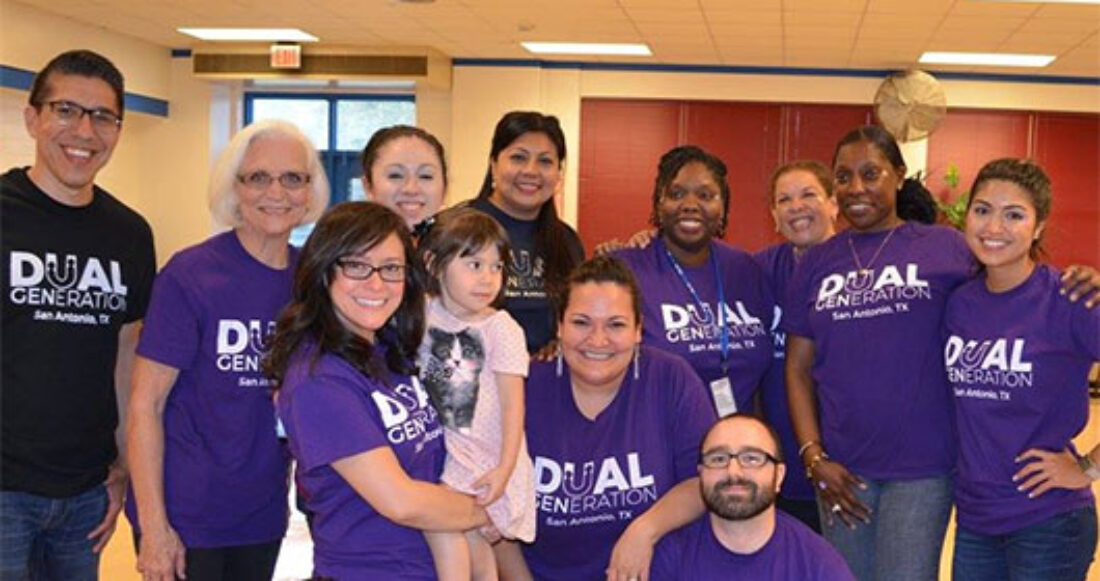 As part of its Fam­i­ly-Cen­tered Com­mu­ni­ty Change port­fo­lio, the Annie E. Casey Foun­da­tion is part­ner­ing with com­mu­ni­ty devel­op­ment ini­tia­tives in three cities — Buf­fa­lo, Colum­bus and San Anto­nio — to inte­grate dis­con­nect­ed ser­vices for kids and adults. With an end goal of strength­en­ing fam­i­lies, this approach focus­es on enhanc­ing both the qual­i­ty of schools for chil­dren as well as job and par­ent­ing skills for adults.
In a new blog post series, Casey explores what Fam­i­ly-Cen­tered Com­mu­ni­ty Change looks like to the orga­ni­za­tions involved. This entry shares the per­spec­tive of Hen­ri­et­ta Muñoz, who serves as the senior vice pres­i­dent of research and eval­u­a­tion at Unit­ed Way of San Anto­nio and Bexar Coun­ty. Read our inter­views with prac­ti­tion­ers in Buf­fa­lo and Colum­bus.
Casey: How would you describe fam­i­ly-cen­tered practice?
Hen­ri­et­ta Muñoz: Fam­i­ly-cen­tered prac­tice is hold­ing the fam­i­ly and their goals at the cen­ter of your work. Every deci­sion, every move we make and every piece of data we have is to bet­ter serve our families.
Casey: How has this work evolved over time?
Muñoz: We have learned that it is impor­tant to be as inten­tion­al as pos­si­ble about inte­grat­ing our work with the work of our part­ners. We have also learned that this lev­el of collaboration—which involves devel­op­ing a shared account­abil­i­ty and rec­og­niz­ing our col­lec­tive contributions—takes time.
Casey: What val­ues dri­ve this work?
Muñoz: Fam­i­lies first! We val­ue the per­spec­tives and voic­es of oth­ers. We val­ue each other's respec­tive roles and what they bring to the table. We val­ue fam­i­lies' exper­tise in know­ing how to make their fam­i­ly work, and we val­ue and respect how fam­i­lies make deci­sions. We also val­ue choice and make fam­i­lies aware that they have a choice in how they proceed.
Casey: Do staff need dif­fer­ent train­ing to be fam­i­ly centered?
Muñoz: Yes. Being fam­i­ly cen­tered is not rock­et sci­ence, but it is a sci­ence. It is about remem­ber­ing and respect­ing the fact that fam­i­lies will ulti­mate­ly lead the way. Hold­ing a fam­i­ly at the cen­ter of a long-term case man­age­ment effort can be tax­ing, so encour­ag­ing self-care among staff is also impor­tant. Train­ing reminds us of the impor­tance of mutu­al respect and how that works. It helps us bet­ter nav­i­gate dif­fer­ent fam­i­ly sit­u­a­tions, and it helps us grow as coach­es and case managers.
Casey: Are there mis­con­cep­tions about fam­i­ly-cen­tered practice?
Muñoz: Some might think that fam­i­ly-cen­tered means that you do not need to fol­low a ser­vice mod­el or hold fideli­ty to evi­dence-based cur­ricu­lum. Not true! We incor­po­rate the meth­ods of fam­i­ly-cen­tered prac­tice into our evi­dence-based ser­vice models.
Casey: Any advice for oth­ers look­ing to adopt a fam­i­ly-cen­tered practice?
Muñoz: Con­sid­er get­ting trained in trau­ma-informed case man­age­ment and coach­ing, and please take care of your front-line lead­er­ship, as they will be the ones imple­ment­ing the fam­i­ly-cen­tered prac­tice and expe­ri­enc­ing the trau­mas, chal­lenges and joys right along with the fam­i­lies that they support.
This post is related to: