The Beautiful Project: Helping Black Girls and Women Thrive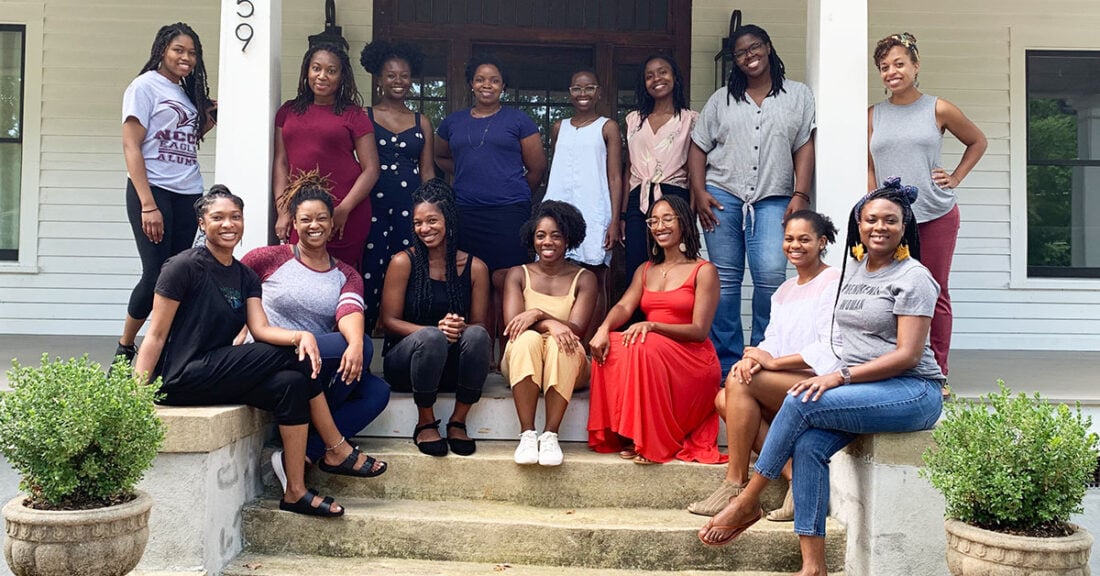 How can the arts and a supportive community be combined to position Black girls to be agents of social change? The Beautiful Project provides mentorship through training in photography, film and writing to help Black girls and women advance their well-being and tell their own stories. With support from the Annie E. Casey Foundation, The Beautiful Project has honed its mission, refined its program offerings and achieved 501(c)(3) nonprofit status to expand its work and make the organization more sustainable.
Since its 2004 launch, The Beautiful Project has brought together Black artists, educators and researchers in Durham, North Carolina. The organization offers four core activities, including a summer intensive training and a youth apprenticeship for girls ages 14 to 18. In addition to helping participants cultivate their writing and photography skills, these programs promote the perspectives of Black girls and women in the Durham region and beyond. In 2019, the collective brought its work to the Metropolitan Museum of Art in New York City for the exhibit "Pen, Lens & Soul: The Story of the Beautiful Project."
The Beautiful Project's emphasis on using the arts to build self-confidence and relationships between Black mentors and mentees drew the attention of Ayo Atterberry, a senior associate with Casey's Evidence-Based Practice Group. Atterberry's portfolio focuses on helping programs and organizations developed specifically to improve well-being for youth of color to document their purpose and build evidence so they can grow and work with more young people.
Strengthening language to advance mission and programs
At the onset of their relationship with the Casey Foundation, The Beautiful Project's team struggled to articulate their core activities and program outcomes. Despite having built a strong local reputation, they knew they needed to refine this language to gain the attention of external boards and donors. With a Casey grant, Jamaica Gilmer, executive director of the organization, hired Erin Stephens to help them do so.
Stephens worked with Gilmer and consultants deployed by the Foundation to develop The Beautiful Project's theory of change (a statement of the overarching belief that guides their work) and logic model (documented steps they take to achieve their goals). The resulting tools combined the consultants' experience and knowledge on implementing and evaluating programs with firsthand perspective from staff and participants at The Beautiful Project.
Funding also enabled The Beautiful Project to start a second cohort of its youth apprenticeship program, helping four to six participants develop advanced writing and photography skills. The Beautiful Project gained access to a network of other Casey grantees on similar journeys to document and evaluate how they contribute to well-being for young people, families and communities.
"Growth is not just about scale," says Atterberry. "Growth is also about going deep. The goal was to help The Beautiful Project really dig deep into their program so that they can show their logic model, get additional funders and eventually scale their program."
Becoming a more sustainable organization
Originally, The Beautiful Project was supporting its work through a fiscal sponsor. Gilmer was reluctant to register The Beautiful Project as a nonprofit, having witnessed other organizations struggle with being fully on their own. She changed her mind when, through a conversation with Atterberry, she realized she could steer her team along this process through continual learning and strong leadership.
Ultimately, The Beautiful Project's nonprofit status has made the organization more sustainable, Gilmer says. Money that was going to the fiscal sponsor is now directed toward goals. It has also earned the organization greater legitimacy among donors and funders. "It put us in a different sphere," says Gilmer. "Now, when applying for funding, we have the entity that philanthropy is going to consider before they even get to our mission and vision."
Expanding access for leaders of color
Leaders of color often lack access to critical resources to sustain their programs, particularly funding and outside expertise. At the same time, they're indispensable figures, creating culturally responsive and effective organizations. By helping leaders pinpoint their organizations' strengths and navigate the complexities of fundraising, the Foundation's support helps prepare them for growth.
"Our partnership with the Annie E. Casey Foundation was a pivotal shift to how we think about and do our work," says Gilmer. "It gifted us with the ability to just choose something that we can commit to as opposed to trying to do everything, but being less effective. The thoughtful and transparent partnership allowed us to see that we did not have to be perfect, but if we could take what we had learned, learn more and operationalize our expertise, we could go further."
Hear program leaders of color discuss their journeys in building evidence
This post is related to: