Using Results Count Skills to Expand Health Care Coverage for Kids in Georgia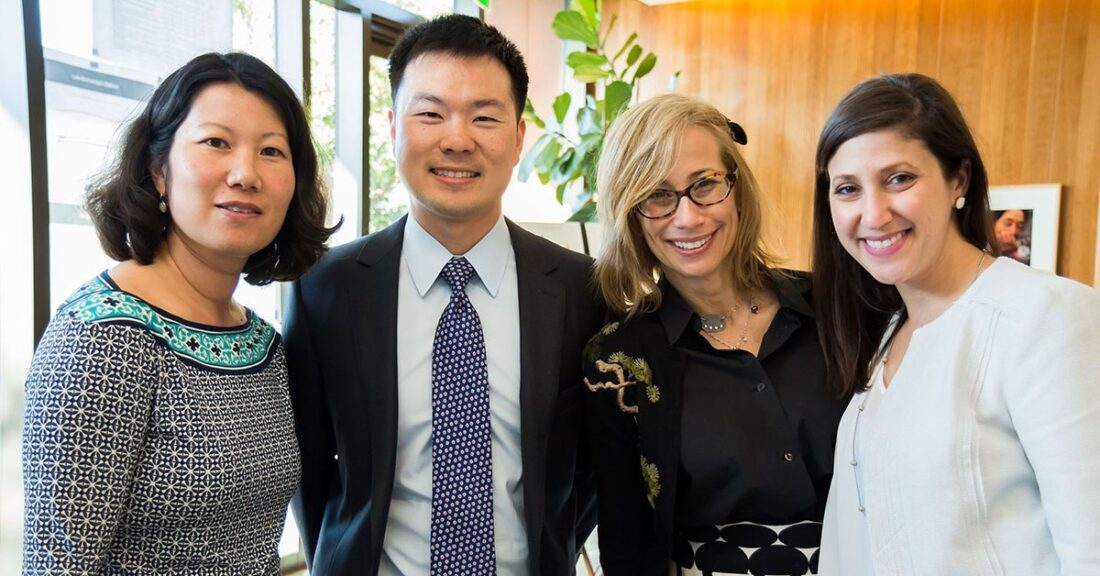 When Gov. Bri­an Kemp signed a mea­sure into law in May 2021 to expand health care cov­er­age to approx­i­mate­ly 70,000 unin­sured kids in Geor­gia, it marked the real­iza­tion of a pol­i­cy goal Eri­ca Fen­er Sitkoff had defined near­ly five years before as a mem­ber of the first cohort of the Children's Health Lead­er­ship Net­work (CHLN).
Spon­sored by the Annie E. Casey Foun­da­tion in col­lab­o­ra­tion with the David and Lucile Packard Foun­da­tion and the Atlantic Phil­an­thropies, CHLN is an inten­sive 17-month lead­er­ship devel­op­ment pro­gram based on Results Count®, Casey's unique approach to equip­ping social-sec­tor exec­u­tives with the skills and con­fi­dence to achieve bet­ter out­comes for all kids and fam­i­lies. Sitkoff, exec­u­tive direc­tor of Voic­es for Georgia's Chil­dren, says that her pro­fi­cien­cy in lever­ag­ing data, along with her deep immer­sion in the areas of part­ner­ships, per­son­al pow­er and orga­ni­za­tion­al author­i­ty ​"accel­er­at­ed" her effec­tive­ness as a pol­i­cy advocate.
First Steps
As in every Results Count ini­tia­tive, CHLN par­tic­i­pants select an over­ar­ch­ing result that guides their work toward spe­cif­ic, mea­sur­able improve­ments for large num­bers of young peo­ple and fam­i­lies. Sitkoff's result: All chil­dren in Geor­gia who are eli­gi­ble for pub­lic health insur­ance — through Med­ic­aid and Georgia's Peach­Care for Kids health pro­gram — will be enrolled and receive the ben­e­fit.
With­out health care cov­er­age, unin­sured chil­dren are more like­ly to have unmet med­ical needs and less like­ly to have a reg­u­lar source of care, which are devel­op­men­tal risks for chil­dren. ​"If you don't have health insur­ance," says Sitkoff, ​"you are not proac­tive­ly going to the doc­tor, you are wait­ing longer to go to the doc­tor when some­thing is wrong and you are boxed out of many activ­i­ties. For exam­ple, many schools won't allow you to go on field trips or par­tic­i­pate in cer­tain sports activ­i­ties with­out health insurance."
With near­ly 200,000 unin­sured chil­dren under the age of 19, Geor­gia had the nation's fourth largest unin­sured child­hood pop­u­la­tion in 2019, accord­ing to the Foundation's lat­est KIDS COUNT® Data Book. Sitkoff's deep dive into cov­er­age data revealed sig­nif­i­cant racial, eth­nic and geo­graph­ic dis­par­i­ties. Lati­no chil­dren in Geor­gia were unin­sured at near­ly three times the rate of their white peers and twice the rate of their Black coun­ter­parts. In some rur­al coun­ties, more than half of all chil­dren lacked health insurance.
To bet­ter under­stand the real-life expe­ri­ences behind the data, Sitkoff and her col­leagues talked to peo­ple in com­mu­ni­ties across the state. They found that bar­ri­ers to obtain­ing pub­lic health insur­ance includ­ed the intim­i­dat­ing 30-page appli­ca­tion form and the lim­it­ed capa­bil­i­ties and hours of the Geor­gia Gate­way, the online sys­tem for deter­min­ing fam­i­lies' eli­gi­bil­i­ty for var­i­ous fed­er­al and state ben­e­fit pro­grams. Geor­gia Gate­way shut down dai­ly at 4 p.m. and com­plete­ly on weekends.
"Fam­i­lies would take sev­er­al hours to fill out the appli­ca­tion and hit ​'sub­mit'," says Sitkoff. ​"The appli­ca­tion would go out into the ether and nev­er be received." An urgent pri­or­i­ty for Voic­es for Georgia's Chil­dren and its part­ners was advo­cat­ing for sys­tem improve­ments to make enroll­ment eas­i­er for fam­i­lies. Geor­gia Gate­way is now avail­able to fam­i­lies at all times.
The Express Lane
A key step toward achiev­ing Sitkoff's CHLN result was advo­cat­ing for Express Lane Eli­gi­bil­i­ty, a fed­er­al pol­i­cy option avail­able to states that makes fam­i­lies who are eli­gi­ble for the Sup­ple­men­tal Nutri­tion Assis­tance Pro­gram (SNAP) auto­mat­i­cal­ly eli­gi­ble for Med­ic­aid. The fed­er­al government's rea­son­ing for this option: fam­i­ly income and oth­er require­ments for SNAP are more strin­gent than Medicaid's. ​"In essence," says Sitkoff, ​"Express Lane Eli­gi­bil­i­ty means that par­ents just have to fill out one application."
Voic­es for Georgia's Chil­dren pro­vid­ed law­mak­ers with exam­ples of Express Lane Eli­gi­bil­i­ty in oth­er states and with the most recent cov­er­age data in Geor­gia: 85,000 chil­dren in the state were enrolled in SNAP but not cov­ered by pub­lic health insur­ance. In Jan­u­ary 2021, Rep. Sharon Coop­er intro­duced House Bill 163, which direct­ed state agen­cies to seek fed­er­al approval of a plan allow­ing fam­i­lies who apply for SNAP assis­tance to simul­ta­ne­ous­ly apply for Medicaid.
The state agen­cies that would imple­ment the bill were an essen­tial audi­ence for Sitkoff's advo­ca­cy. ​"Pol­i­cy lives and dies with its imple­men­ta­tion," she says. A key cham­pi­on for Express Lane Eli­gi­bil­i­ty was Tom C. Rawl­ings, direc­tor of Georgia's Divi­sion of Fam­i­ly and Chil­dren Ser­vices. His agency esti­mat­ed that stream­lin­ing enroll­ment would not only result in 70,000 unin­sured chil­dren obtain­ing health insur­ance but also reduce the agency's admin­is­tra­tive costs for col­lect­ing and review­ing pre­vi­ous­ly ver­i­fied data.
A broad coali­tion of part­ners has been vital to Voic­es for Georgia's Children's pol­i­cy advo­ca­cy. The orga­ni­za­tion and the Geor­gia Chap­ter of the Amer­i­can Acad­e­my of Pedi­atrics co-found­ed the Child and Ado­les­cent Health Coali­tion, com­prised of advo­cates, ser­vice providers, uni­ver­si­ties and state agency leaders.
The Long Game
Sitkoff sees this pol­i­cy win for chil­dren as a cat­a­lyst for fur­ther stream­lin­ing the way fam­i­lies access crit­i­cal sources of sup­port. For exam­ple, Geor­gia is cur­rent­ly con­sid­er­ing the inclu­sion of the fed­er­al Tem­po­rary Assis­tance for Needy Fam­i­lies pro­gram in its Express Lane Eli­gi­bil­i­ty ini­tia­tive. The state is also test­ing a short­er health insur­ance appli­ca­tion that is acces­si­ble to fam­i­lies with lim­it­ed Eng­lish pro­fi­cien­cy, dif­fer­ent read­ing lev­els and dif­fer­ent time con­straints and inter­net availability.
"Pol­i­cy change is a long game," Sitkoff says. ​"But it is an impor­tant game and a game that can be won. It just may not hap­pen overnight."
This post is related to: