Using Results Count Skills to Expand Health Care Coverage for Kids in Georgia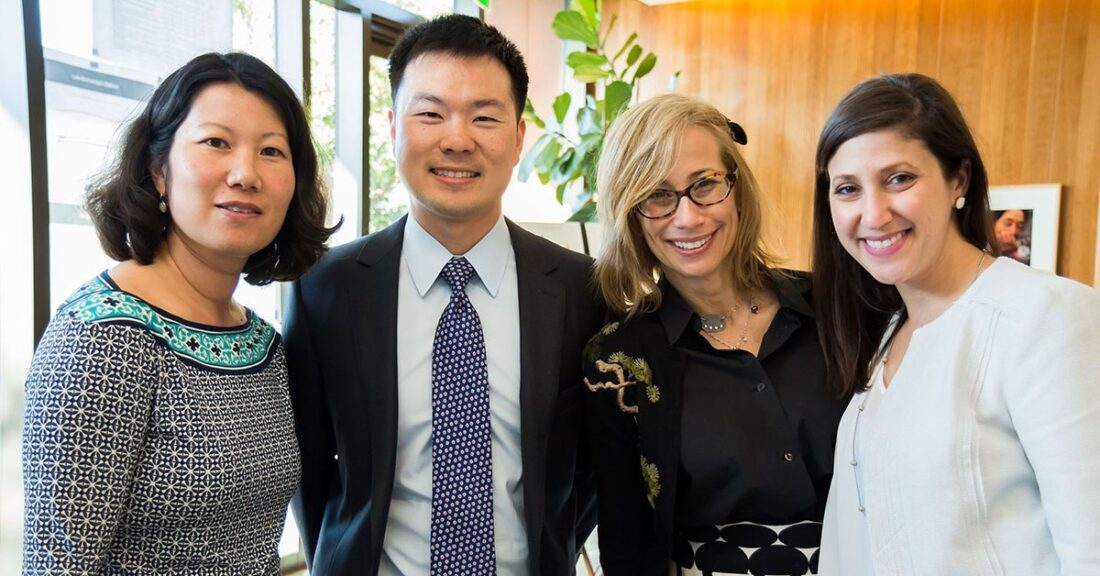 When Gov. Brian Kemp signed a measure into law in May 2021 to expand health care coverage to approximately 70,000 uninsured kids in Georgia, it marked the realization of a policy goal Erica Fener Sitkoff had defined nearly five years before as a member of the first cohort of the Children's Health Leadership Network (CHLN).
Sponsored by the Annie E. Casey Foundation in collaboration with the David and Lucile Packard Foundation and the Atlantic Philanthropies, CHLN is an intensive 17-month leadership development program based on Results Count®, Casey's unique approach to equipping social-sector executives with the skills and confidence to achieve better outcomes for all kids and families. Sitkoff, executive director of Voices for Georgia's Children, says that her proficiency in leveraging data, along with her deep immersion in the areas of partnerships, personal power and organizational authority "accelerated" her effectiveness as a policy advocate.
First Steps
As in every Results Count initiative, CHLN participants select an overarching result that guides their work toward specific, measurable improvements for large numbers of young people and families. Sitkoff's result: All children in Georgia who are eligible for public health insurance — through Medicaid and Georgia's PeachCare for Kids health program — will be enrolled and receive the benefit.
Without health care coverage, uninsured children are more likely to have unmet medical needs and less likely to have a regular source of care, which are developmental risks for children. "If you don't have health insurance," says Sitkoff, "you are not proactively going to the doctor, you are waiting longer to go to the doctor when something is wrong and you are boxed out of many activities. For example, many schools won't allow you to go on field trips or participate in certain sports activities without health insurance."
With nearly 200,000 uninsured children under the age of 19, Georgia had the nation's fourth largest uninsured childhood population in 2019, according to the Foundation's latest KIDS COUNT® Data Book. Sitkoff's deep dive into coverage data revealed significant racial, ethnic and geographic disparities. Latino children in Georgia were uninsured at nearly three times the rate of their white peers and twice the rate of their Black counterparts. In some rural counties, more than half of all children lacked health insurance.
To better understand the real-life experiences behind the data, Sitkoff and her colleagues talked to people in communities across the state. They found that barriers to obtaining public health insurance included the intimidating 30-page application form and the limited capabilities and hours of the Georgia Gateway, the online system for determining families' eligibility for various federal and state benefit programs. Georgia Gateway shut down daily at 4 p.m. and completely on weekends.
"Families would take several hours to fill out the application and hit 'submit'," says Sitkoff. "The application would go out into the ether and never be received." An urgent priority for Voices for Georgia's Children and its partners was advocating for system improvements to make enrollment easier for families. Georgia Gateway is now available to families at all times.
The Express Lane
A key step toward achieving Sitkoff's CHLN result was advocating for Express Lane Eligibility, a federal policy option available to states that makes families who are eligible for the Supplemental Nutrition Assistance Program (SNAP) automatically eligible for Medicaid. The federal government's reasoning for this option: family income and other requirements for SNAP are more stringent than Medicaid's. "In essence," says Sitkoff, "Express Lane Eligibility means that parents just have to fill out one application."
Voices for Georgia's Children provided lawmakers with examples of Express Lane Eligibility in other states and with the most recent coverage data in Georgia: 85,000 children in the state were enrolled in SNAP but not covered by public health insurance. In January 2021, Rep. Sharon Cooper introduced House Bill 163, which directed state agencies to seek federal approval of a plan allowing families who apply for SNAP assistance to simultaneously apply for Medicaid.
The state agencies that would implement the bill were an essential audience for Sitkoff's advocacy. "Policy lives and dies with its implementation," she says. A key champion for Express Lane Eligibility was Tom C. Rawlings, director of Georgia's Division of Family and Children Services. His agency estimated that streamlining enrollment would not only result in 70,000 uninsured children obtaining health insurance but also reduce the agency's administrative costs for collecting and reviewing previously verified data.
A broad coalition of partners has been vital to Voices for Georgia's Children's policy advocacy. The organization and the Georgia Chapter of the American Academy of Pediatrics co-founded the Child and Adolescent Health Coalition, comprised of advocates, service providers, universities and state agency leaders.
The Long Game
Sitkoff sees this policy win for children as a catalyst for further streamlining the way families access critical sources of support. For example, Georgia is currently considering the inclusion of the federal Temporary Assistance for Needy Families program in its Express Lane Eligibility initiative. The state is also testing a shorter health insurance application that is accessible to families with limited English proficiency, different reading levels and different time constraints and internet availability.
"Policy change is a long game," Sitkoff says. "But it is an important game and a game that can be won. It just may not happen overnight."
This post is related to: