2020–21 Class of Child Health Advocates Named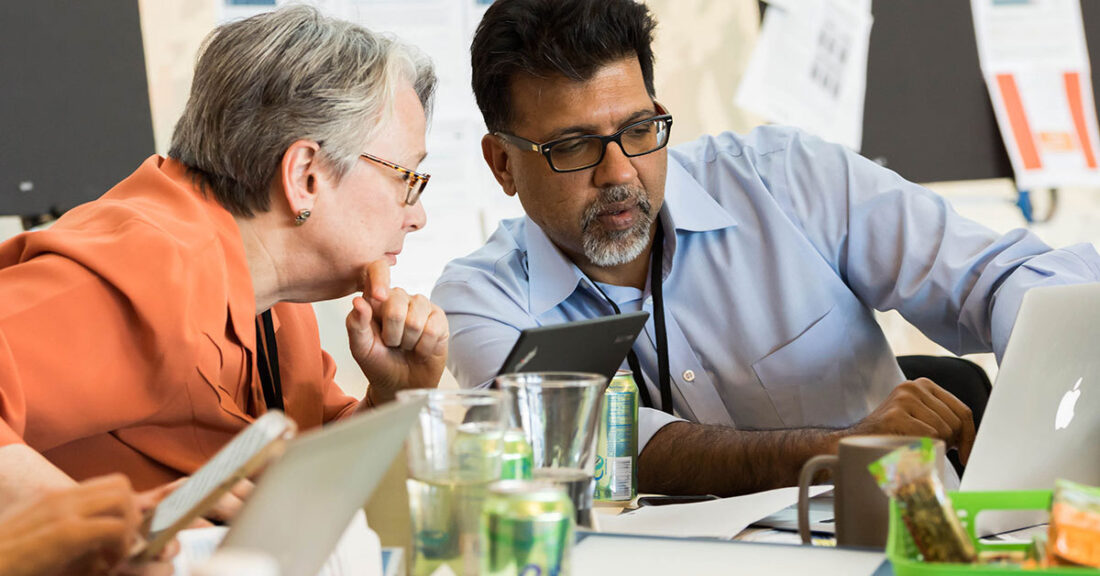 The Annie E. Casey Foundation, the David and Lucile Packard Foundation and The Atlantic Philanthropies are pleased to announce the 2020–21 class selected to participate in the Children's Health Leadership Network, a rigorous Results Count® leadership development initiative. The 17-month program helps participants build their skills as policy advocates to improve health and well-being for all children in the United States and, most specifically, children at greatest risk for poor health.
The 2020–21 class — which consists of teams from Kansas, Missouri and Texas — faces some steep challenges, including the vast economic and public health consequences of the coronavirus crisis and statistically significant decreases in children's health insurance coverage, which preceded the crisis.
Each team includes public health policy analysts, program directors and nonprofit child advocates who will be working to strengthen their collective capacity to achieve lasting change. The teams will collaborate — often across agencies and sectors — on strategies that focus on one or more of the following health policy issues:
maximizing Medicaid enrollment for all eligible children and families;
improving Medicaid coverage, such as promoting healthy development for infants in their first year; and
pursuing policy and regulatory opportunities to make gains in child health outcomes.
"The experience gives leaders a set of tools and skills designed to accelerate equitable health outcomes for kids and families," says Barbara Squires, director of Leadership Development at Casey. "The participants contribute to results immediately because as they learn the results-driven strategies they apply them to present-day policy and advocacy efforts."
All three particiating states are part of the Packard Foundation's Finish Line Project, which supports organizations in states that are best positioned to make significant advances in children's health care coverage. Their teams demonstrated a history of collaboration, commitment to racial and ethnic equity and interest in using the Children's Health Leadership Network process to accelerate their Medicaid expansion efforts.
"Now more than ever, it is crucial that we invest in the next generation of leaders focused on children's health," says Dr. Katherine Beckmann, a program officer in the Children, Families, and Communities program at the Packard Foundation. "Amid so much uncertainty as the world battles the COVID-19 pandemic, it is such an honor to support this new generation of inspiring leaders and advocates, each working to ensure children are surrounded by a network of supportive adults providing them with quality care for their physical, emotional and social well-being."
The 2020–21 program is slated to kick off with a virtual seminar — the first in a six-part series — in May 2020. These intensive learning sessions are designed to build skills in the areas of child health policy, child advocacy and Results Count leadership in order to improve outcomes in measurable ways.
In addition to the seminary series, teams will benefit from individualized coaching, site visits and tailored learning plans. Assignments between formal sessions will enable participants to apply their new skills in their home organizations and systems, and each team will develop and execute a child health policy agenda with defined targets to improve state-level outcomes.
Meet the newest members of the Children's Health Leadership Network
Kansas
Brenda Bandy, executive director, Kansas Breastfeeding Coalition, Inc
Broderick Crawford, president, NBC Community Development Corporation
April Holman, executive director, Alliance for a Healthy Kansas
Bertha Mendoza, instructor for nutrition education, K-State Research and Extension
Adrienne Olejnik, vice president, Kansas Action for Children
Alice Weingartner, chief strategy officer, Community Care Network of Kansas
Donna Young, executive director, Community Health Council of Wyandotte County
Missouri
Lucas Caldwell-McMillian, managing attorney of the Health and Welfare Program, Legal Services of Eastern Missouri
Shawn D'Abreu, policy director, Missouri Health Care for All
Iva Eggert-Shepherd, outreach program manager, Missouri Primary Care Association
Traci Gleason, vice president for external affairs, Missouri Budget Project
Tracey Greever-Rice, director, University of Missouri Center for Health Policy; program director for Missouri KIDS COUNT, Missouri Family and Community Trust
Casey Hanson, director of outreach and engagement, Kids Win Missouri
Brie M. Wagner, engagement coordinator, Missouri Coalition of Children's Agencies
Texas
Melissa McChesney, policy analyst, Center for Public Policy Priorities
Aurora Harris, southern reginal director, Young Invincibles
Kaeleigh Hernandez, program coordinator, Children at Risk
Bryan Mares, public policy fellow, Texas CASA
Erika Ramirez, director of policy and advocacy, Healthy Futures of Texas-Texas Women's Healthcare Coalition
Alissa Sughrue, policy coordinator, National Alliance of Mental Illness Texas
The Children's Health Leadership Network
Launched in 2016, the Children's Health Leadership Network is designed to strengthen the field of state-based advocates for children's health policy.
The establishment of the Children's Health Leadership Network builds on the Casey Foundation's core conviction — developed and reinforced over the past 20 years — that professionals using the tools and skills of Results Count leadership are far more likely to have a lasting and measurable impact on the lives and prospects of today's children and their families.
With funding from the Casey Foundation, the Packard Foundation and The Atlantic Philanthropies, as well as policy expertise provided by the Georgetown University Center for Children and Families, the Children's Health Leadership Network aims to develop a pool of nearly 100 health advocates who are driving change and forging partnerships within their communities. Its most recent class, in 2018–19, brought together teams of advocates to help shape the health policy landscape in four states in the South and Southwest.
Upon finishing the program, leaders join the advocacy alumni network, with regular opportunities to share lessons and results, collaborate with peers and serve as network ambassadors to strengthen national child health advocacy efforts.
Review results for the first class
This post is related to: