Leadership Program Helps Health Advocates Connect More Kids and Families to Medicaid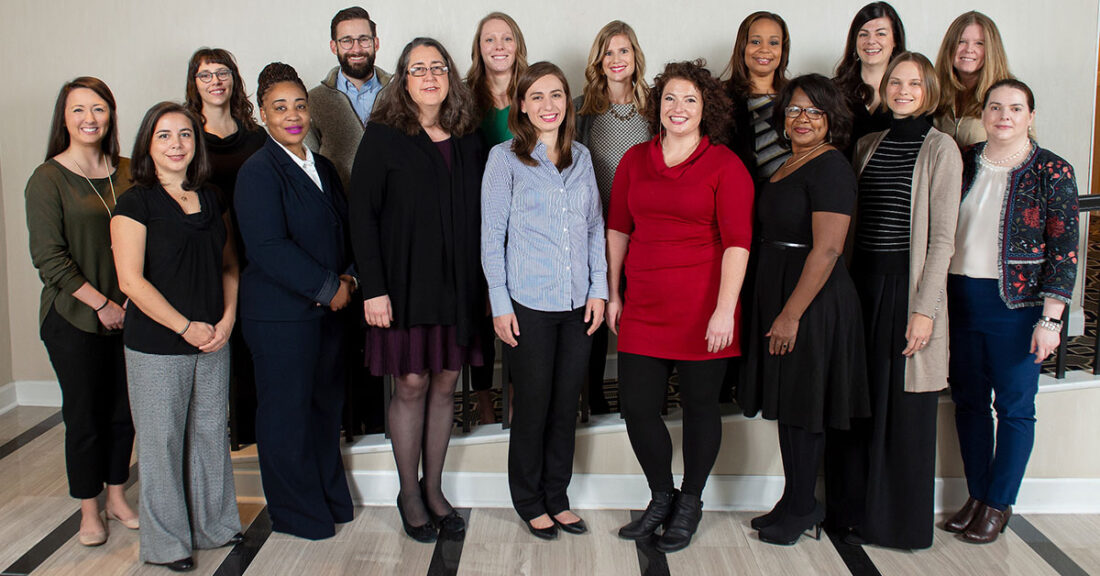 Mem­bers from the sec­ond class of the Children's Health Lead­er­ship Net­work have com­plet­ed the 12-month lead­er­ship pro­gram — and pre­served, expand­ed or improved Med­ic­aid in four states along the way.
The pro­gram — launched by the Annie E. Casey Foun­da­tion, the David and Lucile Packard Foun­da­tion, and Atlantic Phil­an­thropies — equips par­tic­i­pants with the skills, con­fi­dence and rela­tion­ships need­ed to improve the health and well-being of kids and fam­i­lies in their respec­tive states.
This year's class divid­ed into four-per­son teams and all mem­bers hailed from the South and South­west, where states have long strug­gled to help chil­dren achieve key healthy mile­stones. These teams — rep­re­sent­ing Geor­gia, Ken­tucky, Louisiana and Texas — devel­oped and exe­cut­ed a pol­i­cy agen­da for their state and uti­lized a Results Count™ approach.
By the end of the pro­gram, each team had suc­cess­es on record.
The Geor­gia team had facil­i­tat­ed Med­ic­aid enroll­ment and renew­al assis­tance at

225

Fed­er­al­ly Qual­i­fied Health Cen­ters through­out the state. Twen­ty per­cent of the

500

,

000

patients aid­ed by this effort were chil­dren, includ­ing tens of thou­sands of chil­dren who were pre­vi­ous­ly uninsured.
The Ken­tucky team had pro­tect­ed Med­ic­aid access with­out work require­ments for

1

.

4

mil­lion Ken­tuck­ians — includ­ing

551

,

000

chil­dren — via judi­cial rem­e­dy, col­lect­ing

12

,

000

pub­lic com­ments and sus­tain­ing statewide advocacy.
The Louisiana team had suc­cess­ful­ly advo­cat­ed for the state's

RFP

for Med­ic­aid Man­aged Care Orga­ni­za­tions to offer incen­tives for devel­op­men­tal screen­ings for chil­dren ages

0

to

3

. About

700

,

000

kids in Louisiana rely on Med­ic­aid and state children's health insurance.
The Texas team had con­vened

42

orga­ni­za­tions in sup­port of pol­i­cy pri­or­i­ties for full-year, con­tin­u­ous Med­ic­aid cov­er­age for three mil­lion chil­dren across the state.
"By strength­en­ing the pol­i­cy, advo­ca­cy and lead­er­ship skills of teams in chal­leng­ing states, these lead­ers achieved bold­er results for chil­dren," says Jann Jack­son, a senior asso­ciate focused on pol­i­cy reform and advo­ca­cy at the Casey Foundation.
Par­tic­i­pant Lau­ra Guer­ra-Car­dus, deputy direc­tor of the Children's Defense Fund-Texas, explains that the pro­gram gave her a frame­work for think­ing about pol­i­cy change, build­ing coali­tions and craft­ing effec­tive strate­gies. Her favorite part? The state team design, which — accord­ing to Guer­ra-Car­dus — enabled the Texas del­e­ga­tion ​"to devel­op mean­ing­ful rela­tion­ships with each oth­er found­ed in trust; an under­stand­ing of each oth­er and how we work; and the abil­i­ty to build a pow­er­ful team to effect change."
SEE AN INFO­GRAPH­IC OF CHILDREN'S HEALTH LEAD­ER­SHIP NET­WORK RESULTS
Appli­ca­tions for the program's third class will be avail­able in 2020.
Meet the
2018

–

19

Children's Health Lead­er­ship Net­work Participants

Geor­gia
Elise Blasingame, exec­u­tive direc­tor, Healthy Moth­ers, Healthy Babies Coali­tion of Georgia
Lau­ra Col­bert, exec­u­tive direc­tor, Geor­gians for a Healthy Future
Lisa Hayes, inde­pen­dent con­sul­tant; for­mer exec­u­tive direc­tor, Chatham Coun­ty Safe­ty Net Plan­ning Council
LaShun Wright, direc­tor of train­ing and tech­ni­cal assis­tance, Geor­gia Pri­ma­ry Care Association
Ken­tucky
Emi­ly Beau­re­gard, exec­u­tive direc­tor, Ken­tucky Voic­es for Health
Adri­enne Bush, exec­u­tive direc­tor, Home­less and Hous­ing Coali­tion of Kentucky
Dustin Pugel, pol­i­cy ana­lyst, Ken­tucky Cen­ter for Eco­nom­ic Policy
Cara Stew­art, chief of staff, Ken­tucky House Demo­c­ra­t­ic Cau­cus Office
Louisiana
Rae­gan A. Carter, pub­lic health pol­i­cy con­sul­tant; for­mer senior man­ag­er, Louisiana Pub­lic Health Institute
Jeanie Dono­van, pol­i­cy direc­tor, Louisiana Depart­ment of Health
Susan Nel­son, exec­u­tive direc­tor, Louisiana Part­ner­ship for Chil­dren and Families
Alma Stew­art, founder and direc­tor, Louisiana Cen­ter for Health Equity/​Campaign for Health Care for Everyone
Texas
Jen­ny Eyer, direc­tor for child health research and pol­i­cy,

CHIL­DREN

AT

RISK

Lau­ra Guer­ra-Car­dus, deputy direc­tor, Children's Defense Fund-Texas
Adri­ana Kohler, senior health policy asso­ciate, Tex­ans Care for Children
Stacey Pogue, senior pol­i­cy ana­lyst, Cen­ter for Pub­lic Pol­i­cy Priorities
About the Children's Health Lead­er­ship Network
Launched in 2016, the Children's Health Lead­er­ship Net­work is designed to strength­en the field of state-based advo­cates for children's health policy.
These lead­ers can have a tremen­dous impact on the lives of chil­dren and fam­i­lies, accord­ing to Bar­bara Squires, direc­tor of Lead­er­ship Devel­op­ment at the Annie E. Casey Foundation.
"Through the tire­less work of child health pol­i­cy advo­cates, hun­dreds of thou­sands of chil­dren and fam­i­lies gain or main­tain the nec­es­sary health care cov­er­age that allows them to stay healthy, and we see health dis­par­i­ties start to close," says Squires.
With fund­ing from the Casey Foun­da­tion, the David and Lucile Packard Foun­da­tion and the Atlantic Phil­an­thropies and sup­port­ed by the George­town Uni­ver­si­ty Cen­ter for Chil­dren and Fam­i­lies, the Children's Health Lead­er­ship Net­work will devel­op a pool of near­ly 100 health advo­cates in lead­er­ship posi­tions who are dri­ving change and forg­ing part­ner­ships with­in their com­mu­ni­ties. The program's first class of 16 advo­cates helped shape the pol­i­cy land­scape to improve health out­comes for chil­dren.
This post is related to: