Community Canvassing Program Connects Atlantans With Workforce Training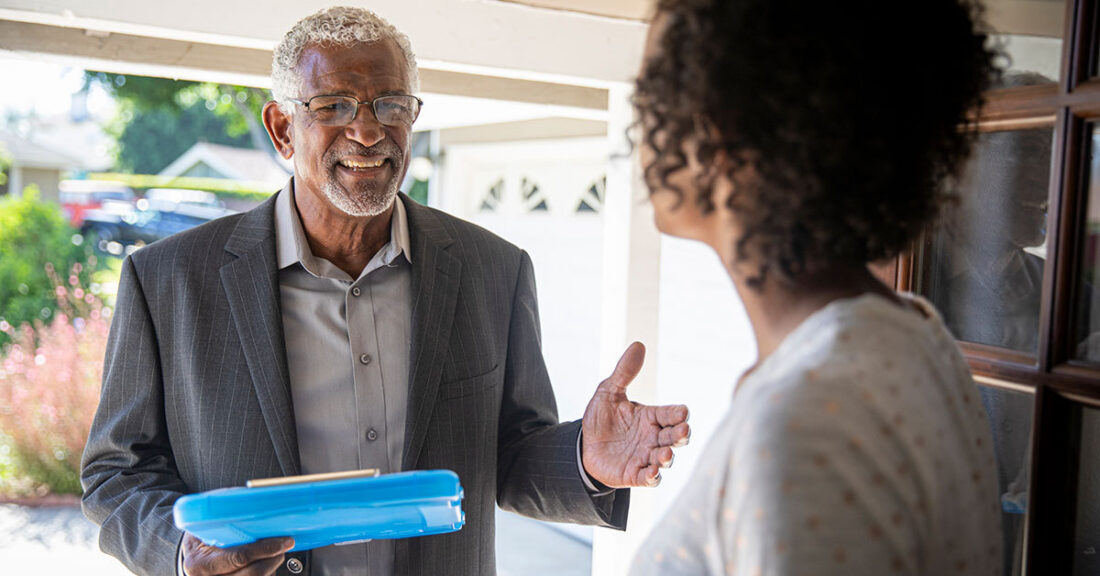 An inno­v­a­tive door-to-door com­mu­ni­ty can­vass­ing pilot in Atlanta's Neigh­bor­hood Plan­ning Unit V (NPU‑V) is har­ness­ing the pow­er of face-to-face con­tact to con­nect res­i­dents with employ­ment oppor­tu­ni­ties. Led by Emmaus House and Cur­ry Davis Con­sult­ing Group, the ini­tia­tive — fund­ed by the Annie E. Casey Foun­da­tion — already has con­nect­ed 66 com­mu­ni­ty mem­bers with work­force-train­ing pro­grams to help increase their income and achieve eco­nom­ic stability.
The NPU‑V neigh­bor­hoods include Adair Park, Capi­tol Gate­way, Mechan­icsville, Peo­plestown, Pitts­burgh and Sum­mer­hill. In Peo­plestown alone, 33% of res­i­dents do not have a high school diplo­ma, and 25% are unem­ployed. To com­bat these dis­par­i­ties and his­toric dis­in­vest­ment, NPU‑V res­i­dents active­ly are lead­ing com­mu­ni­ty-dri­ven efforts to halt dis­place­ment and pro­mote qual­i­ty education.
"The res­i­dents of Peo­plestown and oth­er NPU‑V neigh­bor­hoods are fac­ing the under­stand­ing that if they don't want to be dis­placed, they need liv­ing-wage jobs," says Greg Cole, exec­u­tive direc­tor of Emmaus House. ​"Becom­ing aware of these train­ing oppor­tu­ni­ties can make all the difference."
Emmaus House over­sees all the finan­cial, oper­a­tional and man­age­r­i­al aspects of the can­vass­ing pro­gram, includ­ing hir­ing res­i­dent can­vassers, mak­ing train­ing and employ­ment refer­rals and pro­vid­ing sup­port­ive ser­vices — such as rent and child-care assis­tance — to help indi­vid­u­als over­come bar­ri­ers that may pre­vent them from enrolling.
Can­vassers pro­mote an array of proven train­ing pro­grams, includ­ing Con­struc­tion Ready, Generation's hos­pi­tal­i­ty pro­gram and Per Scholas's IT train­ings. At Per Scholas, for exam­ple, the aver­age participant's pre-train­ing pro­gram income of $9,000 ris­es to $36,000 post-train­ing — a 400% increase which is also notably above the pover­ty lev­el for a fam­i­ly of four.
Now six months into the pilot, the com­mu­ni­ty can­vass­ing effort has received near­ly 180 con­tact cards for res­i­dents and con­tact­ed 72% of them. In some cas­es, res­i­dents reached out before the pro­gram even had a chance to con­tact them.
"The most pow­er­ful part of the com­mu­ni­ty can­vass­ing pro­gram is the authen­tic­i­ty of the process," says Karen Davis, pres­i­dent of the Cur­ry Davis Con­sult­ing Group. ​"Can­vassers receive first-per­son accounts from peo­ple edu­cat­ed on the train­ing offer­ings, and, in some cas­es, who have even com­plet­ed train­ing pro­grams them­selves. Employ­ing can­vassers that live with­in these com­mu­ni­ties has been inte­gral to our suc­cess in get­ting res­i­dents con­nect­ed to programs."
This post is related to: