Enhancing Leaders and Racial Equity in Baltimore City Schools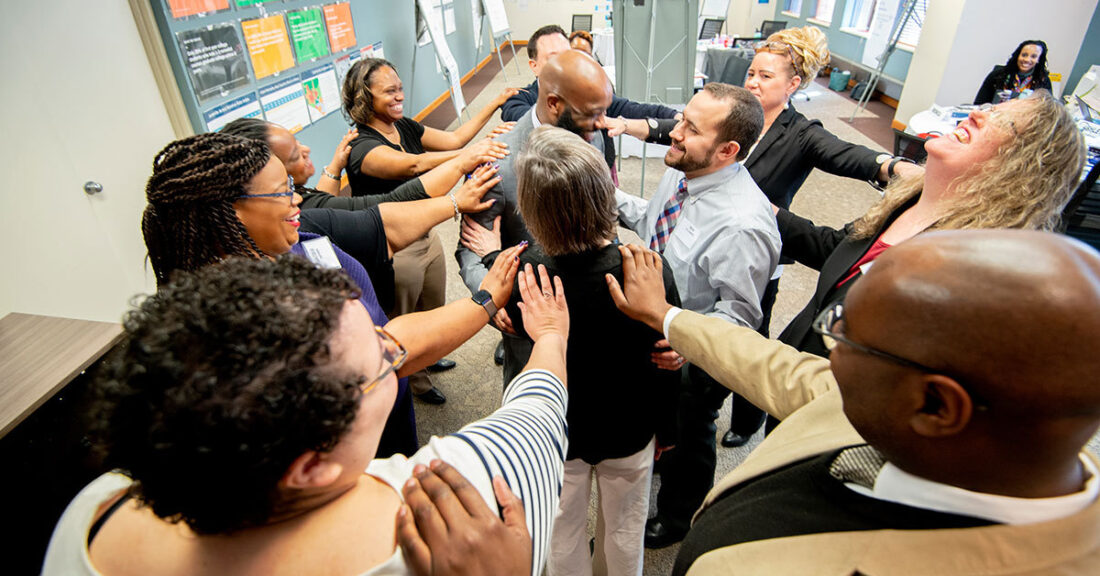 Systems don't change until people change.
That's the guiding philosophy of Baltimore City Public Schools' REACH Fellowship. The yearlong program — supported by the Annie E. Casey Foundation — seeks to develop leaders who can champion long-term changes that help to realize equitable outcomes for students.
"REACH seeks to build leaders who are racially conscious, self-aware and committed to results," says Monica Logan, who leads the program and serves as director of systems learning and development for Baltimore schools. "The goal is for people to come out of the program with the practical technical and adaptive skills needed to create change necessary to contribute to equitable outcomes."
The REACH Approach
REACH — which stands for Results in Education to Accelerate Change — is part of the school system's broader efforts to implement its racial equity policy and remedy systemic issues that disproportionately affect students of color.
Throughout the year, REACH Fellows partake in seminars, group work and coaching services. These sessions — which have shifted online during the COVID-19 pandemic — help participants bolster their racial consciousness and begin to identify solutions to disparities within the school system.
The program also involves a number of activities, including asking fellows to draft a racial biography and engage in a Courageous Conversation™ about race. The latter exercise inspires participants to explore how they formed their beliefs about race and how to sustain and deepen conversations on the topic.
REACH, which follows the Casey Foundation's Results Count® approach to leadership development, equips participants to lead from their position in the system. Fellows pinpoint factors that contribute to racial inequity in their work, propose strategies to reduce these gaps and measure progress over time.
Roughly 26 district office staff have completed or started the program, which launched in 2018. These staff members represent a range of divisions — including academics, athletics, transportation and staff recruitment — within the school system.
"REACH is about helping city schools' staff understand their contribution to student outcomes and how they can show up and perform differently to disrupt systemic inequities," says Ashley B. Stewart, who helped create the program and serves as executive director of talent and organizational development in the school system's Human Capital Office. "We must recognize that the ways in which we are contributing to a system that is designed to get the results it's currently getting — which are inequitable and predictable by race," says Stewart, a former senior associate with the Casey Foundation. "To change this, we need to start with people and their racial consciousness and ultimately how they approach their work."
Changing the Work
William Morant, director of talent management for the Human Capital Office, says the REACH program helped him think differently about how he helps various schools and departments that are looking to hire staff. For instance, for schools and programs looking to diversify, Morant says he started recruiting more heavily from historically black colleges and universities and trade groups that serve diverse professionals. Morant's team also launched digital media campaigns that aimed to promote new teacher and staff openings to people of color.
"I credit heavily my participation in REACH with sparking these ideas and giving me the tools to execute them," Morant says.
Jacque Hayden, who serves as the instructional leadership executive director for Baltimore schools, says REACH prompted her to build a professional development model that includes more teacher observations by principals along with coaching and feedback. Hayden — who oversees 15 principals and coordinators working in West and South Baltimore — hopes the model will result in better academic outcomes for the predominantly African-American student body at these schools.
"REACH helped me find my voice and understand how my work can drive equitable outcomes in the school system," Hayden says. "I hope that more school system leaders benefit from the program."
The fellowship is open to managers and project leaders in the school system's central administrative office. Applicants must be planning to serve the school system for at least three years after completing the program.
"We are pleased to support this fellowship, which is stoking much needed conversations and vital leadership development for Baltimore City Public Schools," says Gena O'Keefe, a senior associate at the Casey Foundation. "Oftentimes, it's difficult for individuals to see how they can make change in large public systems. We hope this program helps provide individuals with tools and personal supports — and that it inspires them to contribute to larger cultural and systemic changes that are vitally needed."
Check out the Casey Foundation's Race Equity and Inclusion Action Guide