Enhancing Leaders and Racial Equity in Baltimore City Schools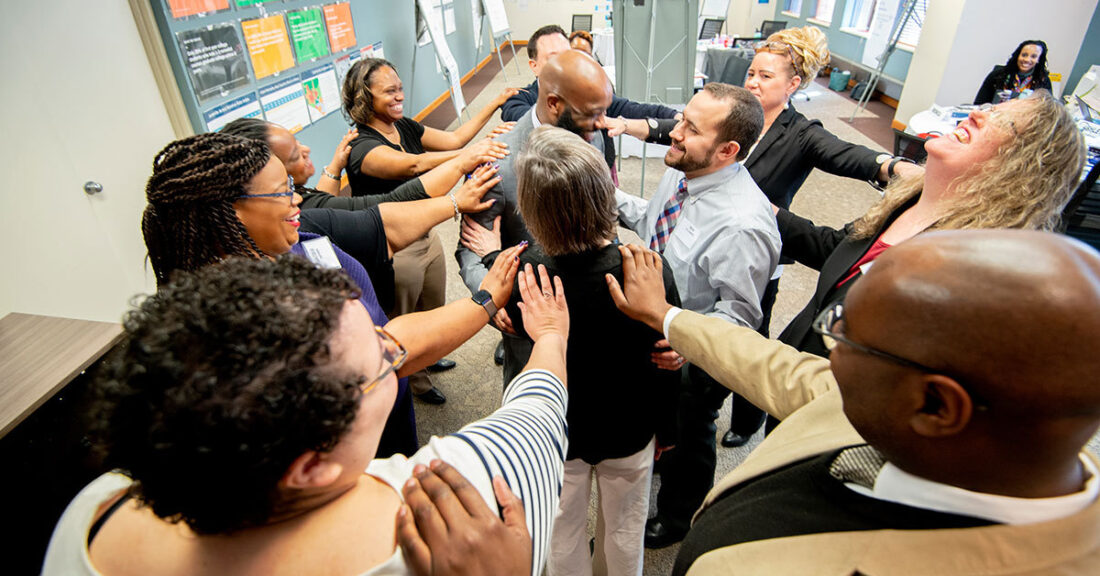 Sys­tems don't change until peo­ple change.
That's the guid­ing phi­los­o­phy of Bal­ti­more City Pub­lic Schools' REACH Fel­low­ship. The year­long pro­gram — sup­port­ed by the Annie E. Casey Foun­da­tion — seeks to devel­op lead­ers who can cham­pi­on long-term changes that help to real­ize equi­table out­comes for students.
"REACH seeks to build lead­ers who are racial­ly con­scious, self-aware and com­mit­ted to results," says Mon­i­ca Logan, who leads the pro­gram and serves as direc­tor of sys­tems learn­ing and devel­op­ment for Bal­ti­more schools. ​"The goal is for peo­ple to come out of the pro­gram with the prac­ti­cal tech­ni­cal and adap­tive skills need­ed to cre­ate change nec­es­sary to con­tribute to equi­table out­comes."
The
REACH

Approach

REACH — which stands for Results in Edu­ca­tion to Accel­er­ate Change — is part of the school system's broad­er efforts to imple­ment its racial equi­ty pol­i­cy and rem­e­dy sys­temic issues that dis­pro­por­tion­ate­ly affect stu­dents of color.

Through­out the year, REACH Fel­lows par­take in sem­i­nars, group work and coach­ing ser­vices. These ses­sions — which have shift­ed online dur­ing the COVID-19 pan­dem­ic — help par­tic­i­pants bol­ster their racial con­scious­ness and begin to iden­ti­fy solu­tions to dis­par­i­ties with­in the school system.

The pro­gram also involves a num­ber of activ­i­ties, includ­ing ask­ing fel­lows to draft a racial biog­ra­phy and engage in a Coura­geous Con­ver­sa­tion™ about race. The lat­ter exer­cise inspires par­tic­i­pants to explore how they formed their beliefs about race and how to sus­tain and deep­en con­ver­sa­tions on the topic.

REACH, which fol­lows the Casey Foundation's Results Count® approach to lead­er­ship devel­op­ment, equips par­tic­i­pants to lead from their posi­tion in the sys­tem. Fel­lows pin­point fac­tors that con­tribute to racial inequity in their work, pro­pose strate­gies to reduce these gaps and mea­sure progress over time.

Rough­ly 26 dis­trict office staff have com­plet­ed or start­ed the pro­gram, which launched in 2018. These staff mem­bers rep­re­sent a range of divi­sions — includ­ing aca­d­e­mics, ath­let­ics, trans­porta­tion and staff recruit­ment — with­in the school system.

"REACH is about help­ing city schools' staff under­stand their con­tri­bu­tion to stu­dent out­comes and how they can show up and per­form dif­fer­ent­ly to dis­rupt sys­temic inequities," says Ash­ley B. Stew­art, who helped cre­ate the pro­gram and serves as exec­u­tive direc­tor of tal­ent and orga­ni­za­tion­al devel­op­ment in the school sys­tem's Human Cap­i­tal Office. ​"We must rec­og­nize that the ways in which we are con­tribut­ing to a sys­tem that is designed to get the results it's cur­rent­ly get­ting — which are inequitable and pre­dictable by race," says Stew­art, a for­mer senior asso­ciate with the Casey Foun­da­tion. ​"To change this, we need to start with peo­ple and their racial con­scious­ness and ulti­mate­ly how they approach their work."
Chang­ing the Work
William Morant, direc­tor of tal­ent man­age­ment for the Human Cap­i­tal Office, says the REACH pro­gram helped him think dif­fer­ent­ly about how he helps var­i­ous schools and depart­ments that are look­ing to hire staff. For instance, for schools and pro­grams look­ing to diver­si­fy, Morant says he start­ed recruit­ing more heav­i­ly from his­tor­i­cal­ly black col­leges and uni­ver­si­ties and trade groups that serve diverse pro­fes­sion­als. Morant's team also launched dig­i­tal media cam­paigns that aimed to pro­mote new teacher and staff open­ings to peo­ple of color.
"I cred­it heav­i­ly my par­tic­i­pa­tion in REACH with spark­ing these ideas and giv­ing me the tools to exe­cute them," Morant says.
Jacque Hay­den, who serves as the instruc­tion­al lead­er­ship exec­u­tive direc­tor for Bal­ti­more schools, says REACH prompt­ed her to build a pro­fes­sion­al devel­op­ment mod­el that includes more teacher obser­va­tions by prin­ci­pals along with coach­ing and feed­back. Hay­den — who over­sees 15 prin­ci­pals and coor­di­na­tors work­ing in West and South Bal­ti­more — hopes the mod­el will result in bet­ter aca­d­e­m­ic out­comes for the pre­dom­i­nant­ly African-Amer­i­can stu­dent body at these schools.
"REACH helped me find my voice and under­stand how my work can dri­ve equi­table out­comes in the school sys­tem," Hay­den says. ​"I hope that more school sys­tem lead­ers ben­e­fit from the program."
The fel­low­ship is open to man­agers and project lead­ers in the school system's cen­tral admin­is­tra­tive office. Appli­cants must be plan­ning to serve the school sys­tem for at least three years after com­plet­ing the program.
"We are pleased to sup­port this fel­low­ship, which is stok­ing much need­ed con­ver­sa­tions and vital lead­er­ship devel­op­ment for Bal­ti­more City Pub­lic Schools," says Gena O'Keefe, a senior asso­ciate at the Casey Foun­da­tion. ​"Often­times, it's dif­fi­cult for indi­vid­u­als to see how they can make change in large pub­lic sys­tems. We hope this pro­gram helps pro­vide indi­vid­u­als with tools and per­son­al sup­ports — and that it inspires them to con­tribute to larg­er cul­tur­al and sys­temic changes that are vital­ly needed."
Check out the Casey Foundation's Race Equi­ty and Inclu­sion Action Guide