Evaluation and Briefs Share Lessons Learned During Family-Centered Community Change Initiative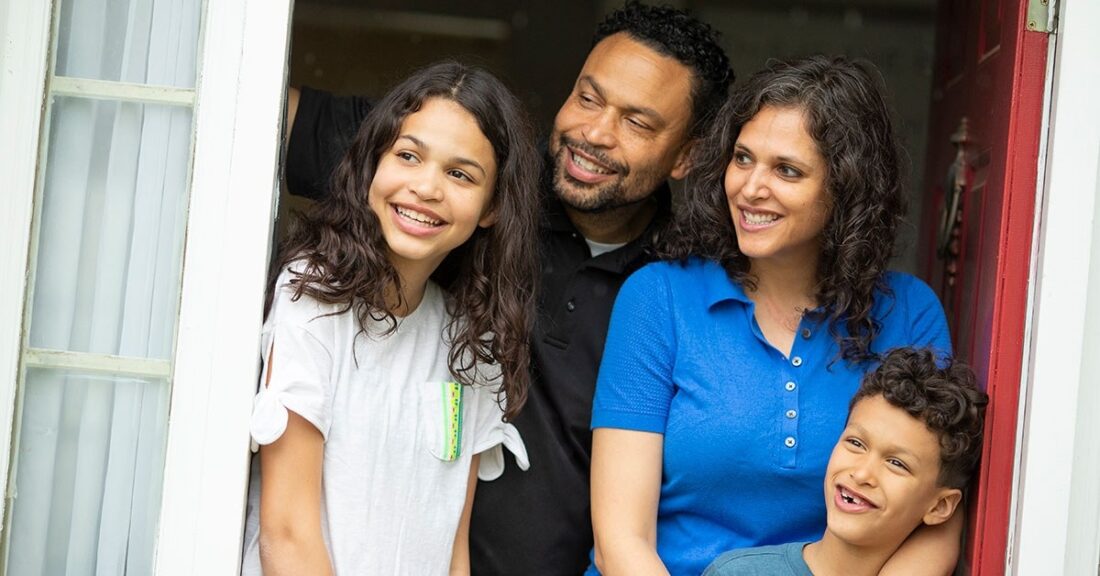 A new evaluation report from the Urban Institute, Developing Two-Generation Approaches in Communities, shares lessons, challenges and reflections on the Annie E. Casey Foundation's Family-Centered Community Change® (FCCC) strategy.
The effort, which took place from 2012 to 2019, supported partner organizations in three neighborhoods with high rates of poverty as those partners implemented services to simultaneously improve the lives of parents and their children — also known as a two-generation approach.
What did FCCC attempt to accomplish?
FCCC set out to provide data on whether communities could improve outcomes for families by providing targeted services to children and the adults in their lives at the same time. The Foundation identified community partnerships in Buffalo, New York; Columbus, Ohio; and San Antonio, Texas to participate in the effort, which served nearly 850 families, most of whom were families of color. In addition to providing the community partners with grants for developing and implementing two-generation strategies, the Foundation offered technical assistance and training in racial and ethnic equity and inclusion to guide their work.
The Foundation chose partnerships that already had services in place to assist parents and their young children. Although the services offered in each community differed, they all focused their two-generation efforts across two core areas:
Adult and family services. Each community provided family coaching to help parents set goals for themselves and their children. Adult and family services also included financial coaching, employment services, housing assistance, adult education and training, digital literacy training and family events.
Child services. Communities sought to provide high-quality early childhood and elementary education to families, either directly or by supplementing existing services offered through the local school system.
What did the evaluation cover, and what lessons emerged?
Because partnerships in each community were structured differently and revised their approaches over the course of FCCC, the Urban Institute team focused on studying how the approaches were implemented and documenting factors that affected the effort, rather than measuring outcomes for families. The evaluators based their findings on interviews and focus groups with program staff, administrators and participants; program data on participant and family characteristics and program activities; and costs of staff time spent on FCCC-related activities.
The Urban Institute team identified several key lessons:
Use resident expertise. Families and community organizations can provide critical insights to inform two-generation approaches so that strategies build on their strengths and the strengths of the community itself, and meet families' needs.
Identify key concepts and goals, including how to integrate services for parents and children. Defining how services will be coordinated and aligned could improve families' experiences.
Emphasize equity and inclusion from the start. Understanding how structural racism affects communities and learning to disrupt those structures is difficult work that requires resources, tools and time.
Engage partners across organizations and systems. The FCCC experience suggests that getting input on the design of two-generation strategies from constituents at various levels — from policymakers and government service providers to individual organizations and families in planning and design — may allow for "new, creative opportunities to emerge."
Document key aspects of partnerships. Spelling out components such as the way organizational cultures will come together, how partners will communicate and how funding streams will work increases the chance that the partnerships will function smoothly for the long term.
What did an evaluation show about Casey's investment approach?
A separate evaluation by TCC Group examined what the Foundation called its strategic co-investor approach to investing in Family-Centered Community Change. This approach was designed to join and strengthen existing community initiatives with flexible grant funding; deepen relationships between the communities and Casey staff; and establish an issue of focus ― in this case, two-generation strategies ― within a broader community change effort.
A two-page infographic describes this approach, as well as lessons for both communities and funders gleaned from TCC's work. The full report, Innovating Place-Based Grantmaking, offers a more detailed picture of how the approach unfolded.
What kind of community change did FCCC achieve?
The Urban Institute evaluators found that while contextual factors prevented FCCC from achieving large-scale community change, the effort left a legacy in all three communities by:
creating or strengthening connections with schools and early childhood education providers;
establishing a mutual commitment among organizations to focus on families living in the communities;
changing attitudes about families among systems that serve them; and
developing new partnerships and new commitments.
How much did FCCC cost?
Despite growing interest in two-generation approaches, there's a lack of data about the costs associated with them. To fill this gap, researchers from the Urban Institute estimated the staff labor costs of coordinating, integrating and running two-generation services in each FCCC community for a portion of the initiative, detailed in an accompanying report, The Costs of Coordinating Two-Generation Programs. (Although the research team hoped to collect a year's worth of cost data for the report, partner organizations' availability constrained the data collection period to a few months.)
The estimated coordination costs for each community were:
Buffalo: $120,600 over three months
Columbus: $104,200 over three months
San Antonio: $295,300 over three months
What were the challenges in implementing two-generation approaches?
Researchers note a few significant challenges:
Families identified a wide range of goals during coaching sessions, which made it difficult for community partners to prioritize and coordinate services.
Families faced structural problems like a lack of quality jobs, housing and transportation that prevented them from taking full advantage of FCCC activities and services.
Partner organizations struggled to find mental health providers and high-quality, affordable early childhood education services.
Partner organizations faced staff turnover and insufficient funding to supplement the Foundation's FCCC grant.
Although all communities offered job and employment services, it wasn't clear at the end of the effort whether the job opportunities secured would lead to fulfilling, stable and lasting careers for the participants. Researchers noted that further study is needed to document outcomes for families involved in two-generation approaches.
How did the evaluation engage the communities?
In concert with the strategic co-investor approach, the Urban Institute team also studied how families and members of the community partnerships shaped FCCC, including the activities used to evaluate it. Despite challenges and limitations noted by participants in the Urban report, the evaluation incorporated community involvement — known as community-engaged methods which are seen as key to advancing equity — through events such as data walks to interpret early findings.
The report, Community-Engaged Approaches to Evaluating a Collective Impact Effort, offers recommendations for future evaluations, including:
selecting evaluators with the cultural background and experience necessary to gain community members' trust;
making clear commitments about how shared decision-making will work and following through;
building relationships before beginning evaluation tasks; and
setting clear goals for community engagement.
Watch a webinar about the FCCC evaluation findings
This post is related to: