Examining Atlanta's Affordable Housing Shortage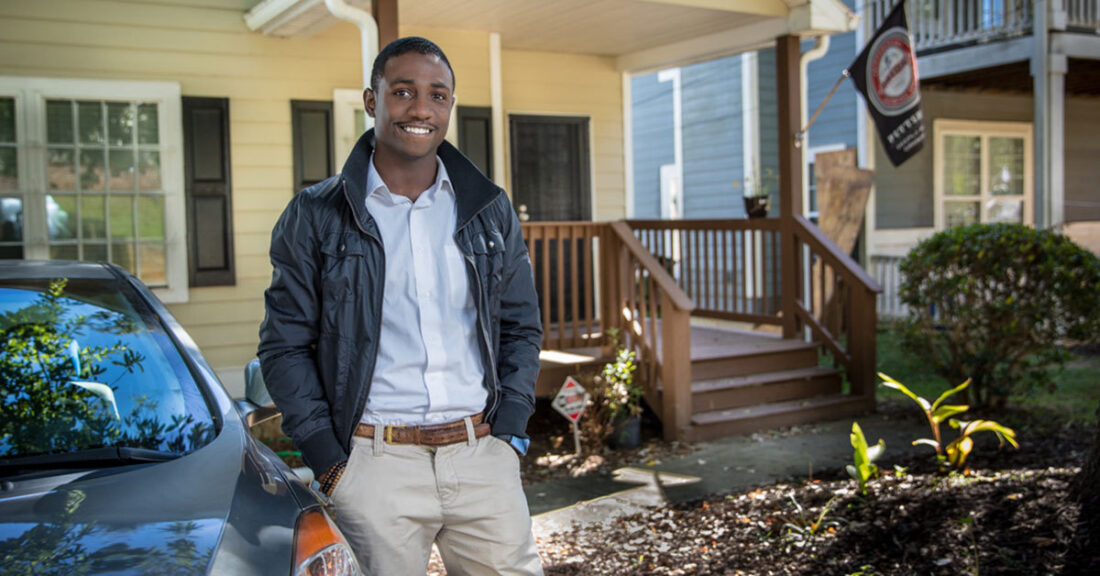 Too many Atlantans — particularly those in communities of color — struggle to find adequate, healthy and affordable housing for their families. It's a dilemma that leaves some residents floundering financially, facing evictions or relocating beyond city limits.
The COVID-19 pandemic has made matters even worse, adding to the rise of lost jobs, missed wages and economic uncertainty in these same communities.
The Annie E. Casey Foundation invests in efforts to promote quality, affordable housing in Atlanta and protect longtime residents from displacement. It has explored several sources — including a detailed resource from Atlanta's Department of City Planning — that break down local housing issues.
Here's what the Foundation has found:
Atlanta has had a real estate boom, but not enough units are affordable and housing costs have increased
Atlanta's population has grown to more than 500,000 — up from roughly 420,000 in 2010, according to its Department of City Planning.
The city has also added more than 17,500 housing units in recent years. The problem? Too few of these new units are affordable yet housing costs, rent payments and property taxes have all increased.
About 4 in 10 households in Atlanta earn less than $45,000 per year. Many of these households ear well below this total (in 2018, 26% of city households earned less than $25,000 a year).
These residents need housing units that cost less than $1,000 per month — or even smaller — to avoid significant cost burdens. Yet, just 3,301 new units from 2010-2018 were priced under $1,000 a month, according to the city.
Left with no other options, many residents spend a significant portion of their earnings on housing. In 2018, nearly 50% of all renters — about 16 percentage points more than in 2010 — were spending upwards of 30% of their income on rent.
Eviction rates climbed in recent years
As Atlanta's housing costs have increased, so, too, have the number of evictions.
Georgia has a swift eviction process — one that hits renters with an eviction notice as soon as they miss a payment. Other states build delays into the process so that renters have a chance to make payments before getting hit with an eviction notice.
Eviction moratoriums, enacted during the COVID-19 pandemic, have helped keep families in their homes. Even so, some landlords have found ways to remove tenants and past-due renters may be still vulnerable once all moratoriums expire, say housing advocates.
From 2015 to 2017, Atlanta's eviction rate was 5.7% — the third worst rate in the nation. In some predominantly Black neighborhoods, including in Southwest Atlanta, nearly 40% of renters had received eviction notices in recent years, according to an analysis from the Federal Reserve Bank of Atlanta. Landlords have used eviction notices to intimidate tenants they disfavor, say housing advocates. While these notices may not result in removal, they can still disrupt the residents' lives and negatively affect their work, credit scores, educations and mental health.
Land use and zoning plays a role in housing insecurity
Atlanta's living options are mostly restricted to large apartment buildings and single-family homes. There are too few several-unit structures that would allow for a middle market to form, according to the Department of City Planning. Current zoning and recent development are geared toward low density, which positions residents farther away from jobs, food, schools and other community amenities.
Casey's housing investments in Atlanta
Casey collaborates with and supports local organizations that are addressing housing issues in Atlanta. These partnerships include:
Expanding and preserving affordable housing
House ATL, a group of local community organizations, businesses and civic leaders, has recommended a $1 billion commitment of public and private funds to create or preserve at least 20,000 affordable housing units over an 8-10-year period. The Casey Foundation supports the group's Funders' Collective, which helps fill cost gaps as the city works to maintain affordable housing options in the area.
Enterprise Community Partners advocates for preserving multi-family housing. The organization also provides technical assistance to affordable developments, including Casey-supported efforts in Neighborhood Planning Unit-V (NPU-V) — an area that includes six primarily African American neighborhoods in Southwest Atlanta.
Fighting evictions and bolstering renter protections
The Atlanta Volunteer Lawyers Foundation (AVLF) has staff based at city elementary schools — including in NPU-V — that identify families who are struggling with evictions. AVLF provides legal counsel and representation to residents facing issues and served nearly 1,600 tenants in 2020. During the pandemic, AVLF established one of the largest emergency rental assistance programs in the city, with $2 million in funds disbursed.
The Housing Justice League teaches residents about their rights when facing an eviction and supports tenants in organizing associations to better advocate for themselves. In 2019, the Housing Justice League also released an Eviction Defense Manual to help residents understand how they can avoid evictions and mount defenses against them.
Building housing development policy and promoting advocacy
Enterprise Community Partners, Georgia Act, and the Georgia Supportive Housing Association engage in state-level advocacy, advancing such priorities as:
establishing revenue sources for housing trust funds that can create and maintain affordable housing in Atlanta and across the state;
preserving the low-income housing tax credit — one of the state's only sources of funding for this type of housing development
increasing protections for renters, such as requiring landlords to notify tenants before an eviction filing and banning discrimination against federal housing voucher holders; and
helping low-income homeowners utilize tools — like exemptions and "circuit breakers" — to better manage growing property tax bills.
Learn about the Casey Foundation's housing-focused investments
Read about efforts to expand affordable housing in Atlanta's Pittsburgh neighborhood
This post is related to: