Leadership Development Video: The Results Count Path to Equity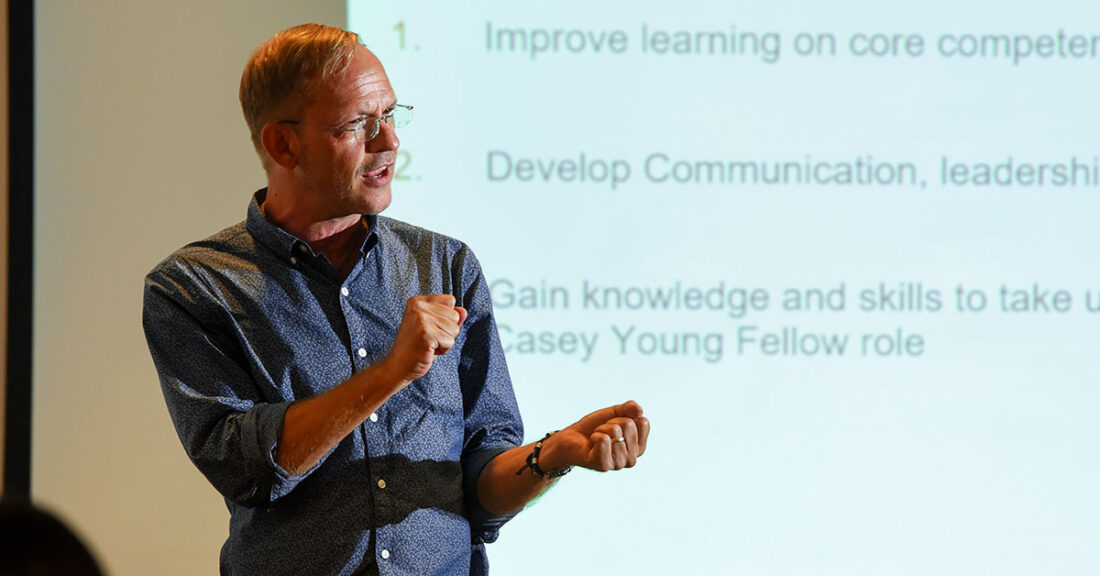 The Annie E. Casey Foun­da­tion has released a one-hour video on four skills that help lead­ers achieve bet­ter and more equi­table results. The skills are part of Results Count™, the Foundation's com­pe­ten­cy-based approach to lead­er­ship devel­op­ment, which social-sec­tor pro­fes­sion­als can devel­op and prac­tice over time to become more pow­er­ful and effec­tive in their work.
For the first time, the Foun­da­tion is releas­ing this mate­r­i­al broad­ly through a record­ed pre­sen­ta­tion by a Results Count fac­ul­ty mem­ber, along with an intro­duc­tion that digs deep­er into the mate­r­i­al. While con­densed from the Foundation's typ­i­cal mul­ti­ses­sion, in-per­son sem­i­nars, the con­tent offers an overview of Casey's brand of results-based leadership.
For 25 years, Casey has used Results Count to help lead­ers in the social and pub­lic sec­tors accel­er­ate mea­sur­able and equi­table improve­ments in out­comes for chil­dren and fam­i­lies in com­mu­ni­ties across the coun­try. This release builds on a series of 10 short videos on Results Count basics and a larg­er strat­e­gy to increase the reach of Results Count through hub organizations.
Tips on view­ing ​
"

The Results Count Path to Equity"

Lead­er­ship skills can be learned by indi­vid­u­als at any lev­el, regard­less of one's job title or descrip­tion. ​"You don't have to be some­one that has a huge posi­tion of for­mal author­i­ty to learn and apply the skill set," says Bill Shep­ard­son, a senior fel­low at the Foun­da­tion who nar­rates the video.

"Dur­ing the pre­sen­ta­tion, I invite view­ers to think about how the Results Count skills might strength­en their own abil­i­ty to make a pow­er­ful con­tri­bu­tion to equi­table results and to get oth­ers work­ing in align­ment with them," Shep­ard­son says.
Empha­sis on equi­table results
Results Count's com­mit­ment to achiev­ing equi­table out­comes stems from the mis­sion of the Foun­da­tion, which is to ensure a bright future for all chil­dren in the Unit­ed States, espe­cial­ly those who are the most bur­dened by the way sys­tems and struc­tures per­pet­u­ate unequal access to oppor­tu­ni­ty and pro­duce uneven results.
Results Count pur­sues an equi­ty agen­da, not just look­ing for bet­ter results across the board or in the aggre­gate but ensur­ing that chil­dren and fam­i­lies in every demo­graph­ic group have access to bet­ter oppor­tu­ni­ties and, ulti­mate­ly, expe­ri­ence bet­ter results. To cen­ter the work around equi­ty, ​"lead­ers need to go beyond sur­face solu­tions and real­ly pay atten­tion to the sys­temic fac­tors that are pro­duc­ing inequitable results for cer­tain groups," Shep­ard­son says. ​"It has been a his­toric prob­lem in the Unit­ed States and a prob­lem we're only going to be able to solve if we're will­ing to think at the sys­tems and struc­ture lev­els while we're doing this work and not just at the indi­vid­ual level."
Four core Results Count skills
The video describes four relat­ed skills that lead­ers can prac­tice and apply to make mea­sur­able dif­fer­ences in the well-being of pop­u­la­tions they care about the most. It guides view­ers to con­sid­er ques­tions such as:
How can you ensure your con­tri­bu­tion is con­nect­ed to a larg­er strat­e­gy that will pro­duce equi­table results for a whole population?
How much more pow­er­ful could your con­tri­bu­tion be if it were ground­ed in a data-dri­ven and equi­ty-informed analysis?
How could using a set of per­for­mance mea­sures help you learn about and be more account­able for con­tribut­ing to equi­table results?
Shep­ard­son breaks down each skill and defines the terms he uses to famil­iar­ize view­ers with the tech­ni­cal lan­guage of Results Count. The skills are:
Skill

1

: Dif­fer­en­ti­at­ing and under­stand­ing the con­nec­tion between whole pop­u­la­tion and pro­gram pop­u­la­tion and being aware of who is most dis­ad­van­taged in terms of equi­table oppor­tu­ni­ties to achieve the intend­ed results.
Skill

2

: Using trend lines to deep­en tar­get­ed and uni­ver­sal fac­tor analysis.
Skill

3

: Using fac­tor analy­sis to inform the devel­op­ment of tar­get­ed and uni­ver­sal strategies.
Skill

4

: Using per­for­mance mea­sures to track progress and make a mean­ing­ful con­tri­bu­tion to equi­table results.
Shep­ard­son rec­og­nizes the pas­sion that most lead­ers bring to their work and says in the video, ​"You wouldn't be lis­ten­ing to this record­ing if you didn't care about equi­ty, if you didn't care about bet­ter results and if you didn't care about social jus­tice. But there's some­thing immense­ly pow­er­ful about mar­ry­ing that pas­sion with some dis­ci­pline — the dis­ci­pline of this Results Count sequence."
The Foun­da­tion acknowl­edges the work of results-dri­ven lead­ers such as Jolie Bain Pills­bury and Mark Fried­man, among oth­ers, for con­tribut­ing to the evo­lu­tion of the Results Count method­ol­o­gy and what it takes to achieve equi­table results for chil­dren, youth and families.
This post is related to: