Leadership Development Video: The Results Count Path to Equity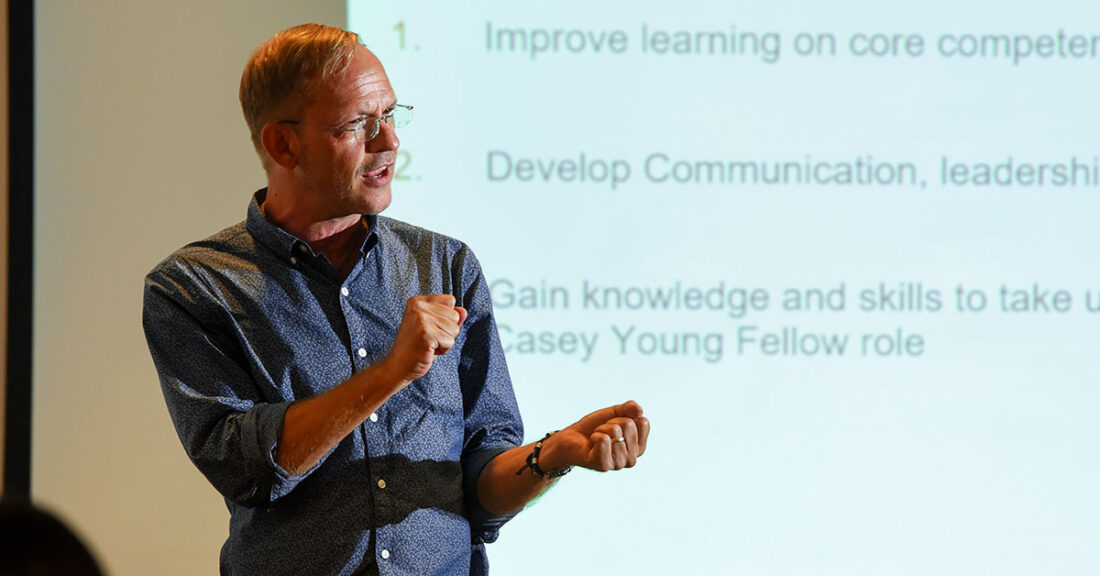 The Annie E. Casey Foundation has released a one-hour video on four skills that help leaders achieve better and more equitable results. The skills are part of Results Count™, the Foundation's competency-based approach to leadership development, which social-sector professionals can develop and practice over time to become more powerful and effective in their work.
For the first time, the Foundation is releasing this material broadly through a recorded presentation by a Results Count faculty member, along with an introduction that digs deeper into the material. While condensed from the Foundation's typical multisession, in-person seminars, the content offers an overview of Casey's brand of results-based leadership.
For 25 years, Casey has used Results Count to help leaders in the social and public sectors accelerate measurable and equitable improvements in outcomes for children and families in communities across the country. This release builds on a series of 10 short videos on Results Count basics and a larger strategy to increase the reach of Results Count through hub organizations.
Tips on viewing "The Results Count Path to Equity"
Leadership skills can be learned by individuals at any level, regardless of one's job title or description. "You don't have to be someone that has a huge position of formal authority to learn and apply the skill set," says Bill Shepardson, a senior fellow at the Foundation who narrates the video.
"During the presentation, I invite viewers to think about how the Results Count skills might strengthen their own ability to make a powerful contribution to equitable results and to get others working in alignment with them," Shepardson says.
Emphasis on equitable results
Results Count's commitment to achieving equitable outcomes stems from the mission of the Foundation, which is to ensure a bright future for all children in the United States, especially those who are the most burdened by the way systems and structures perpetuate unequal access to opportunity and produce uneven results.
Results Count pursues an equity agenda, not just looking for better results across the board or in the aggregate but ensuring that children and families in every demographic group have access to better opportunities and, ultimately, experience better results. To center the work around equity, "leaders need to go beyond surface solutions and really pay attention to the systemic factors that are producing inequitable results for certain groups," Shepardson says. "It has been a historic problem in the United States and a problem we're only going to be able to solve if we're willing to think at the systems and structure levels while we're doing this work and not just at the individual level."
Four core Results Count skills
The video describes four related skills that leaders can practice and apply to make measurable differences in the well-being of populations they care about the most. It guides viewers to consider questions such as:
How can you ensure your contribution is connected to a larger strategy that will produce equitable results for a whole population?
How much more powerful could your contribution be if it were grounded in a data-driven and equity-informed analysis?
How could using a set of performance measures help you learn about and be more accountable for contributing to equitable results?
Shepardson breaks down each skill and defines the terms he uses to familiarize viewers with the technical language of Results Count. The skills are:
Skill 1: Differentiating and understanding the connection between whole population and program population and being aware of who is most disadvantaged in terms of equitable opportunities to achieve the intended results.
Skill 2: Using trend lines to deepen targeted and universal factor analysis.
Skill 3: Using factor analysis to inform the development of targeted and universal strategies.
Skill 4: Using performance measures to track progress and make a meaningful contribution to equitable results.
Shepardson recognizes the passion that most leaders bring to their work and says in the video, "You wouldn't be listening to this recording if you didn't care about equity, if you didn't care about better results and if you didn't care about social justice. But there's something immensely powerful about marrying that passion with some discipline — the discipline of this Results Count sequence."
The Foundation acknowledges the work of results-driven leaders such as Jolie Bain Pillsbury and Mark Friedman, among others, for contributing to the evolution of the Results Count methodology and what it takes to achieve equitable results for children, youth and families.
This post is related to: