Seven Organizations Named as Hubs for Results Count Leadership Development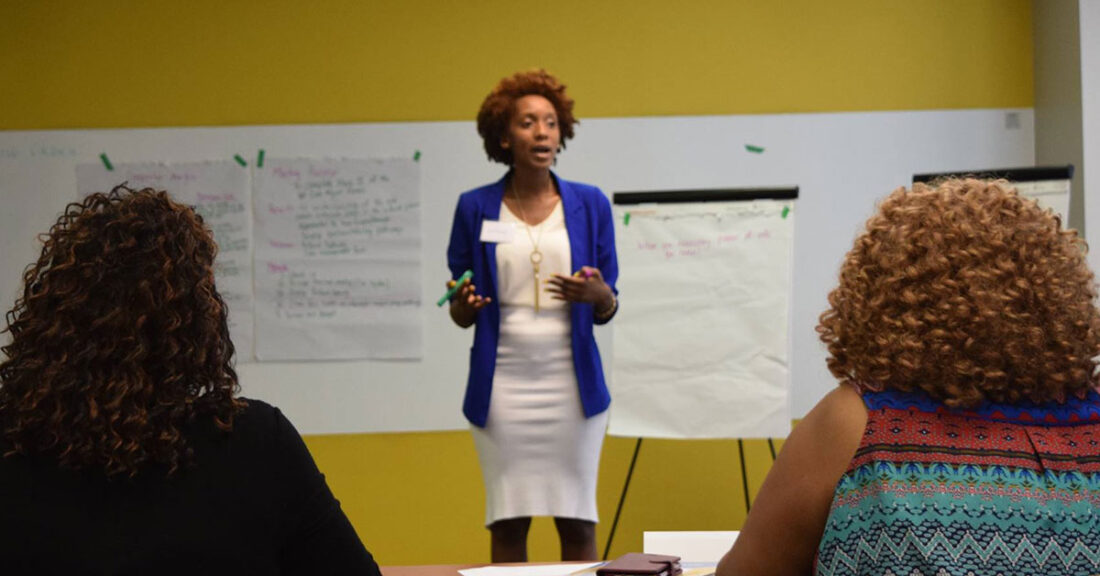 In a major step to boost the reach of Results Count™, its unique approach to lead­er­ship devel­op­ment, the Casey Foun­da­tion has select­ed sev­en orga­ni­za­tions to work with the Foun­da­tion for three years as hubs that will expand the use of Results Count through­out the social sector.
The goal: to increase the num­ber of lead­ers who take a results-ori­ent­ed approach to accel­er­ate mea­sur­able and equi­table improve­ments in well-being for chil­dren and fam­i­lies in com­mu­ni­ties across the country.
"By help­ing lead­ers devel­op the results-based skills, behav­iors and rela­tion­ships they need to lead more effec­tive­ly with­in non­prof­it orga­ni­za­tions and pub­lic sys­tems, the Foun­da­tion believes that these lead­ers can achieve last­ing improve­ments in child and fam­i­ly well-being," says Bar­bara Squires, direc­tor of Lead­er­ship Devel­op­ment at the Foundation.
Casey has worked with thou­sands of lead­ers over the last 25 years, offer­ing tools and skills to sup­port them in their work to bet­ter serve kids and fam­i­lies. The Results Count hub strat­e­gy will help to meet a grow­ing demand for this way of working.
The hubs were cho­sen for their abil­i­ty to use this approach inter­nal­ly in their orga­ni­za­tions, as well as to build the capac­i­ty of oth­ers to work in a sim­i­lar way. Each has either a net­work of sites, mem­bers and affil­i­ates or access to a net­work; a series of engage­ments or part­ner­ships with oth­er orga­ni­za­tions; or a posi­tion of lead­er­ship and influ­ence among a col­lab­o­ra­tive of orga­ni­za­tions in a spe­cif­ic geo­graph­ic area. The fol­low­ing orga­ni­za­tions are on the path to becom­ing Results Count hubs:
In addi­tion to these orga­ni­za­tions, the Casey Foundation's Jim Casey Youth Oppor­tu­ni­ties Ini­tia­tive® will serve as an inter­nal hub, work­ing with its net­works to expand use of Results Count.
The Results Count hub strat­e­gy has evolved from Casey's work with Striv­e­To­geth­er, which sup­ports a nation­al net­work of com­mu­ni­ty-based, cra­dle-to-career part­ner­ships. Since 2014, Casey has shared its approach to lead­er­ship devel­op­ment with StriveTogether's nation­al staff and its part­ner com­mu­ni­ties. With a rig­or­ous, data-dri­ven approach, StriveTogether's com­mu­ni­ties have changed sys­tems and improved edu­ca­tion­al out­comes across the country.
The Foun­da­tion will ded­i­cate itself over the next three years to sup­port­ing each organization's path to becom­ing a Results Count hub. This path will be dif­fer­ent for each hub orga­ni­za­tion depend­ing on its spe­cif­ic needs, inter­ests and capacity.
"We are thrilled to be able to share Results Count with oth­ers that are work­ing to improve edu­ca­tion­al out­comes in rur­al Amer­i­ca," said Drea­ma Gen­try, exec­u­tive direc­tor of Part­ners for Edu­ca­tion at Berea Col­lege. ​"Results Count will be an essen­tial tool for build­ing sus­tain­able, rur­al com­mu­ni­ties of change."
Results Count is built on five core com­pe­ten­cies that Casey believes all lead­ers — regard­less of role or where they sit with­in orga­ni­za­tions — need to mas­ter to con­tribute in a mea­sur­able way to bet­ter out­comes. As the select­ed orga­ni­za­tions grow in their capac­i­ty to be Results Count hubs, their staff are work­ing to apply these com­pe­ten­cies in their work. Here are the five core competencies:
Be results based and data driven.
Act on dis­par­i­ties to advance equi­table outcomes.
Use one­self as an instru­ment of change to move results.
Mas­ter the skills of adap­tive leadership.
Col­lab­o­rate with oth­ers to be in high action and high align­ment to achieve results.
"Cre­at­ing a just and fair soci­ety is the work of our gen­er­a­tion. To accom­plish it, we must achieve results at a scale com­men­su­rate with our nation's chal­lenges. At Pol­i­cyLink, our result is all peo­ple have eco­nom­ic secu­ri­ty, live in healthy com­mu­ni­ties of oppor­tu­ni­ty and ben­e­fit from a just soci­ety," said Michael McAfee, pres­i­dent and CEO of Pol­i­cyLink. ​"Results Count tools and skills pro­vide the foun­da­tion for us to bring greater dis­ci­pline to our pur­suit of equity."
This post is related to: