StriveTogether: Proof of the Power of Results Count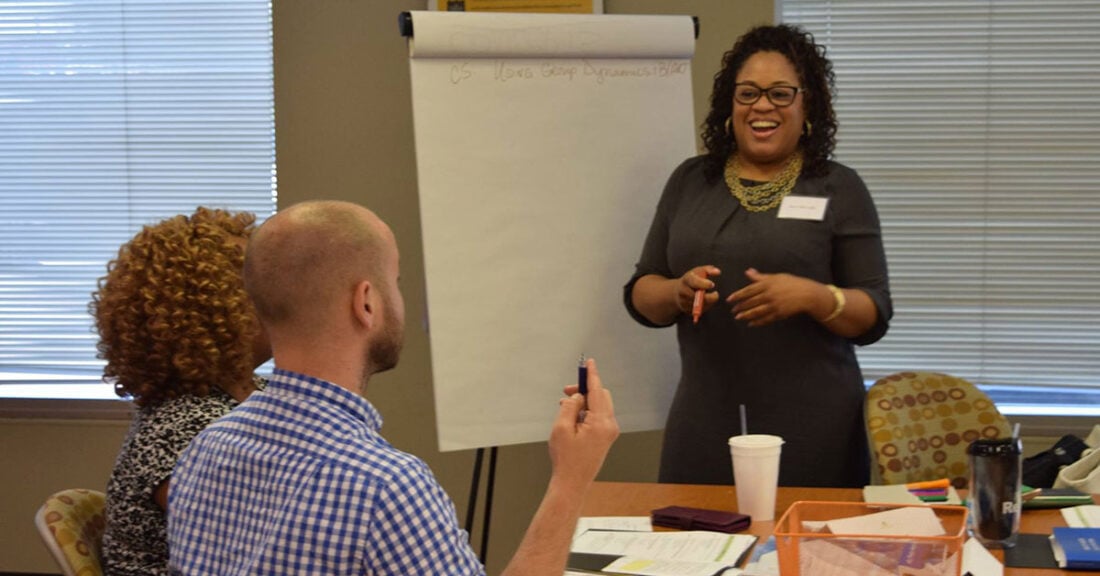 Supporting a national network of 70 community-based partnerships, StriveTogether has been a pioneer in coaching teams of leaders across communities to close gaps and improve well-being using the Casey Foundation's unique leadership development methodology, Results Count™. The StriveTogether Cradle to Career Network is one of seven national organizations receiving Foundation support to use the Results Count approach to increase the number of social-sector professionals equipped to make measurable, lasting improvements in the lives of children and families.
Read more about Results Count at StriveTogether
"StriveTogether has successfully used Results Count tools internally and with its community partners to improve academic achievement," says Jennifer Gross, a senior associate at Casey. "The Network's impressive accomplishments show the potential of our Results Count hub strategy, which seeks to expand the number of social-sector leaders who can move from talk to action and achieve equitable results."
Operating in 30 states and the District of Columbia, StriveTogether brings communities together to make decisions and improve results for children's lives from cradle to career. Committed to a rigorous, data-driven approach, StriveTogether coaches teams of leaders to identify what works and get better, more equitable outcomes for children of color and in low-income families. StriveTogether also connects partners from across the county with resources and each other to learn faster together. This expertise and technical assistance have contributed to measurable improvements in areas such as kindergarten readiness, early grade reading and postsecondary success.
StriveTogether was first introduced to Casey's leadership development approach in 2010, when then-Managing Director Jeff Edmondson participated in the Foundation's Children and Family Fellowship. Since then, the Foundation has supported building the capacity of national staff and teams of local leaders in partner communities to apply the Results Count approach to their work. Casey also has invested in StriveTogether's Cradle to Career Accelerator Fund, a three-year program for teams of local partners to combine technical and financial assistance with intensive leadership training based on Results Count.
The goal of the Accelerator Fund is to help local partnerships reach "proof point," a measure of progress along StriveTogether's guiding framework when communities are demonstrably changing the systems that affect children and improving or maintaining a majority of cradle-to-career outcomes over time. To date, all six partnerships in the first group of Accelerator Fund communities have been recognized as proof points:
Shelby County's Seeding Success partnership is the most recent of the six to achieve the proof point designation. The partnership has demonstrated a strong commitment to Results Count tools and techniques such as building the capabilities of partners, supporting a culture of shared accountability and using data in decision making to make lasting, measurable educational improvements in the county.
For instance, Seeding Success identified opportunities to build effective data use at five organizations that support youth from kindergarten to high school graduation. As a result, one organization updated its process to ensure that teachers have student-level academic data 15 days after assessments. This update allowed teachers to react more quickly to test results and better support students in reaching their goals. Through intentional use of data for decision making, the organization increased the percentage of students ready for kindergarten from 33% to 82% over three and a half years. The use of real-time data has become fundamental to its practices and embedded in its strategic plan.
In another example, a Seeding Success partner organization recognized that regular attendance was critical for students to avoid losing skills over the summer. The organization accessed the Seeding Success database of student-level data to identify how to customize support services. These targeted services led to student success across the board, including one student who improved two reading levels over a seven-week period. The partners in Shelby County are using student-level and programmatic data to measure their strategic and organizational success, expand their efforts and share practices with other organizations to improve outcomes across the community.
"We are excited to take our partnership with the Casey Foundation to the next level as a Results Count hub," said StriveTogether president and CEO Jennifer Blatz. "With the recognition and additional support for our work, we are better able to equip local leaders with the practical skills and action-oriented process they need to get more equitable outcomes for children and families across our 70 communities."
This post is related to: