Results Count Program Informs Plan to Eradicate Poverty in Washington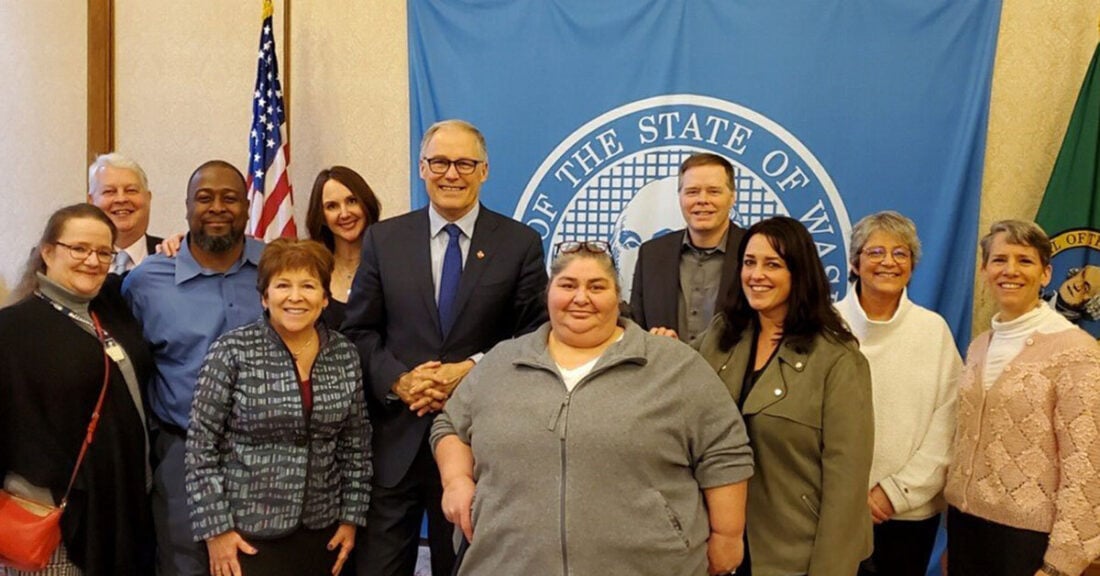 In Wash­ing­ton state, Gov­er­nor Jay Inslee's Pover­ty Reduc­tion Work Group has released a com­pre­hen­sive 10-year plan to dis­man­tle pover­ty statewide. The group's main facil­i­ta­tor and writer, Lori Pfin­gst, cred­its one pro­gram — Results Count® — with shap­ing her work on the project.
About Results Count
Results Count is a results-based lead­er­ship devel­op­ment pro­gram from the Annie E. Casey Foun­da­tion. It teach­es deci­sion mak­ers like Pfin­gst, who attend­ed the Foundation's Lead­er­ship Insti­tute for State-based Advo­cates in 2014, how to lever­age data to real­ize con­crete goals. Par­tic­i­pants learn a range of skills, includ­ing how to hold a neu­tral stance to help a large group stay focused on top-lev­el goals; col­lect the best avail­able data and bring it to life with sto­ries from peo­ple dis­pro­por­tion­ate­ly affect­ed by pover­ty; and facil­i­tate dif­fi­cult con­ver­sa­tions about struc­tur­al racism and inter­sec­tion­al­i­ty. Pfin­gst used all of these skills to help shape Washington's 10-year plan, she says.
Tools from Results Count pro­grams, avail­able on Casey's web­site, include webi­na­rs, videos and check­lists designed to help lead­ers get large-scale results for chil­dren, fam­i­lies and communities.
Rep­re­sen­ta­tion Matters
Work on the plan began in Novem­ber 2017, when Gov­er­nor Inslee cre­at­ed the work group to devel­op ​"a strate­gic plan to reduce pover­ty, improve com­mu­ni­ties and make need­ed progress relat­ed to hous­ing, health inte­gra­tion, employ­ment and education."
Helm­ing the effort: 22 steer­ing com­mit­tee mem­bers who rep­re­sent­ed — both demo­graph­i­cal­ly and geo­graph­i­cal­ly — a range of pover­ty expe­ri­ences with­in the state. ​"We agreed that peo­ple who were dis­pro­por­tion­ate­ly affect­ed by pover­ty should have the pow­er and author­i­ty to over­see and approve the plan's pri­or­i­ties and rec­om­men­da­tions," says Pfin­gst, a senior staffer at the Wash­ing­ton State Depart­ment of Social and Health Ser­vices. ​"The work group made a strong com­mit­ment to race and social jus­tice from the out­set and com­mit­ted to going deep on equi­ty to ensure the plan would lead to a more just future."
Exam­in­ing the Evi­dence and Root Causes
In Feb­ru­ary 2020, the work group released a pre­lim­i­nary ver­sion of the plan and fol­lowed with 10 months of pub­lic webi­na­rs dur­ing the COVID-19 pan­dem­ic. This out­reach, which inten­tion­al­ly engaged peo­ple dis­pro­por­tion­ate­ly affect­ed by pover­ty, helped to strength­en the document's strate­gies and rec­om­men­da­tions. ​"I pre­sent­ed the plan close to 70 times via Zoom," says Pfin­gst, ​"and the feed­back was over­whelm­ing­ly pos­i­tive and constructive."
Webi­nar par­tic­i­pants also helped to iden­ti­fy blind spots in offi­cial data. For exam­ple, the U.S. Cen­sus Bureau does not col­lect data on gen­der iden­ti­ty, under­min­ing efforts to mea­sure pover­ty rates in the LGBTQ com­mu­ni­ty. Infor­ma­tion on pover­ty among peo­ple with dis­abil­i­ties is also lim­it­ed. ​"There are peo­ple who just aren't well rep­re­sent­ed in the data," says Pfin­gst, ​"and they need to be visible."
The revised 70-page plan, released in Jan­u­ary 2021, pro­pos­es eight pover­ty-reduc­tion strate­gies and 60 spe­cif­ic rec­om­men­da­tions for gov­ern­ment agen­cies, leg­is­la­tors, com­mu­ni­ty-based orga­ni­za­tions and foun­da­tions. Cen­tered on racial equi­ty, the plan dis­cuss­es the root caus­es of pover­ty and the urgent needs of the state's 1.75 mil­lion chil­dren, adults and fam­i­lies who are cur­rent­ly strug­gling to make ends meet.
A Liv­ing Document
Results Count method­olo­gies are par­tic­u­lar­ly evi­dent in the 10-year plan's Action Toolk­it, an imple­men­ta­tion guide for pub­lic, pri­vate and non­prof­it orga­ni­za­tions. The tool kit is designed to help organizations:
under­stand how their work aligns with the plan's eight strategies;
dis­ag­gre­gate data as much as possible;
ana­lyze dis­ag­gre­gat­ed data with the peo­ple it represents;
set spe­cif­ic goals and define success;
iden­ti­fy addi­tion­al resources and part­ner­ships needed;
devel­op equi­table strate­gies to achieve stat­ed goals;
cre­ate an action plan with defined roles, respon­si­bil­i­ties and a timeline;
track progress and change strate­gies as needed;
be account­able and learn from mis­takes; and
cel­e­brate wins.
The work group calls the 10-year plan a ​"liv­ing, breath­ing doc­u­ment" and intends to revis­it the text annu­al­ly to refine its strate­gies and recommendations.
"The work group's plan and action tool kit are impres­sive, much-need­ed con­tri­bu­tions that can help fuel equi­table, mea­sur­able progress in reduc­ing pover­ty," says Bar­bara Squires, direc­tor of Lead­er­ship Devel­op­ment at the Casey Foun­da­tion. ​"Equal­ly remark­able: The plan's engage­ment with the very peo­ple most affect­ed by pover­ty can help them dri­ve the change they need and want to see."
This post is related to: