South Baltimore School Helps Students, Young Parents Graduate and Thrive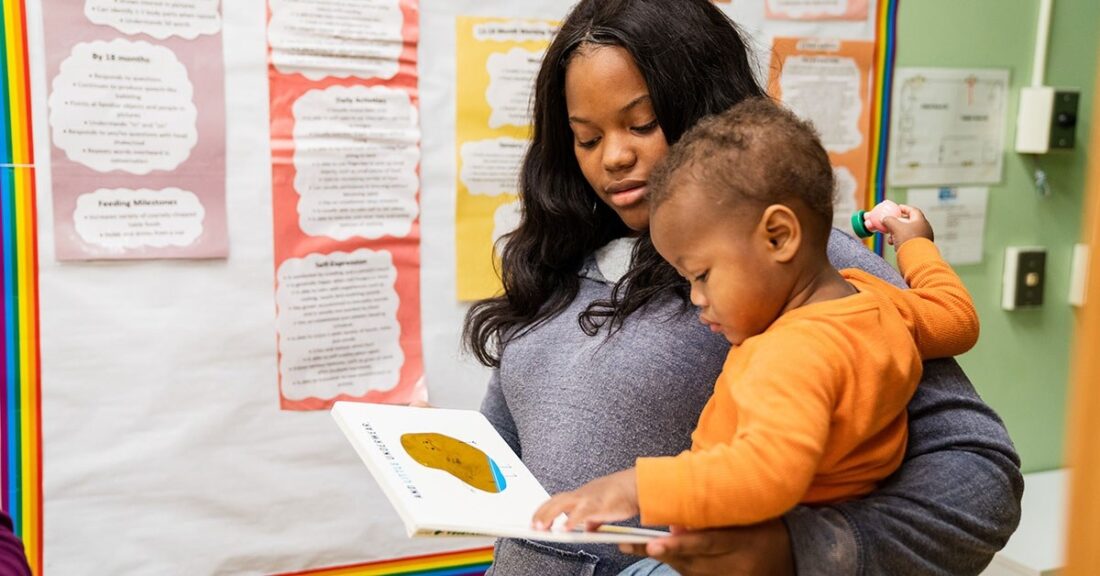 For years, teachers and administrators at South Baltimore's Benjamin Franklin High School struggled to improve outcomes for their students, seeing lower graduation rates and reading and math scores compared to schools in wealthier areas. In 2010, an assessment of community needs found that:
attendance rates at the school were low, affecting graduation rates;
traumatic experiences impacted students' success in school;
insecure housing was a major barrier to students completing school; and
student parents lacked the support they needed to graduate.
That's why, in 2014, United Way of Central Maryland established what it now calls the Neighborhood Zone in Brooklyn (formerly known as the United Way Ben Franklin Center at Brooklyn/Curtis Bay, or the Ben Center). Based at Benjamin Franklin High School, the Neighborhood Zone uses a community school model, coordinating a network of partners that works to meet the needs of students and the surrounding community. These organizations offer services that go far beyond supporting academics, providing access to child care, mental health supports, housing and financial assistance and workforce development programs.
The Neighborhood Zone — which is supported by the Annie E. Casey Foundation and other private and public funders — also runs a food pantry, acts as an event space, hosts after-school programs, connects families to free computers and internet service and offers transportation to student parents and their children to and from school.
"Students thrive with a healthy, strong community supporting them," says Gena O'Keefe, a senior associate with the Casey Foundation. "The United Way of Central Maryland listened to students and the community near Benjamin Franklin High School and now offers comprehensive resources to meet the needs of students and families in the area."
Here are some of the ways the Neighborhood Zone supports students and families in its South Baltimore community:
Child care and parenting supports
In 2014, the Neighborhood Zone established its 1,200-foot Family Center and playground at Benjamin Franklin High School. At the center, a full-time social worker and a team of interns provides a host of supports for student parents and young people (up to age 24) with children in the surrounding community. This includes free day-care services and evidence-based early education for participants' children. The Family Center's goal is for all infants and toddlers to join a Head Start or pre-K program on track or ahead of their peers.
The team also provides parenting courses that help young parents build bonds with their children as well as supportive services to help them stay on track to graduate. Since June 2015, the Family Center has helped 46 teen parents graduate high school. Out of those graduates, 21 enrolled directly in a college or vocational program and 19 entered the workforce.
Mental health services
The Center employs another full-time social worker and a team of interns from the University of Maryland School of Social Work to provide counseling for all students at the school. Over several years, the team has served hundreds of students through individual and group sessions, as well as crisis interventions and mediations.
In 2019-2020, some 66% of students who received mental health services reported experiencing a decrease in symptoms associated with depression (data and surveys for 2020-2021 are still being analyzed.)
Housing assistance
The Neighborhood Zone hosts one of the United Way of Central Maryland's 15 Homelessness Prevention Programs in the region, which provides families with school-aged children facing housing insecurity with financial assistance and tools that help them remain in a home. Nearly all of the families who have used housing services at Benjamin Franklin High School have avoided homelessness. For those who have had to move due to unforeseen circumstances, almost none of their children have had to transfer schools, which can often disrupt learning.
Community supports
A community school coordinator at Benjamin Franklin High School connects students and families to various supports they may need, including helping them access resources for food, financial assistance, technology, educational supports, after-school programs and career services. The United Way of Central Maryland also runs a 24-hour information and referral service that connects families and individuals to these important resources.
"We will continue to expand our work supporting students and families in our South Baltimore community and across the central region," says Heather Chapman, vice president of United Way Neighborhood Zones at the United Way of Central Maryland. "The Neighborhood Zone's work is vitally important and provides a strong model for Baltimore schools that are transitioning to a community school model."
The growth of community schools in Baltimore
In recent years, Baltimore City Public Schools has dramatically expanded the number of community school sites like the one at Benjamin Franklin High School. From 2019 to 2021, the number of community schools in Baltimore grew from 50 to 128 — or 77% of the district's schools — largely due to increased state funding from the passage of the "Blueprint for Maryland's Future Act," an education reform bill passed in 2020 that seeks to foster equitable outcomes for Maryland students.
Usually, Baltimore community schools follow a similar model to Benjamin Franklin's. A coordinator works with students, school staff and families to conduct a community needs assessment to determine which partners and services are needed at a site. Services often include academic enrichment programs; career and technology courses; recreational activities; and assistance for families facing basic needs, such as housing and food assistance.
"We are very happy to see the expansion of the community schools model into more high schools in Baltimore City," O'Keefe says. "The COVID-19 pandemic has highlighted how important it can be to have comprehensive supports from a central community hub — and we hope that actors in the public and private sectors take notice of how community schools can serve that function."
Learn more about the Casey Foundation's support for equitable outcomes in education
This post is related to: