The Applied Leadership Network: A Model for Building Leadership Skills in JDAI Sites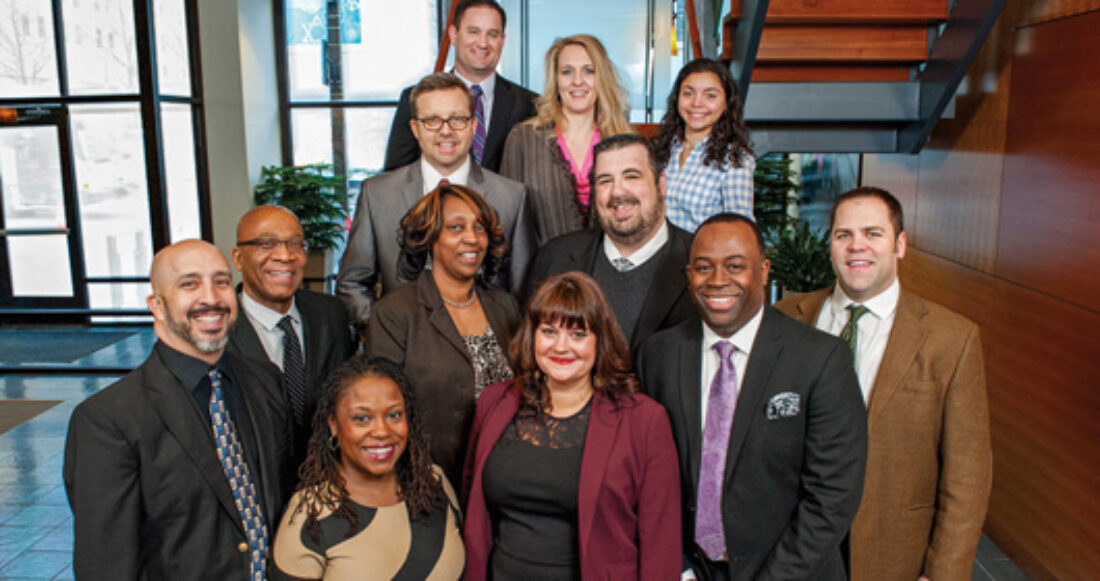 Before Casey convened the first session of its 2014–15 Applied Leadership Network (ALN) class, Juvenile Detention Alternatives Initiative (JDAI) efforts in Maine and New York State were treading water.
Both states launched their JDAI work in 2011. But in each state, the first three years of effort yielded modest progress. Today, they are much invigorated.
"When we first started, we were kind of stuck, trapped in our data," said Galan Williamson, a regional director of the Maine Department of Corrections who also heads the local JDAI collaborative and co-chairs the state's juvenile justice executive team. "We were meeting for the sake of meeting."
"We weren't getting enough traction on the ground, or changing practice," added Williamson's ALN partner, Erica King, a justice policy associate at the University of Southern Maine.
New York State JDAI Coordinator John Johnson and Onondaga County (Syracuse) Juvenile Services Director Jim Czarniak describe a similar situation in New York in mid-2014.
Over the course of one year, Williamson, King, Johnson and Czarniak attended five multi-day ALN leadership development seminars, as did two-person teams from four other JDAI jurisdictions (Calcasieu Parish, Louisiana; New Mexico; Philadelphia, Pennsylvania; and South Dakota).
During the seminars, participants received in-depth instruction in a results-based leadership model crafted over many years by the Casey Foundation. The seminars aim to boost participants' capacity to mobilize system reform efforts and then accomplish strategically selected goals. ALN participants hone their skills in analyzing data and in examining and developing strategies to effectively address racial and ethnic disparities.
The heart of the curriculum lies in providing participants the opportunity to apply the lessons here and now. "Our goal is not simply to create transformative leaders," said Barbara Squires, director of leadership development at the Foundation. "We want to achieve tangible results."
Each team identifies a specific reform goal for their jurisdiction, and spends their year in ALN working with colleagues in their home jurisdictions to devise and implement action plans and to monitor progress on their selected issue.
In Maine, Williamson and King focused on integrating JDAI with two other statewide juvenile justice projects to form a single statewide juvenile justice executive team, and then on mobilizing and supporting local juvenile justice reform teams.
"Before ALN there wasn't the urgency, enthusiasm or results-based purpose that I see in the system now," said King.
In addition to helping participants advance JDAI in their jurisdictions, the ALN seeks to strengthen the cadre of skilled and motivated reformers in the juvenile justice field.
"We focus the leadership seminars on middle managers and higher-level administrators," said Gail D. Mumford, a senior associate in Casey's Juvenile Justice Strategy Group who has co-managed ALN with Squires since its inception in 2008. "We recognized that these are the people who are likely to survive political transitions, stay with their organizations and dedicate their entire careers to this work. Strengthening that level of leadership really makes a difference."
Many participants describe the ALN experience as beneficial, even pivotal, both for their careers and for their work on detention reform. More than half the members of the three previous ALN classes have advanced to more responsible positions in juvenile justice or in related fields. Jane Seigel and Tashi Teuschler, who paired up on an Indiana team during the 2012–13 ALN cycle, credit ALN for the success of their campaign to secure $6 million in annual state funding to support and sustain JDAI replication.
"It was because of our involvement in ALN that we came back fired up and were able to fire up others in the state," said Seigel, executive director of the Indiana Judicial Center. "The ALN process really helped us clarify our path," added Teuschler, who was Indiana's DMC coordinator in 2012 and now serves as the JDAI Juvenile Justice Strategy Specialist at the Judicial Center.
Johnson and Czarniak also made significant progress on their project in New York State, which aimed to magnify the impact of a new $8 million per year state grant program to help counties fund alternatives to incarceration.
Before ALN, Czarniak said, "It was 'Here's the money, go spend it.' There wasn't any focus on, 'What is the problem you're trying to address, and did you move the needle?' "
Under a new process Czarniak and Johnson devised during ALN, the state began providing counties with detailed data snapshots and encouraging them to assess their systems and develop focused plans. Meanwhile, New York's six pilot JDAI counties — and especially Onondaga County (Syracuse), where Czarniak heads the local juvenile justice agency — undertook planning exercises to begin targeting their grant proposals more carefully.
Czarniak called his experience in ALN "transformational." He commented, "I've gotten more done in the year since ALN than in the six years before, and I refer to my ALN binder weekly."
This post is related to: