The Jim Casey Initiative Advances Results Count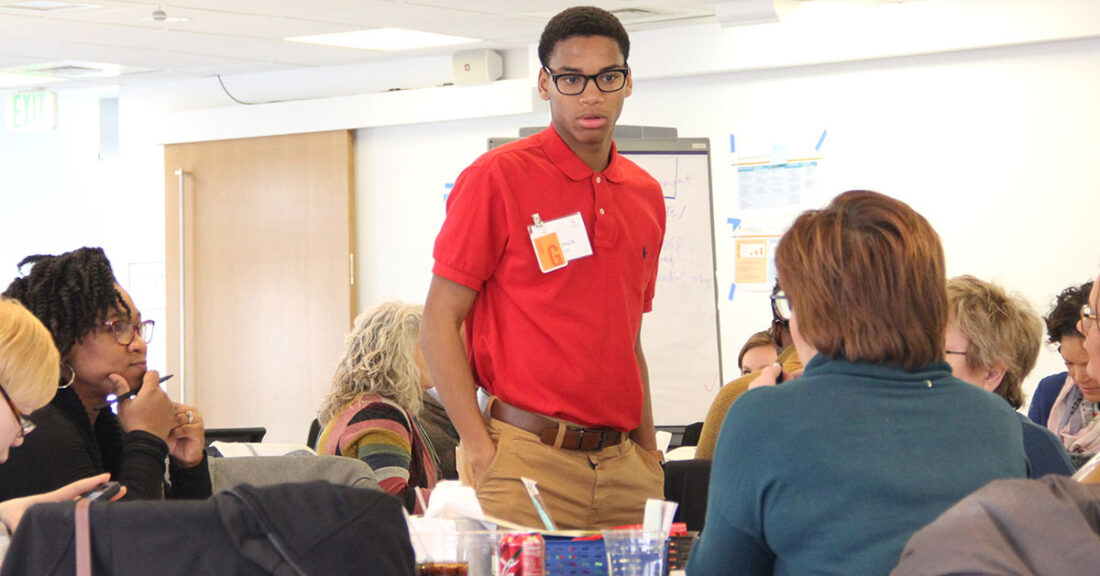 To accel­er­ate mea­sur­able, equi­table improve­ments for youth in fos­ter care as they become adults, the Foundation's Jim Casey Youth Oppor­tu­ni­ties Ini­tia­tive® is work­ing to expand the use of the philanthropy's Results Count™ lead­er­ship method­ol­o­gy. The Jim Casey Ini­tia­tive is pur­su­ing this approach along with sev­en nation­al orga­ni­za­tions that are build­ing their own capac­i­ties to use Results Count tools and skills and to spread this approach through­out their respec­tive net­works. The orga­ni­za­tions are on the path to become the first Results Count hubs.
Four sites from the Jim Casey Initiative's 17-state net­work — Geor­gia, Indi­ana, Iowa and Mis­sis­sip­pi — were select­ed as the ini­tial Results Count cohort. Each site sent a team that par­tic­i­pat­ed in six two-day sem­i­nars, where they learned and applied the five core com­pe­ten­cies and two foun­da­tion­al frame­works of Results Count.
In Jan­u­ary 2019, all the Jim Casey Ini­tia­tive sites began the imple­men­ta­tion of their three-year results and equi­ty plans, each aligned with the Jim Casey Initiative's pri­or­i­ty indi­ca­tors for youth tran­si­tion­ing to adult­hood: (1) per­ma­nen­cy, (2) sta­ble hous­ing, (3) edu­ca­tion­al suc­cess and eco­nom­ic secu­ri­ty and (4) preg­nan­cy pre­ven­tion and par­ent­ing sup­port. ​"The work of the sites is broad­er than just its lead agency," says Leslie Gross, direc­tor of the Jim Casey Ini­tia­tive. ​"The lead agen­cies work in part­ner­ship with young peo­ple, the child wel­fare sys­tem, ser­vice providers, advo­cates and oth­ers to move their plans."
In Geor­gia, where the Mul­ti-Agency Alliance for Chil­dren (MAAC) is the Initiative's lead agency, the Results Count work focus­es on edu­ca­tion­al suc­cess for stu­dents in fos­ter care, grades 7 through 12, in Ful­ton and DeKalb coun­ties. A rig­or­ous analy­sis of the fac­tors that con­tribute to suc­cess revealed that edu­ca­tion­al achieve­ment for youth in fos­ter care was influ­enced by how sta­ble their fos­ter-care place­ments were and whether they were con­nect­ed with a per­ma­nent fam­i­ly. This insight has helped the site improve a young person's abil­i­ty to stay with a fam­i­ly while in fos­ter care and his or her suc­cess in school.
Increas­ing equi­table oppor­tu­ni­ties and out­comes for all chil­dren is cen­tral to the work of the Foun­da­tion. For social sec­tor lead­ers, ful­fill­ing this com­mit­ment requires being able to dis­ag­gre­gate data to reveal dif­fer­ences by race or eth­nic­i­ty and to iden­ti­fy root caus­es of issues. ​"Results Count has fine-tuned the way I look at things," says Vic­to­ria Salz­man, who leads the Initiative's Results Count work in Geor­gia. ​"The process allows for ​'speak­ing the unspeak­able' about equi­ty issues."
Youth engage­ment is anoth­er part of the Results Count work. Eddye Van­derk­waak, a Jim Casey Ini­tia­tive Young Fel­low, served on the Initiative's Results Count plan­ning team, and each site had a young leader who had expe­ri­enced fos­ter care. ​"Results Count is a real­ly focused, inten­tion­al learn­ing oppor­tu­ni­ty that direct­ly impacts the work in our sites and in our careers," says Van­derk­waak, lead orga­niz­er for Fos­ter Youth in Action.
MAAC's Vic­to­ria Salz­man also notes the rip­ple effects of par­tic­i­pat­ing in the Results Count sem­i­nars. ​"This has been a great process for our team," she says. ​"It's going to help child wel­fare pro­fes­sion­als, providers and oth­ers embed the Results Count approach into their prac­tice, look at dif­fer­ent oppor­tu­ni­ties to apply it and see some real change in out­comes for our young people."
Over the next two years, the Jim Casey Ini­tia­tive will con­tin­ue to build the Results Count skills with­in its net­work and to sup­port the sites in imple­ment­ing and refin­ing their three-year results and equi­ty plans. ​"With this approach, we can make sure we are work­ing delib­er­ate­ly toward mak­ing the most pow­er­ful con­tri­bu­tion pos­si­ble to help­ing all young peo­ple tran­si­tion from fos­ter care to adult­hood," Gross said.
Relat­ed Results Count Resources:
This post is related to: