Violence Prevention Nonprofits Face New Challenge: A Pandemic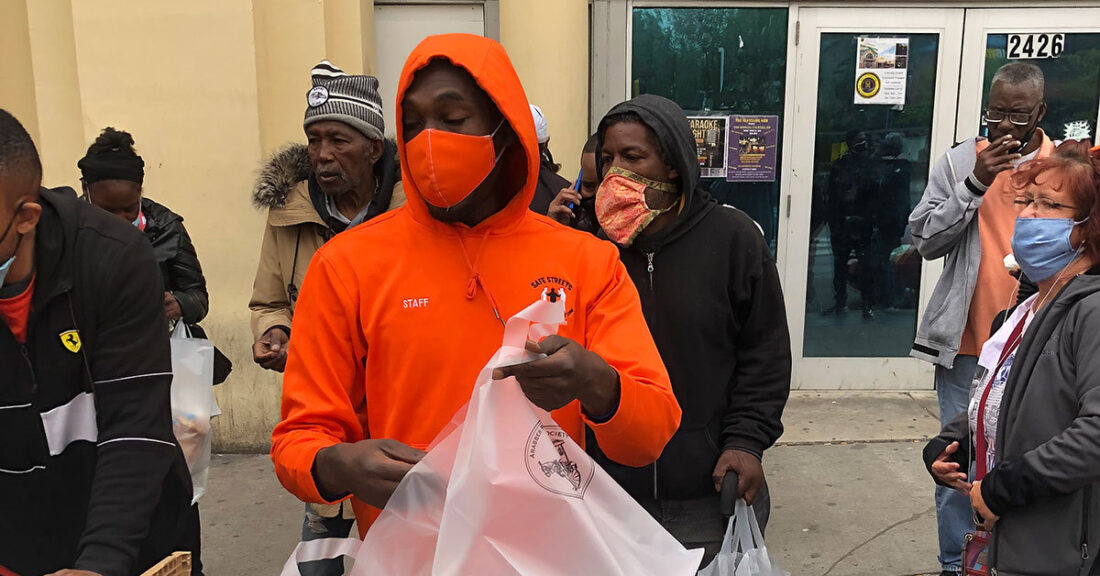 In cities across the nation, nonprofits that hire or train community members to intervene when gun violence or retaliation is likely to occur — a public health model for preventing gun violence known as Cure Violence — are hard at work.
Their volunteers and staff — now equipped with face masks, gloves and hand sanitizer — continue to talk with residents about potential gun violence.
But the organizations and their messengers are also tackling another topic: How to stay safe during the coronavirus pandemic. These conversations cover the basics — the importance of hand washing regularly, staying home and keeping a safe distance from others — and often help connect residents with additional support.
"Violence prevention nonprofits are trusted and embedded in their communities," says Amoretta Morris, director of national community strategies for the Annie E. Casey Foundation. "As a result, they are positioned to tackle two major public health crises unfolding in many American cities right now: the epidemic of gun violence and the unprecedented emergency caused by the coronavirus pandemic."
This post introduces two Casey grantees that are bundling these challenges together to bring vital information and relief to communities in need.
CHRIS 180
For several weeks, volunteers and staff at CHRIS 180 in Atlanta have been delivering food and supplies to residents who are struggling to run errands or pay bills. The nonprofit is also providing financial assistance to some residents, and its crews have shared instructions on requesting groceries or accessing health services — including mental health counseling — through the organization.
During this same time frame, CHRIS 180 has continued supporting local residents and communities impacted by gun violence while also implementing a Cure Violence model in the city.
"It's a lot to tackle, but it's necessary work," says Alfred Garner, a program manager for CHRIS 180 who works in Atlanta's Neighborhood Planning Unit V, which includes six primarily African American neighborhoods on the city's southside. "Gun violence is a persistent problem, and this pandemic has made many people's situations much worse. That's why we've started providing direct assistance in response, while continuing our work to interrupt violence and support those impacted by it."
Safe Streets Baltimore
Nearly 600 miles to the northeast, Safe Streets Baltimore — a violence prevention initiative named after the city it serves — has similiarly expanded its focus. Program staff and volunteers travel through the city's east and west side neighborhoods, posting informational fliers and talking with residents from a safe six-foot distance. Most conversations cover the same two topics: Potential gun violence and the coronavirus pandemic.
Like CHRIS 180, Safe Streets is also helping residents with food and other necessities, both by delivering these items to homes and stocking them at pick-up locations throughout the city.
Frontline work of this kind is vital — but it's also stressful. Thanks to a Casey Foundation grant, Safe Streets offers employees access to mental health services, including one-on-one counseling, through Sage Wellness Group. The organization also hosts virtual meetings each month so that staff can discuss work-related challenges and stressors. "Mental health is very important, especially right now," says Dedra Layne, the director of Safe Streets. "These sessions provide a space for people to be vulnerable and talk about supports they might need to do their best work."
A call to invest in violence interrupters
As many cities grapple with these extraordinary twin crises, some groups and leaders are calling on state and federal lawmakers to recognize the role of organizations like CHRIS 180 and Safe Streets Baltimore.
"Violence interrupters and outreach workers focused on community members at highest risk have emerged as a frontline public health resource in the fight against the twin public health crises of community violence and COVID-19," reads a May 1, 2020 letter signed by 20 mayors and sent to federal lawmakers. "At a time when resources everywhere are strained, it is critical that this capacity be sustained and bolstered."
Given their vital roles, Safe Streets has called on Maryland's leaders to fund violence intervention programs across the state. "Violence is still occurring, and we need to be vigilant about that, but we can also be effective at addressing the needs presented by the coronavirus pandemic," says Layne. "That's why it's important that we, and other groups that do similar work across Maryland and the nation, get the support needed to continue these vital efforts at this time."
Read about community efforts to bring Cure Violence to Atlanta
This post is related to: