Evaluating the Children and Family Fellowship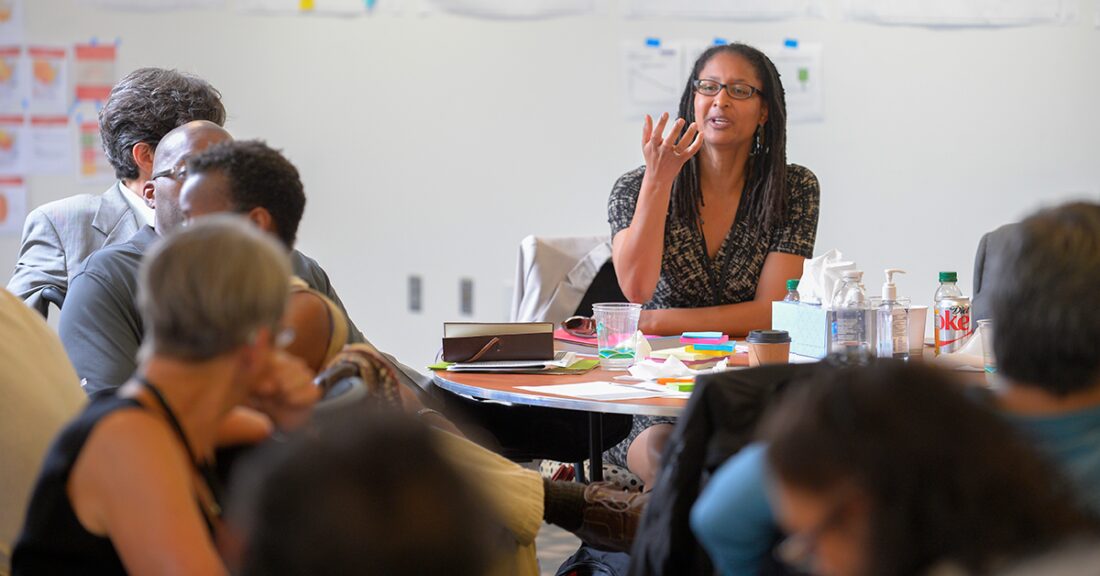 A recently released evaluation of the Annie E. Casey Foundation's Children and Family Fellowship® found that the intensive leadership program helped social-sector executives transform the way their organizations worked on behalf of children in low-income communities.
Applying tools and skills from the Foundation's Results Count® framework, Fellows were able to embed a data-driven approach into organizational strategies, work practices and equity initiatives and to extend that approach to their partners.
ICF, the consulting firm that conducted the three-year evaluation, observed that the Fellowship was a unique experience for participants: "While most leadership development programs focus on the individual leader, the Fellowship addressed individual development specifically in service of organizational change to achieve population-level results." All Fellows who participated in the program between 2013 and 2017 were invited to take part in the evaluation.
Among the evaluation's findings:
Results-based facilitation techniques and tools helped Fellows hold more effective meetings that were focused on results.
Fellows were able to advance difficult conversations about racial equity within their organizations and use data to identify and begin to address gaps.
Organizations and partnerships that were most successful in pursuing a results focus did so by concentrating on shared goals when working through challenges and using action commitments to encourage progress.
"The goal of the Children and Family Fellowship is to develop leaders who will have powerful influence within their organizations and the field on behalf of children and families," says Barbara Squires, the Foundation's director of Leadership Development. "It's affirming to see through this evaluation how Fellows are implementing what they've learned and reorienting the way their nonprofit and government agencies center results and equity in their work."
Data-driven decisions
Established in 1993, the Fellowship program currently comprises a series of 10 four- to five-day seminars, peer consultations and individual coaching over 21 months. All Fellowship activities have been based on the conviction that meaningful change requires data-driven decision making, aligned strategies with external partners, an understanding of systems, true collaboration and the ability to lead through complexity and ambiguity.
Each Fellow developed a Results Action Plan, which identifies a measurable change in child and family outcomes to be achieved by his or her organization by the program's conclusion. According to the ICF evaluation, "Focusing on the end goal and defining goals in terms of how well the organization is helping children and families (to what extent are they better off) instead of how much assistance is provided (the quantity of people helped in a given program) was a critical emphasis for Fellows and their organizations."
The focus on a desired result for target populations led most organizations to incorporate multiple new practices into their operations, work across organizational and departmental boundaries and engage communities in meaningful ways. Data walks, which provide a visible display of quantitative information to track progress toward a desired result, reinforced the importance of breaking down data to analyze disparities among racial and ethnic groups and economic groups, and encouraged transparency when deciding how to adjust and refine efforts.
The ICF evaluation team found that results-based facilitation techniques helped Fellows convene meetings that prioritized conversations — not one-way conversations — and kept results in the forefront. Utilizing results-based meeting agendas helped to drive the work of groups to be more data-driven and oriented to action in service of achieving a desired result.
Moving from talk to action
A key Results Count tool Fellows used was the action commitment, which identifies specific ways for partners, timeframes and possible metrics to demonstrate fulfillment of a commitment. These commitments, as one Fellow noted, "have been a good way to keep track of what I need to do and remain accountable to actions I need to take."
One of the Fellowship's major goals was to develop leaders capable of advancing equitable results for children and families. According to the evaluation, the Fellows prioritized diversity and equity within their organizations, facilitated difficult conversations about inequities and used data "to effectively address race equity and inclusion gaps."
Organizations and partnerships that successfully transitioned to a results focus faced some challenges along the way. They reported encountering an "us vs. them" mentality among some partners, working to achieve buy-in for a new way of doing business, and needing to revisit decisions and plans based on data revelations. Frank dialogue about various parties' needs and restrictions helped overcome these hurdles.
The bottom line of the ICF evaluation: "Capable leaders can make lasting impacts when a results focus becomes embedded in organizational strategies and work practices. Organizations can maintain an emphasis on equitable results in the face of policy and environmental trends that threaten the well-being of children and families."
Learn more about the current class of Children and Family Fellows
This post is related to: