The Importance of Supporting Black-Owned Businesses in Atlanta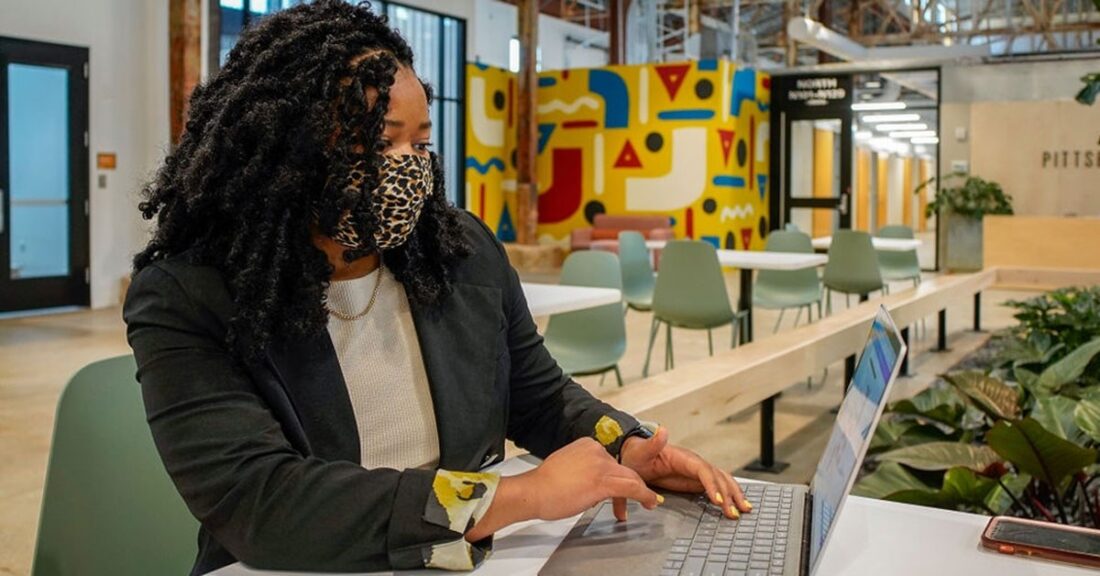 Black entrepreneurs in Atlanta are launching innovative products and offering new ideas to help their communities — despite barriers that make it difficult for them to gain access to the resources, funding, training and technical assistance necessary for them to grow and thrive.
Inequitable and longstanding policies and trends — such as imbalances in lending and limited family wealth — have hurt Black Atlantans and other residents of color who wish to own and grow businesses. In recent years, Atlanta's economy also has expanded and transformed, leaving many Black-owned businesses facing the threat of displacement as new, large companies and developments move in to compete with them.
The COVID-19 pandemic also has caused strain for many businesses of color in Atlanta, which tend to be smaller than those owned by white people. A 2018 report found that the average Black-owned business in Atlanta is 11 times less valuable than the average white-owned business. Black entrepreneurs, like so many other business owners, have had to rethink how they reach customers and adjust their business models to remain nimble amid economic uncertainty.
"Atlanta isn't living up to its reputation as a haven for thriving Black communities," says Erika Smith, a senior associate with the Annie E. Casey Foundation. "That promise isn't shared by everyone, and that's why it's important for public and private leaders to take bold steps to help all Black-owned businesses thrive."
Reducing the Racial Wealth Gap
Advancing business growth in communities of color is one way of fostering equitable outcomes across Atlanta. Business assets and savings allow for greater financial diversification and deliver higher returns, on average, when compared to homes, cars and other tangible assets, according to a 2017 report from the Aspen Institute. In other words, entrepreneurship can be an effective way for people of color to create wealth and reduce disparities.
Black business owners are also wealthier than their peers who do not own businesses. And many Black business owners hire from within their communities, which helps to fuel job opportunities in neighborhoods of color, according to a report from the Association for Enterprise Opportunity.
The Casey Foundation's Support for Businesses Owned by People of Color
Both public and private institutions can play a role in supporting Atlanta's business owners of color.
Here are some examples of organizations and initiatives the Foundation has supported that seek to expand and support Black-owned businesses in Atlanta:
Atlanta Wealth Building Initiative (AWBI)
The Atlanta Wealth Building Initiative (AWBI) uses various strategies to spur economic activity and expand opportunities for African American businesses, including:
building worker-owned cooperatives;
acquiring land to develop affordable, community-controlled properties;
providing technical assistance and training;
running a peer learning group; and
offering business owners flexible financing options, including loans, guarantees and grants.
In April 2021, AWBI launched the "Advancing Enterprise Prosperity: 1,000 Black Businesses in 1,000 Days" campaign. Through technical assistance and leveraging procurement contracts with various anchor institutions, AWBI aims to help 1,000 Black-owned businesses in Atlanta either hire their first employee or offer living wages to current workers — focusing primarily on companies in high-growth sectors in Atlanta's Southeast, Southwest and Northwest areas, as well as along the Atlanta BeltLine. AWBI has also formalized a partnership with Emory University to help the institution develop a more inclusive procurement process that prioritizes vendors owned by people of color.
Village Micro Fund
The Village Micro Fund provides a 15-week business bootcamp for Black entrepreneurs in the Greater Atlanta area to help them learn how to start and run businesses — including helping them access new customers and markets and training them to become strong company representatives.
Once business owners complete the program, they can access investment or loans from the fund or get technical assistance to pursue various financing options. Participants can also get access to shared staff, such as attorneys and accountants.
The Ke'Nekt
The Ke'Nekt brings Black businesses together to explore cooperative models of business development — including those in which companies pool funding and share office space and back-end support staff. The Ke'Nekt's goal is to preserve legacy Black-owned businesses in Atlanta that are under threat of displacement by presenting a different model for growth and creating new ways for Black entrepreneurs to obtain financing and access to business education and support.
The Village Market Atlanta
The Village Market Atlanta hosts in-person marketplaces and online retail spaces for Black entrepreneurs and provides them with educational programs and assistance accessing financing. Since launching in 2016, the organization has cultivated what it calls a "circular Black economy" — driven by its commitment to purchasing Black-made products, hiring Black-owned professional services and ensuring every dollar it spends lands in the hands of Black communities — that's valued at more than $4 million.
The Village Market Atlanta will also serve as a community partner at the Casey-supported Pittsburgh Yards project, offering education and training programs for business tenants within the Nia Building™ — A Place of Purpose⁽℠⁾.
This post is related to: