Using Results Count Skills to Build A Strong Social Safety Net for Kentuckians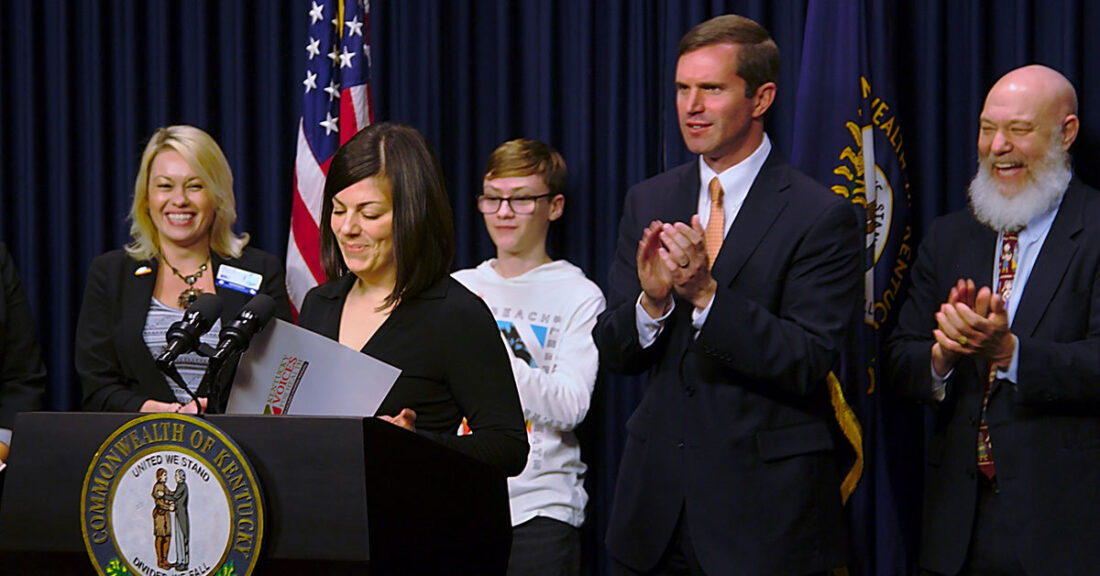 In Ken­tucky, a group of advo­cates worked to pre­serve Med­ic­aid access for mil­lions of res­i­dents across the state. One key to their suc­cess? Results Count®, the Annie E. Casey Foundation's unique results-based lead­er­ship approach.
Align­ing Leaders
Results Count is a core com­po­nent of the Children's Health Lead­er­ship Net­work (CHLN) pro­gram. Fund­ed by three non­prof­its — the Casey Foun­da­tion, the David and Lucile Packard Foun­da­tion and The Atlantic Phil­an­thropies — CHLN strives to help lead­ers build the skills, expe­ri­ences and net­works nec­es­sary to advance child health pol­i­cy and improve child well-being.
The Ken­tucky team, part of a statewide coali­tion called ThriveKY, par­tic­i­pat­ed in CHLN from 2018 to 2019. By the program's end, they had real­ized a sig­nif­i­cant vic­to­ry: pro­tect­ing Med­ic­aid access with­out work require­ments for 1.4 mil­lion Ken­tuck­ians, includ­ing 551,000 children.
Build­ing a Results Count Skill Set
The Results Count approach and its high action and high align­ment frame­work aid­ed the team's efforts in a num­ber of ways.
Dustin Pugel, an ana­lyst for the Ken­tucky Cen­ter for Eco­nom­ic Pol­i­cy, found the pow­er map­ping ses­sions par­tic­u­lar­ly use­ful. This work ​"involved try­ing to under­stand who the pri­ma­ry movers of an issue are and how to bring in oth­er people.
Emi­ly Beau­re­gard, exec­u­tive direc­tor of Ken­tucky Voic­es for Health, appre­ci­at­ed the ses­sions on tai­lor­ing mes­sages to your audi­ence and clear­ly com­mu­ni­cat­ing a desired result. ​"If you frame your sto­ry around impact rather than pol­i­cy lan­guage or data, it's going to be much more engag­ing," she explains.
The group also had plen­ty of prac­tice lever­ag­ing data. To bet­ter under­stand how the pro­posed lim­its to Med­ic­aid would affect Ken­tuck­ians in dif­fer­ent areas, the lead­ers parsed out coun­ty-lev­el data. They found that up to 40% of res­i­dents in East­ern Kentucky's rur­al coun­ties relied on Med­ic­aid. They also not­ed that the pro­posed changes would cause some local hos­pi­tals to close, expand­ing the con­se­quences to even more Kentuckians.
Even­tu­al­ly, the coali­tion mem­bers began to think bigger—about what they want­ed to achieve as a col­lec­tive force. ThriveKY's mis­sion has since broad­ened beyond defend­ing Med­ic­aid to focus on build­ing a strong social safe­ty net for all Kentuckians.
ThriveKY's Next Act
As ThriveKY sets its sights on advo­cat­ing for the basic needs of all Ken­tuck­ians, Beau­re­gard, Pugel and oth­er coali­tion mem­bers will con­tin­ue putting their Results Count skills to work. As they pur­sue racial equi­ty in chil­dren's health, they are also build­ing a more diverse coali­tion and reach­ing out to com­mu­ni­ty groups, health cen­ters, hous­ing pro­grams and the Urban League.
"The Ken­tucky team has used every advo­ca­cy strat­e­gy — admin­is­tra­tive, leg­isla­tive and judi­cial — to advance the health and well-being of chil­dren and fam­i­lies," said Jann Jack­son, a senior asso­ciate with the Casey Foun­da­tion. ​"Their expe­ri­ence is a pow­er­ful exam­ple of work­ing across mul­ti­ple state admin­is­tra­tions and fac­ing both obsta­cles and oppor­tu­ni­ties to achieve results."
Meet the 2020–21 class of the Children's Health Lead­er­ship Network
This post is related to: