Dreama Gentry: Empowering Rural Communities through Education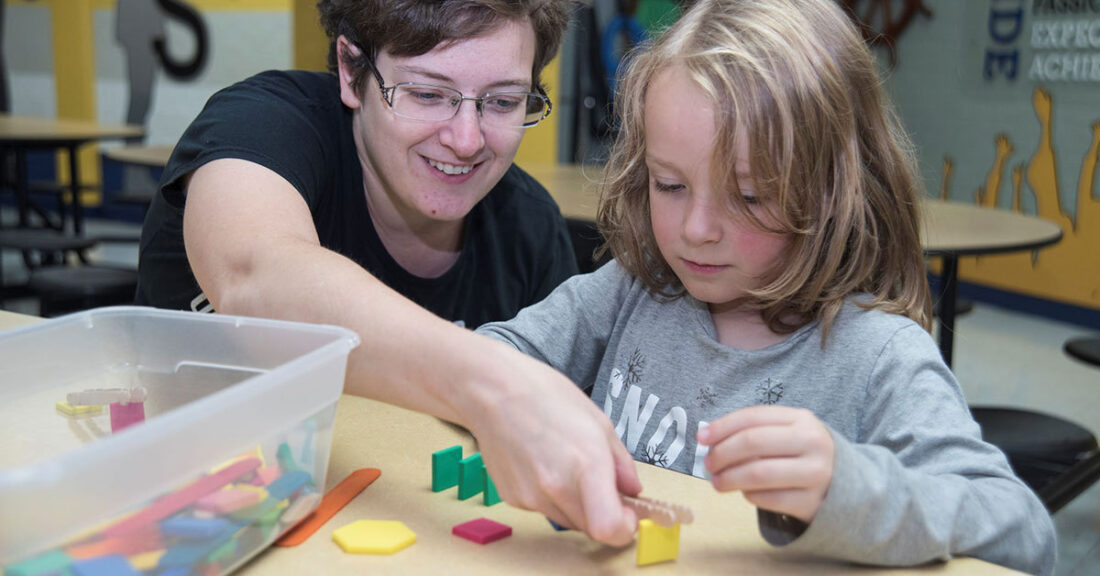 A recent evaluation of the Annie E. Casey Foundation's Children and Family Fellowship® generated case studies of individual Fellows who are using the program's leadership lessons to transform the way organizations serve kids, families and communities. This is one entry in a three-part series on the case studies.
As executive director of Partners for Education (PFE) at Berea College in Kentucky, Dreama Gentry has one objective: helping Appalachian students succeed. Completing the Children and Family Fellowship (Class 10, 2016–2017) has equipped her with the tools and skills of Results Count® to help advance this important work.
The Fellowship required Gentry to identify a specific, measurable result for PFE. She opted to track kindergarten readiness — a key predictor of future academic success — in eight counties in southeastern Kentucky.
"In rural areas such as ours, families lack access to high-quality early education opportunities," says Gentry.
Enter PFE, which aims to prepare kids for kindergarten by enhancing their early learning experiences, increasing access to these experiences, and engaging their families as a first teacher and early learning advocate. Included in this approach: caregivers receive at-home parenting support — a move that kicks off a positive chain reaction. "We increase caregivers' confidence," Gentry explains, "and that helps lift the educational aspirations they have for their child."
The program then uses the BRIGANCE Kindergarten Screen — a kindergarten readiness assessment tool adopted by the state's Department of Education — to gauge its success.
Early results are in — and impressive. One of the eight counties that adopted PFE's approach to kindergarten readiness was Clay County. During the 2017–18 and 2018–19 school years, the share of Clay County children under the age of 5 who were assessed as ready for kindergarten jumped from 26.9% to 56.7%.
Relationships, resources and results
According to ICF, the consulting firm that evaluated the Fellowship, Gentry pushed PFE to engage with the entire system serving the region's young children. Under her leadership, school districts, early childhood providers and early childhood councils in southeastern Kentucky all adopted the program's goals and strategies for kindergarten readiness.
ICF found that Gentry's use of Results Count advanced PFE's achievements in the following ways:
Data mapping at the county level and factor analysis — the process of determining what works and what doesn't work based on understanding the underlying reasons behind the problem or solution — led to specific services and interventions for each of the eight counties.
PFE data analysts helped program managers and community partners examine contributions, track results across all racial and ethnic groups and identify adjustments.
A focus on shared performance measures, along with the collaboration of multiple partners working toward common goals, contributed to the positive results.

Results-Based Facilitation techniques enabled PFE to effectively lead meetings with its partners. Using agendas and action commitments — a structured way of monitoring prior commitments and identifying new ones — the players shifted their conversations from "policing each other" to productively exploring why a particular commitment was not met and making the adjustments necessary to continue working toward results with urgency.
Lasting change
PFE is one of seven organizations that the Casey Foundation has identified as a hub for expanding the use of Results Count throughout the social sector. The goal is to grow the pool of leaders who have the skills and tools needed for accelerating measurable and equitable improvements in the well-being of children and families across the country.
Gentry is now one of these leaders — and she's not operating alone. "Our work builds the capacity of local residents to use data to identify problems and then use local know-how to find appropriate solutions," she says.
PFE has joined Save the Children, StriveTogether and the Casey Foundation to develop and launch the Rural Accelerator Initiative. By combining results-based leadership development, strategic investments, local partnerships and peer learning, the initiative seeks to ensure that children in rural America are ready to enter school, thrive academically, and exit high school prepared for a career or higher education.
This post is related to: