How System Leaders in Atlanta Use Results Count Skills and Tools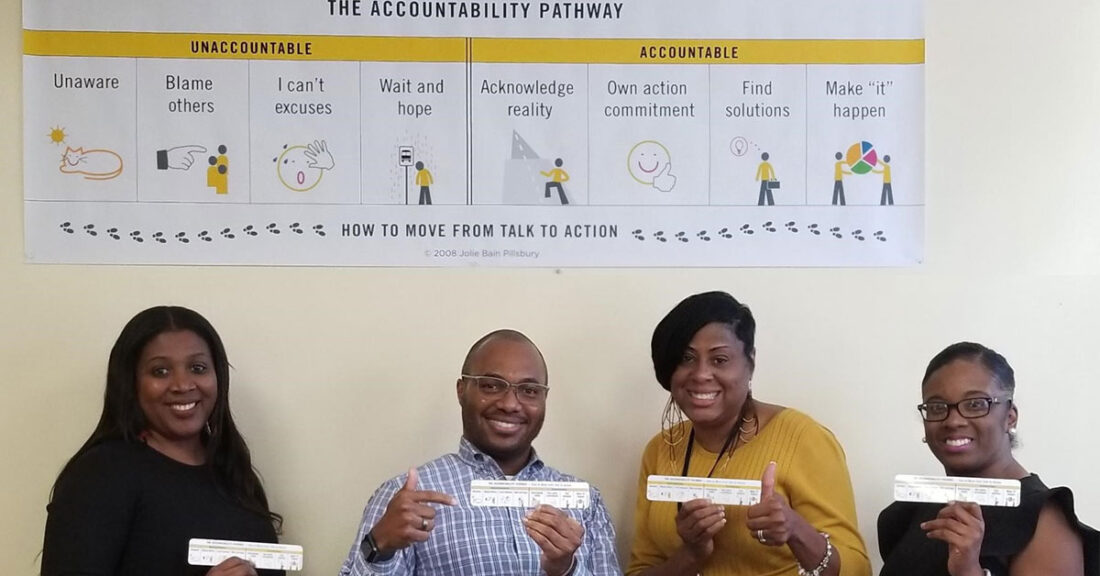 Atlanta is a city where the Annie E. Casey Foundation has longstanding ties and a long-term commitment to the well-being of children and families. In addition to supporting neighborhood revitalization and other efforts to increase opportunities for low-income families, the work of the Atlanta Civic Site has included efforts to support leaders there to use and apply Results Count®, the Foundation's unique approach to leadership development, to their work.
Lamar W. Smith, director of the DeKalb County Division of Family & Children Services (DFCS), participated in two Results Count programs spanning 2017–2018: one held in Atlanta and another for sites from the Jim Casey Youth Opportunities Initiative®. Smith has found that the five core competencies and two foundational frameworks he learned are "really effective" for managing his agency. As the most recent recipient of the Leadership Award presented by the Georgia Conference on Children and Families, Smith says: "Results Count has played a major part in the leader I am today."
Above the desk in Smith's office, there is a large Accountability Pathway poster, which illustrates a Results Count tool for keeping leaders, staff and partners accountable for their commitments. Encouraging honest conversations about the progress of plans, this tool helps leaders explore why a particular commitment has or has not been met and make adjustments that generate momentum toward an identified result. "I reference the poster daily," says Smith, "to coach, guide and undergird decision making with staff at all levels."
The Plan-Do-Study-Act (PDSA) method of improving a process or outcome is another Results Count method Smith regularly employs in his work. PDSA is a cyclical approach — developing "a small test of change," implementing it, observing the results and making adjustments for the next iteration and ultimate expansion of the work. When a child welfare program director recently told Smith that she wanted to try "a small test of change" with a particular work process, "I recognized that PDSAs were becoming an internalized approach to the way we do business and a strategy to help improve practice in the county," Smith says.
Results Count emphasizes breaking down data that measure child and family outcomes by race and other specific characteristics and identifies areas where targeted efforts could improve equitable outcomes. According to Smith, the most recent example of developing targeted DFCS outcome measures concerns the well-being of expectant and parenting young people who have decided to leave foster care at age 18, rather than 21. "Small tests of change," he says, "have centered around the strategies we use in our transitional planning for these young parents and their children." Disaggregated data enabled Smith to identify needs of this specific group of young people served by DFCS and develop strategies specifically for them.
Research for policy and practice
Ketisha J. Kinnebrew, formerly with the Atlanta Public Schools and currently assistant project director with Georgia Policy Labs, also participated in the 2017–2018 Results Count work. She manages the Metro Atlanta Policy Lab for Education (MAPLE), which partners with five of the largest school districts in the Atlanta area to evaluate the effectiveness of education programs and to provide evidence-based options for changes in policy and practice.
Kinnebrew's work with the school districts and other stakeholders has allowed her to demonstrate the power of Results Count's aligned contributions and collaborative leadership frameworks. The aligned contributions framework provides a structure for groups to focus on a shared agenda, common metrics and individuals' specific roles and skills to make a collective impact on a result. Her training in Results-Based Facilitation has helped Kinnebrew refine her skills in leading groups and ensuring that meetings move toward action and help participants to be accountable for their commitments.
Before committing to a research project — for example, on chronic absenteeism — Kinnebrew and research directors from the school districts determine the availability of relevant, shareable data. After analyzing data on chronic absenteeism from four districts, MAPLE researchers were able to test whether monthly, personalized emails and text messages to parents reporting on their child's attendance would be an effective, low-cost intervention. These nudges decreased chronic absenteeism by nearly 8%.
"Many of our school district partners," says Kinnebrew, "are now able to say, 'Wow, this is a practice change that can help increase the number of students who are in class.'"
This post is related to: