Young Leaders Tackle Root Causes With Results Count Tools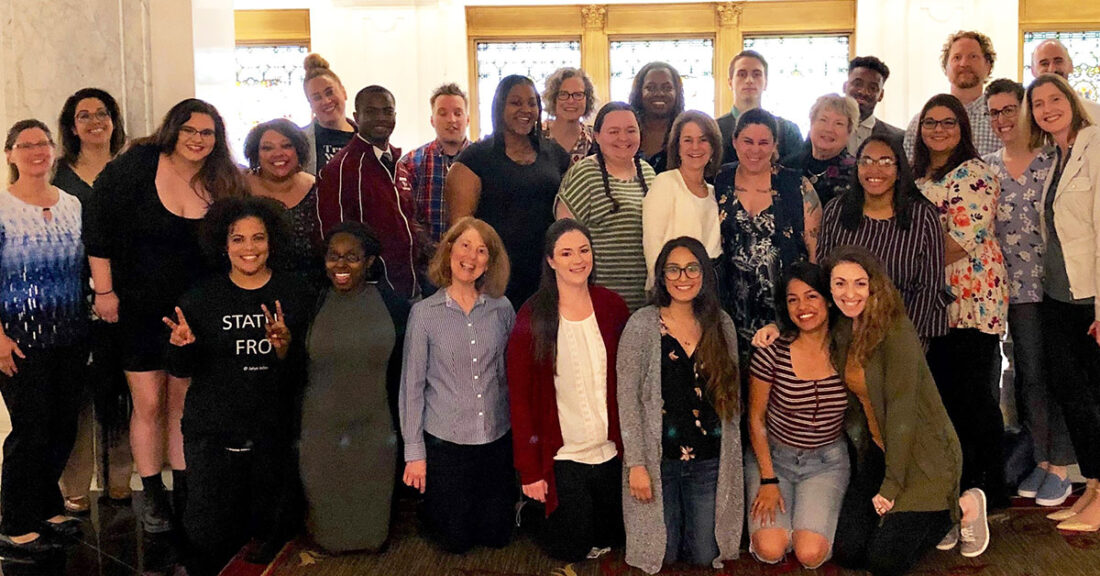 Jim Casey Young Fellows — young adults who have experienced foster care — draw on their personal experience and leadership skills to propel the work of the Annie E. Casey Foundation's Jim Casey Initiative, which seeks to make sure their peers transitioning from foster care succeed in adulthood. A tool known as factor analysis, part of the Foundation's suite of Results Count® skills and tools, is sharpening Young Fellows' ability to identify the factors that make the difference in how young people fare as they emerge from foster care.
The Jim Casey Initiative has been incorporating factor analysis and other Results Count tools into all of its work as one of seven Results Count hubs spreading this leadership development approach throughout their networks. A key goal for the Foundation and the Jim Casey Initiative is ensuring that young people have meaningful opportunities to apply leadership skills that contribute to individual, site-level and national results on behalf of older youth in foster care.
"What factor analysis does is ask the 'why' questions," says Carloe Moser, a Jim Casey Young Fellow in North Carolina. "It helps people see the big picture — the patterns, the structure of the child welfare system, people's beliefs. When we are able to get to the root causes of problems, we are able to get much better solutions."
Youth engagement and racial equity
One of the Jim Casey Initiative's best-practice principles, authentic youth engagement, is based on the conviction that relevant and sustainable change requires the wisdom and leadership of young people with lived experience in the child welfare system. They have unique knowledge of the issues and insight into solutions that effectively meet the needs of young people transitioning from foster care to adulthood. Authentic youth engagement means giving young people leading roles in decisions affecting their lives.
Racial equity is central to Casey's youth engagement work. Young people of color are overrepresented in foster care; they enter the foster care system at much higher rates than their white peers and have disparate outcomes. "Youth engagement and racial equity go hand in hand," says Alexandra Lohrbach, a senior associate with the Foundation.
The members of the advisory committee of Young Fellows are a diverse group of young adults from the Foundation's network of 17 Jim Casey Initiative sites. Having participated in Casey's Youth Leadership Institute, an intensive weeklong annual gathering providing training in leadership and advocacy, they are partners with the Foundation.
"The Fellows are accountability partners," says Lohrbach. "They work on specific projects — for example, the work we are doing around permanency. They work alongside the national team when it comes to things like strategic direction, and they have access to professional development opportunities, including exposure to the Results Count tools."
Asking "Why?"
An especially important tool is factor analysis, which helps inform the Young Fellows' hypotheses about what it would take to improve outcomes for foster youth transitioning to adulthood. What should adults in the child welfare system do more of, do less of or do differently? What are the specific barriers to change? And how could they be reduced?
Beginning with outcome data for a particular group of people, factor analysis seeks to understand the story behind the numbers by repeatedly asking the question "why." Another important factor analysis concept is mental models — the assumptions, beliefs and values that people hold and that influence behavior and shape the structure of systems.
"Young people are more than capable of doing factor analysis," says Lohrbach. "They are naturals at asking why and are the ones who should be leading us in talking about the root causes of child welfare outcomes."
Young people who used factor analysis to guide strategy in North Carolina were able to support system leaders in doing factor analysis as well. For example, to develop a strategy for connecting older youth with caring, supportive adults, the young people considered that some staff may have mental models about older youth that assumed their behaviors needed to be controlled or punished. This led them to identify child welfare staff valuing permanent connections for older youth as a factor that would make a difference in how older youth fare as they emerge from foster care. Connections are critical to ending the pipeline of older youth exiting foster care without the permanent relationships that can help them navigate adulthood. Thanks to factor analysis, the Jim Casey Initiative will be teaming with the North Carolina site in 2021 on a practice model that centers continuous quality improvements for recruiting, training and supporting staff who work with older youth in care, among other elements.
This post is related to: