Completing the Fellowship Journey and Achieving Results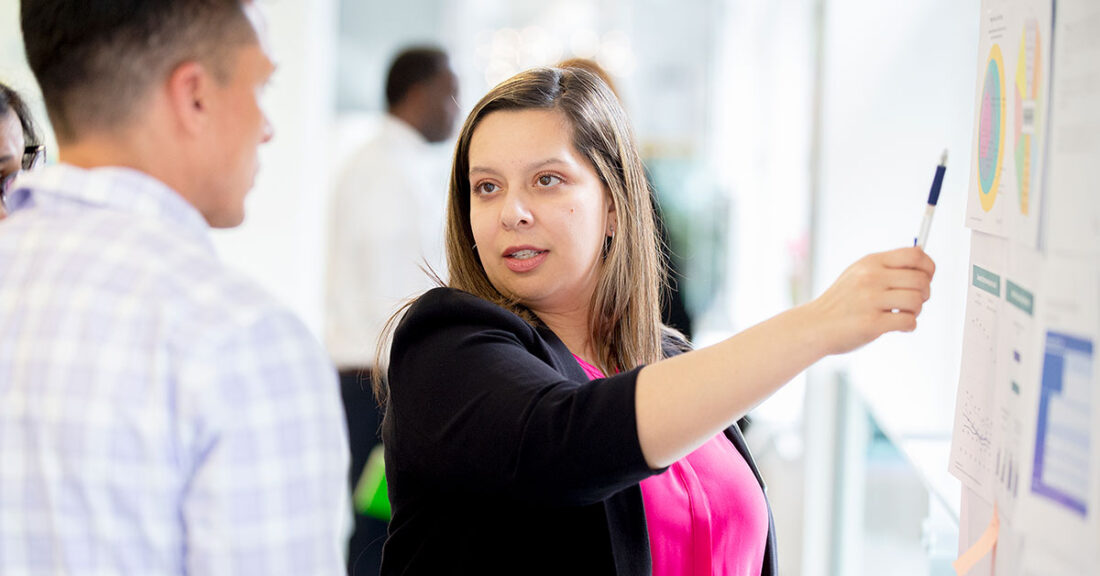 Fifteen outstanding leaders from across the nation recently completed the Annie E. Casey Foundation's Children and Family Fellowship®, an intensive 21-month leadership program for senior social-sector executives. Equipped with a mastery of the principles, skills and tools of the Foundation's Results Count® framework, the 2019–2021 class of Fellows is the eleventh cohort since the program's establishment in 1993.
"I am excited that another group of amazing leaders is joining the existing network of Fellows deeply committed to results, data and equity," says Lisa Hamilton, president and chief executive officer of the Foundation. "I congratulate these action-oriented leaders for powering through the Fellowship's demanding requirements in the middle of a pandemic, an economic crisis and a racial reckoning."
Like previous Fellows, each member of class 11 selected an overarching result that guided their work toward specific, measurable improvements for large numbers of young people and families. The 2019–2021 Fellows also were the first class to contribute to a shared result aligned with the Foundation's recently announced Thrive by 25 focus: All youth ages 14–24 will have the necessary connections to school, work and family to achieve equitable outcomes of success.
Progress Toward Top-Level Results
Here are examples of how five Fellows made progress toward their chosen results:
Charles Bradley, division director of the Mecklenburg County Department of Social Services in North Carolina, focused on ensuring that all young people leaving the county's foster care system are positioned to thrive. Over the course of the Fellowship, the county increased the number and percentage of teenagers and young adults placed with relatives and in families. Relative caregivers, who provide homes for 178 children, are now receiving financial assistance, training and resources to help care for these young people.
Regina Cannon, chief equity and impact officer at C4 Innovations, which advances recovery, wellness and housing stability for marginalized people, focused on housing. Specifically, she worked to make sure that young adults experiencing homelessness in eight demonstration communities in the U.S. Department of Housing and Urban Development (HUD) Continuums of Care program have appropriate housing placements and support services. She has helped these communities incorporate racial equity into the redesign of their homeless response systems and has spread Results Count concepts throughout the HUD homelessness field.
As managing director of policy and programs at Advancement Project California, a racial justice organization with expertise in research, advocacy and policy, Karla Pleitéz Howell works to make sure all California children are ready for school and community success. During the Fellowship, she engaged with partners in Los Angeles County to ensure that $265 million were allocated to highest-need schools. These schools' students, predominantly Black and of color, will now have access to additional math and language arts instruction and one-on-one tutoring.
As executive director of the Office of Community Schools for the New York City Department of Education, Sarah Jonas initially chose to focus on ensuring that all New York City youth graduate from high school on time and are ready for college. Inspired by the Fellowship to think big and act accordingly, she changed her goal to using community schools, which serve as hubs to bring together a range of partners and supports for children and families in low-income neighborhoods, as a way of achieving equitable results for all young people in our nation's education system. Collaborating with another class 11 Fellow, Kristen Harper, director for policy development for Child Trends, Jonas helped establish and currently chairs the Brookings Task Force on Next Generation Community Schools, which will create a road map for expanding community schools across the United States.
"All of the class 11 Fellows have demonstrated what can happen when you lead with data, focus on equitable results and commit yourself to being an agent of large-scale change," says Leslie Boissiere, the Foundation's vice president for External Affairs. "By honing their ability to lead through uncertainty and rapid change, these Fellows have accomplished great results in a difficult moment."
This post is related to: